Quick costume ideas for professional procrastinators
Six costumes for all of your Halloween needs
October 28, 2021
Hi Eagles! Halloween is right around the corner, and I know a lot of you have no idea what you're dressing up as. That's why I have compiled a list of six Halloween costumes that are so easy, even I could make them. (And I did!)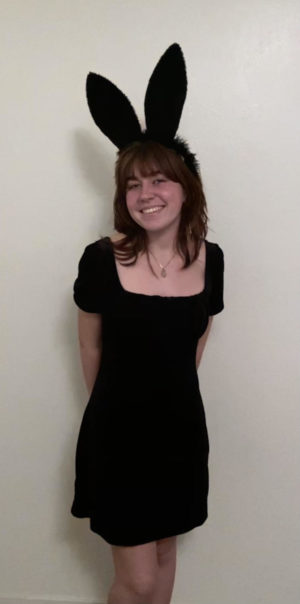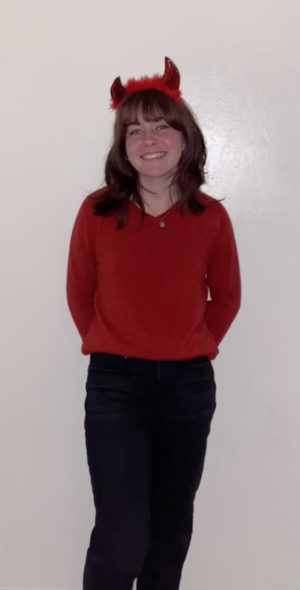 These costumes are perfect for all ages and gender identities and they range from "this took a little effort" to "I have all of this in my closet."
To make this list a little more navigable, I have split the costumes into three sections: "Outfits and accessories," "Haha very punny," and "Fashionably late." I would also like to clarify that all of these costumes are completely customizable, so be creative and use what you have!
First up, we have  "Outfits and accessories." These costumes are super simple and for my serious procrastinators out there. I'm talking about throwing on an outfit and putting on a headband.
First off, we have the bunny. Tried and true, however, you can make it your own. You can change the color of your outfit, make it more extravagant, make it more simple; the world is your oyster with this one. For my version of the bunny, I decided to wear a black dress to match the color of my ears.
The second costume in this section is another classic: a devil. This costume will never get old due to its simplicity. Grab anything red from your closet and toss on some horns and you're done. You can also grab a buddy and have them dress up as an angel to be the most overused partner costume in existence.
For my fans of a corny joke, we have "Haha, very punny." If you'd like to be asked "What are you dressed up as?" all night, these costumes are for you! 
The first punny costume we have is the "Freudian Slip."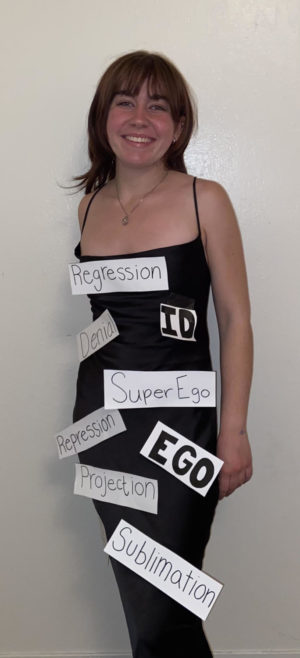 A Freudian slip is defined as, "An unintentional error regarded as revealing subconscious feelings." So when you try to explain this costume to people, you'll sound so pretentious it's almost scary. To make this costume you'll need a slip-like dress, some paper, a pen or marker, and some tape. You quite literally google "Freud words" and copy down some of the words onto paper, then cut out said words and tape them onto your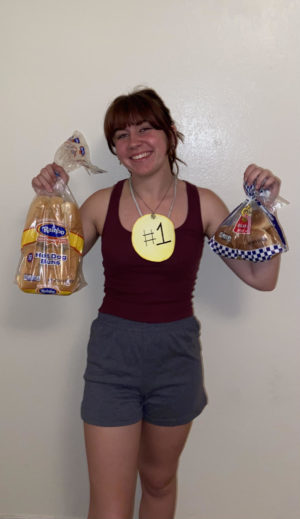 dress, and you're done. Now you can pretend you are smarter than everyone at whatever costume party you may attend. 
Our second punny costume is a "breadwinner." For this costume, you'll need a medal and some bread. You can buy a medal from the dollar store, or if you are feeling a little creative you can make your  medal out of some paper and a ribbon (or if you're desperate you can use a shoelace like me.) You can wear some athletic clothes, but people will be more concerned with why you're carrying bread around than what you're wearing; so the outfit is less important for this costume. 
The last section I have for you all is titled, "Fashionably late." These costumes are for those who might have forgotten to plan out a costume but want to look like they thought this out a while ago.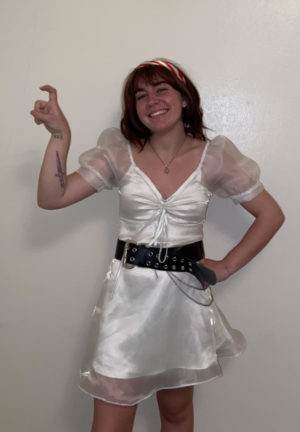 The first costume in our final section is a pirate. I made my costume out of a white dress, a belt, and a striped bandana. This is another costume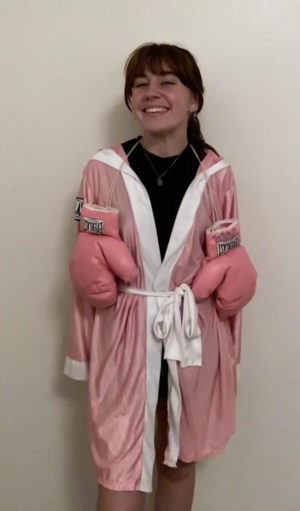 that offers complete freedom. Whatever a pirate looks like to you, that's what you can dress up as. Feel free to add any eye patches, hook hands, or parrots you may have laying around. 
Now, folks, we have reached the final costume. Our last costume is a boxer. To make this costume you need some boxing gloves and a robe. For the base outfit, you can wear some variation of athletic clothing. For those who are more makeup inclined, you can add a black eye or even a fake split lip. 
I hope this list gave you some ideas about what to dress up as for Halloween, and if it didn't, you can always scour Pinterest for something better. Stay safe and have fun this Halloweekend Eagles!