Netflix, Chess, and Run 2: What students can't access on the school network and why
Answers as to why students can and can't access certain sites on school WiFi and devices
November 19, 2021
Working on a project for school, doing research on historical figures, and recounting some of their horrendous actions for a slideshow. It can't be a bad idea to write down the fact, the truth, that Thomas Jefferson was a rapist and owned hundreds of slaves or that Andrew Jackson was a known ethnic cleanser, right?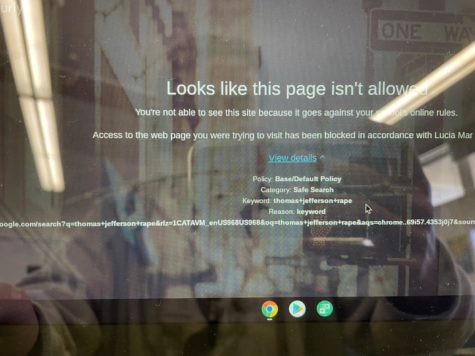 Wrong.
One click of the reload button and a student's presentation no longer belongs to them, blocked by a page with the Securly logo in the top left corner and the LMUSD logo in the top right.
But wait, there's a drop-down menu. Maybe that will help. Provide some clarification as to why a Google Slides presentation owned by the student can no longer be accessed by said students. 
Anyone with a school Chromebook or on the school wifi aside from teachers and staff can no longer access the presentation. The student won't be able to modify or access the slideshow during the school day, perhaps when the assignment is due. 
But why?
What could possibly enable a student's own project to be blocked from them through the multiple layers of digital protection the district has enabled on their devices?
Chris Ryan (Information Systems Technician, Level III) and Ashley Smith (Curriculum Director) have the answers. 
"All the way back to 2012, we have always employed a firewall and content filter," Ryan said. "There wasn't a time where there weren't any restrictions on student use."
This isn't a decision made by one person at the school, or even one person in the district. These decisions start with the Children's Internet Protection Act (CIPA), enacted by Congress in 2000.
"What may be deemed appropriate here may not be deemed appropriate anywhere else," Ryan said. "They're evaluating the same CIPA standards in California and in New York… there's a certain level of local control available, but in general it's based upon the legally required filtering."
Beyond CIPA, there is still another broad level before it starts to get local. Headquartered in Santa Clara, CA, the Palo Alto Network firewall is another level of protection for the school Chromebooks. 
"[The Palo Alto Network] is all website traffic," Ryan said. "All websites are categorized into groups and these groups determine whether a primary or secondary student can access them."

Smith specified some of the categories blocked by the Palo Alto network. 
"[The Palo Alto Network] filters out big things like gambling, pornography… big type categories," Smith said.
She compared the filtering by the firewall to that of Google Safe Search, taking away more broadly inappropriate categories. 

Honing into a district-level restriction is the page that many kids see when attempting to carry out a specific search or pop on to a website classified under "games" or "shopping." There's the heart-shaped shield in the corner, the mark of Securly.
Securly is a company that develops and sells web filtering technology and services primarily to schools. 
"[Securly] provides many similar functionalities as we find in some of the other programs and systems that we use," Ryan said. 
The Securly program is considerably more localized than the CIPA guidelines and the Palo Alto network, considering that its guidelines can be narrowed or broadened based on need. 
"For instance," Smith said, "If a particular site was unblocked by Palo Alto and it became a problem, we could block it."
We have the how, so what about the why?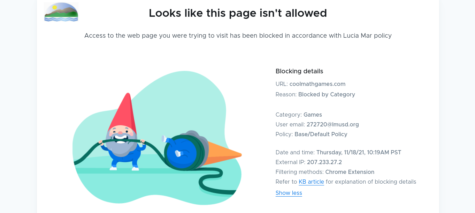 "Our goal is to make sure students have equitable access to technology and we're working really hard to make sure while they have that access we also keep them safe," Smith said.
Even though some students might see it as the end of the world that they can't play coolmathgames or watch Netflix during class, the measures in place are ultimately for the safety of the students and their community.
Students might have noticed a change in programs and software on school-issued devices in recent years, a change that can largely be attributed to COVID-19.
"The restrictions in place changed when the devices needed to go home with the students, because prior to March 2020 no devices were intended to transit with students to their homes," Ryan said.
Due to the COVID-19 pandemic and consequent online school for a full calendar year, frantic changes had to be made in order for devices to go and stay at home with students.
Ryan provided some insight into the methods of upholding certain standards from home.
"Once [the school-issued devices] were on other points of internet access… we needed some way to ensure that CIPA standards were being upheld on the devices that we were providing for educational use," Ryan said.
This soon turned into the decision that went into effect at the beginning of this school year, which was to assign every secondary student a personal school-issued device. 
"COVID was one of the really big pushes to change the model from having the Chromebooks available just at school to letting kids take them home," Smith said. 
Getting a 1:1 Chromebook-to-student ratio was difficult and something that had to happen over time.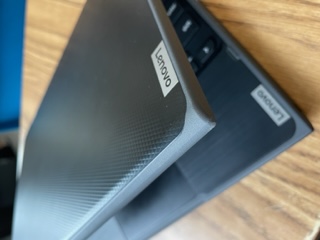 "Initially, we had a lot of class sets… and that was getting a bit tricky," Smith said. "We had more Chromebooks than kids."
The issue of having extra Chromebooks in use by the district was something that quickly became impractical and the pace of the solution was quickened by March 2020's unexpected turn of events.
"We'd always been building towards the take home your own device and the actual one-to-one model, but then COVID happened," Smith said. 
The acceptable use policy received a very minor makeover during the summer to accommodate each student receiving a device to take to and from school.  
"[The acceptable use policy] was just kind of rewritten… over the summer in context of the Chromebooks going back and forth between home and school," Ryan said.
The district's acceptable use policy is something that has been in place since the district employed the use of computers with students. 
"Some very minor language was added to [the acceptable use policy] about optional Chromebook insurance that you could purchase and taking devices back and forth from home to school," Smith said. 
The policy is located and can be read on the district website so that students and parents can be aware of what kind of violations or infractions related to personal devices warrant punishment or investigation.
Sometimes these rules and installments aren't always perfect and flag students to administration over something with innocent intent. 
Emme Landers ('25) experienced this when she was called to speak with her class administrator over a Google search on her school computer that she conducted for AGHS' Mock Trial team.
"We have a murder case this year [in Mock Trial]," Landers began. 
"I meant to search the exact degrees of murder… but I wasn't sure the exact wording of it… I switched it up and [searched] the charges for killing people," she said. 
Landers was then called up to the office to speak with administrators and counselors for her searches. 
"They seemed kind of frustrated at it, just… the miscommunication," Landers said. "They were pretty understanding… they knew I wasn't going to hurt someone, but they just had to make sure."
Though the interactions took up the majority of her first class that day, the issue was quickly resolved.
"It was really resolved the first time," Landers said. "I explained what it was, everyone was chill. The second time I got called up that same period, but because they hadn't communicated with each other."
Like Ryan and Smith have both mentioned, everything that is done with the Chromebooks and the school-sanctioned servers is to protect students. The few false alarms such as the one reported by Landers are worth it to ensure safe internet usage amongst the student population at AGHS and throughout the district.
While students should view restrictions as necessary safety tactics, it's upsetting that even all of this information on their development still can't solve the mystery of why the dinosaur game can't be played on school devices. May your hopping journeys return in your next moment without wifi.