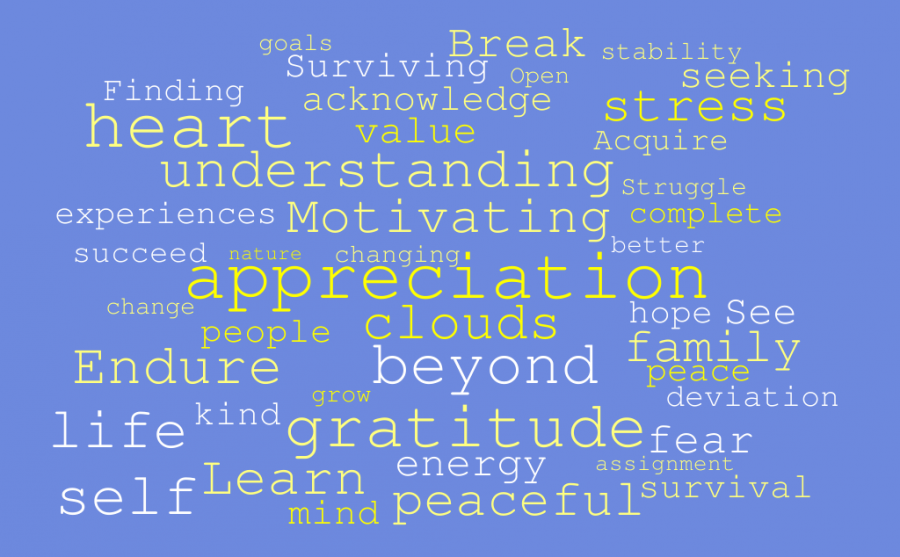 Six word stories of hopes, goals written by AGHS students
February 12, 2021
While 2020 did bring some good, its turmoils and constant noise made it hard at times to focus on the positive. Most people are ready to move on and keep working on themselves and the attitude they will bring to the world going into 2021. We'll spare you the recap of each and every newsworthy event of 2020, as you have lived them all for yourself, and instead present some goals, aspirations, and motivations for 2021 from AGHS students who will use what they learned from their experiences in 2020, to generate a fulfilling year to come. 
AGHS students were asked to describe, in six words, what they hope to see out of the new year or the goals they have set for themselves. After reading over 120 entries, the Eagle Times has selected the top 25 entries to share with our readers as well as some honorable mentions and standout goals. 
Here they are:  
*Entries listed in no particular order*
WINNERS 
"More gratitude for those around me" – Devon Johnson-Denneen 
"Keeping family close, and negativity out" – Tristan Spear 
"See the blue beyond the clouds" – Amy Becker
"Surviving through change; changing through survival." – Benjamin Gildea 
"Learn to live life without fear" – Fabiola Elias
"Conquer minor goals, have major results" – Cristian Camacho 
"Taking a step back to breathe" – Lauren Austin
"A radical deviation from the past" – Nicholas Monteiro
"Putting more energy into important relationships" – Eva Vink
"Motivating myself to be better everyday" – Kaitlin Rea
"New assignment: no stress, just complete" – Maria Stanculescu
"Happiness in new experiences and adventures" – Emma Pelech
"Being in tune with my emotions" – Daniela Mejia Pille
"Acquire a driver's license without crashing" – Alexander Domako
"Break a physical and mental sweat" – David Barragan 
"I hope for peace and understanding." – Abigail Stennett
"Struggle now and then succeed later" – Milan Chhetri
"Wake seeking adventure, nature never disappoints" – Erin Stipanov
"An open mind and peaceful existence" – Iris Jenssen
"Understand the value of self-appreciation" – Ava Parker 
"Finding balance within stability and adventure" – Celina Jane Delos Santos
"Endure pain and acknowledge our strength" – Edwin Hernandez Rojas
"To grow stronger mentally and physically" – Darby Forsythe
Open my heart to the world." – Lissette Cuevas
"Roll with what I can't control" – John Pleasant
HONORABLE MENTIONS
"Be happy and make others happy" – Isabella Paz
"A strong mind will change everything" – Luca Kerr
"Move on instead of looking back" – Aimee Park
"Loving myself how I love others" – Rylee Martin Gomez  
"Always be kind to other people" – Jocelynn Klomp 
A FEW NOTABLE GOALS 
"Care for anyone who's lost family" – Jimena Ruiz
"Helping out the community, volunteering more" -Lupita Quintana Montero
"I hope to improve in drawing" – Gabriela Gomez
"Finish eagle project and service hours" – Kevin Sweeney
"To become better at virtual communication" – Virgil Andreasen
"Learn more about investing and saving" – Elliana Fuller
"To improve at playing the piano" – Andrew Stennett
"To embrace new opportunities and challenges" – Andrew Hutsko
"I hope to learn and grow" – Elyas Gharavi
"To select a path for fulfillment" – Chrissy Wengeler
"Find a hobby I'm passionate about" -Madeline Kasper
"To finally get priorities in line" – Jeremy Slayter 
"To become focused and stop procrastinating" – Elizabeth Hagen 
"Hold myself to a higher standard" – Valentino Graeber
The Eagle Times would like to thank everyone who was willing to share their stories with us. We wish you all a positive 2021 and good luck in accomplishing the goals you have set for yourselves. We believe in you!