Drew Baskin's love for baseball and diligence has not gone unnoticed
Being a multi-sport athlete is difficult, and at times athletes are forced to choose between two or more sports they enjoy being a part of. To some, it may not seem a huge deal, but choosing one sport over another can potentially change an individual's life. Will it be tennis or water polo? Cross country or volleyball? Drew Baskin, a senior at Arroyo Grande high school (AGHS), was only ten years old when he was forced to choose between his two favorite sports, soccer and baseball, due to schedule conflicts.  After careful consideration, Baskin chose to pursue baseball and since then he has continued to move forward with his decision, and over 7 years later he officially signed to play baseball for Willamette University. 
Only a minute fraction of the thousands of students who play high school varsity baseball go off to compete at the collegiate level. Baskin is not only proud of his hard work but is humbled by the opportunity to play alongside other dedicated athletes.
"To be able to continue my athletic career at Willamette is an honor. I am honored that I am able to be in that 7% of high school baseball players to play NCAA baseball," stated Baskin. 
Baskin is thankful for those who have helped him develop as a competitor, athlete, and individual throughout the years. 
"I would have to shout out all my high school coaches, especially Coach Madsen. I have been working with him for my whole high school career, primarily working on defense," Baskin began.
"Other coaches I would like to acknowledge would be Coach Jimmy Walker at Ventura College. He has been my club coach for the majority of high school and has been my hitting instructor for all of high school as well. I would also like to thank Josh and Mike Miller as well as John Stevens."
Thanks to baseball, Baskin has encountered many strong and hardworking individuals to look up to who have only made his passion for baseball grow even stronger.
"When I started to really love baseball these were the guys [coaches] I would work with. They instilled the baseball fundamentals in me at a young age, and I would not be here without them."
Baskin's coaches and family pushed him to be the best athlete and competitor in each game he played, helping him to become a college athlete starting this coming fall. However, ultimately it was his hard work and determination that got him to the finish line. 
Nicholas Miller, a 2020 AGHS graduate and a former teammate of Baskin, had nothing but admirable remarks. 
"I admire Drew's work ethic and fearlessness. As a teammate, Drew was one of the most hardworking players on the field, and that his determination to be the best was unmatched."
Another 2020 AGHS graduate and former teammate of Baskin, Braden Zickuhr, commends Baskin not only for his hard work but for his sacrifice and ability to inspire others to do their best. 
"What I enjoyed most about being his teammate is that his hard work was contagious so it spread throughout the whole team and made everyone work even harder," claimed Zickuhr.
"Drew went from a player who was average in skill and somewhat blended into the crowd to a guy who stands out in almost every aspect of the game. And this was due to his hard work. Whenever I wanted to go to the cages and hit on my own I would text drew or his dad Erik because I knew they were most likely already out there on the field putting in extra work behind the scenes in order to get better," Zickuhr added.
Like most athletes, Baskin has his strengths and weaknesses. He has been branded as one of the hardest workers on his team and that aspect of him is the number one contributing factor as to why Baskin tends to overtrain which can work the mind and body till it is wounded.
Baskin acknowledged, "My weakness is not allowing myself to fully recover. I just love playing as much as I can. So, sometimes this takes a toll on your body."
In all, Drew Baskin is someone who loves to play the game with passion and grit and has proven he'll be a great addition to Williamette's baseball team and to the University. His current and former AGHS baseball teammates and coaches are all rooting for him and can't wait for his college debut. 
Leave a Comment
About the Contributor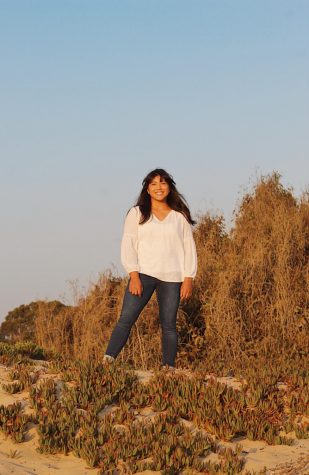 Madelyn Ferreros, Sports Department Editor
Madelyn Ferreros is a senior this year and is the Head of the Sports Department of the Eagle Times. This will be her first year being a part of the Eagles...