Riley Osborne amazes with her skills, strength, and resilience despite her limb difference
It is evident that there is more to come from Riley Osborne
She was 10-years old, and the only one on the field who didn't have both hands to bat or pitch. Fall softball season was coming to an end, she was among some of the younger players and her opponents were stronger and pitched faster than in years past. Each time she stepped up to bat the next pitch felt faster than the last, and her bat speed lacked the velocity to barrel a solid hit. She never touched a base the entire season, no umpire shouted "Safe!" for her. It was always "Strike!" or "Out!". 
It was the last game of the season, and she desperately yearned to get to first base. It didn't matter if she had struck out or was forced out all of her previous at-bats. Just the one base and she told herself, and she'd be okay. The game ended, and once again the base path was elusive. 
On the walk back to the car with her mom, she began to cry and truly believed that quitting was better than trying to hit ever again. 
Her mom had other plans. 
No way was she going to let her daughter go down without a fighting chance. That very same day, her mom hired a hitting coach, and the entire off-season she trained hard. Now, Riley Osborne a sophomore, is on the varsity team at AGHS and continues to prove to herself and to her peers, limb difference or not if you put in the effort and grueling hours, it is yours for the taking. 
Osborne was born with her limb difference and refers to her left arm as her "little arm."  She shares a common limb difference with her idol Jim Abbott, a once Major League Baseball player and an Olympic gold medalist.
"I got to meet him when I was 10. He signed a baseball and photograph for me. We got to play catch. He is my inspiration because he made it to the highest levels of baseball and he has a similar limb difference to myself," Osborne explained. "I wear his number, 25, in sports whenever it is available to me. I would also like to push myself to go as far in my softball career as possible just like him."
As for the start of her athletic career, Osborne started t-ball at 4-years old and softball at just 5-year old. When she was 13-years old she was interviewed by "Balls and Strikes", a USA softball magazine, where she was one of five individuals chosen to be highlighted in the segment, "Faces on the Field".  
Osborne enjoys being a part of a team that makes practice fun and rewarding, while still being able to perform and improve as an individual. Surprisingly, her favorite part of the game is the mental side even though it has proven to be the most challenging for her.
"My biggest mental challenge is that I, and the belief that others consistently had the thought that I am actually not good enough to be on the team, and that I was only on the team because the 'coach felt sorry for me.'  In addition, I feel like I am always being watched more closely and because of this, I feel a lot of pressure to always be 'perfect' while playing.  If I mess up while people are watching me it feels like people attribute the mess up to my arm rather than that I just messed up because people mess up."
At times Osborne and numerous peers may not believe in her, but her parents have consistently shown that they always will.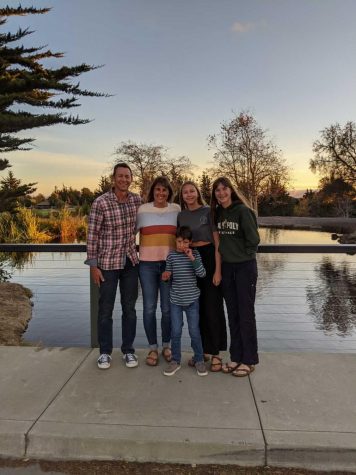 "My parents are Matt and Lisa Osborne.  My dad is a fire captain for Santa Barbara County and my mom is a manager at Boeing. They are both very supportive of everything I want to do and they have never let my arm stop me from being able to participate in whatever I wanted to do."
Christie Osborne, a senior at AGHS and Riley Osborne's older sister mentioned, "[Our parents] are always there for [Riley's] scrimmages, games, and even practices."
To Riley, Christie Osborne is so much more than a sister, and her little brother, Cooper Osborne, constantly reminds her to be appreciative of her abilities.
"My sister has always watched out for me and put me first in front of herself.  She is like a second mom to me and I look up to her ability to be responsible but still have fun. My brother has special needs and is non-verbal. Despite his challenges he is always happy – a regular ray of sunshine every day, which makes me not take for granted what I have and gives me a lot of perspective in life."
As for Christie Osborne, she agreed with her sister and sees herself as more of a protector and a figure of guidance. When she looks at Riley she can't help but see her parents and some of their most defining characteristics. 
"I would say she looks most like my mom and is introverted like my mom, but she has the playful and fun side that my dad has," said Christie.
Riley has faced many obstacles throughout her softball career, but so far there seems to be no hurdle too big for her. Osborne uses her resources and tenacity to find a way to compete at the highest levels.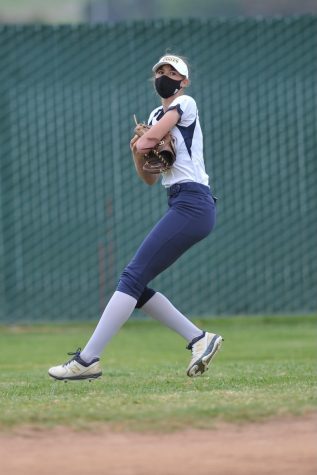 "The first obstacle when I was little was that I didn't have a second hand to 'keep the ball in the glove' so the ball would bounce out of my glove a lot. I overcame this just by gaining hand strength and altering my glove 'hand movements'. I do a twist that isn't typical.  The second obstacle was learning my glove transition. It took a lot of practice to get it to be fast enough that I could do it at the same speed as someone with two hands.  The third and most difficult obstacle was hitting. When I was little it was difficult because I wasn't strong enough to swing the bat accurately with one arm and then as I got older I needed to learn to adjust my swing so I could get the bat around fast enough for the faster pitchers without allowing my bat to 'drop'…  I overcame this by a lot of extra training and reps with hitting coaches."
Osborne broke her technique down for those who have not had the privilege of watching her competing on the field. She first catches the ball in the glove. Then quickly puts the glove upside down under her "little arm" with it holding the ball firmly in place. She brings out her right hand to reach under the upside-down facing glove to grab the ball to throw. Finally, she takes her glove from her little arm and puts it back in her right hand, ready to catch any ball. 
As for batting, it took her some time to develop technique but with all the practice she put in she handles faster pitches the more developed players are spinning with more confidence and speed.
"I bat like a 'right-handed' batter.  This means I have my backhand on the bat but not my front hand; this is the part that is absent in my swing. I choke up on the bat with my right hand and rest my little arm on the knob of the bat. When she is about to pitch I load up the bat and keep my little arm on the bat for support, then when she pitches I drop my little arm and swing with just my right hand or arm."
For this softball season, as she takes the field for the AGHS Varsity softball team, Osborne aims for top improvement and will likely reach her goals thanks to her determination. 
"This year I hope to continue to improve the consistency of my batting and the accuracy of my throws from the outfield."
As for after high school plans, Osborne is working towards playing softball for a college that is in line with her future career goals that she has yet to determine. However, she knows exactly what kind of mark she wants to leave with whatever career path she ends up choosing. 
"I plan on going to college after high school. I do not have any specific colleges in mind. I have considered many different fields but mainly just want to go into a field where I feel like I can make an impact in others' lives."
Christie Osborne has expressed that she and her family are beyond proud of Riley Osborne and cannot wait to see what the future holds for her. 
"I am extremely proud of my little sister. People always come up to me and they tell me about how much she amazes them… Riley is definitely one of a kind and it makes me so happy to see her be her with no one judging her."
Riley Osborne stands out for her strength on and off the field, and for the unwavering determination that has pushed her to be the hard worker and talented ballplayer that she is. 
"I have learned that if there is something I want to do bad enough that there is always a way to do it as long as I am willing to work hard, be patient, and keep an open mind. I have learned this due to the amazing support and encouragement I have had throughout my life from my family, friends, coaches, and teammates."
Leave a Comment
About the Contributor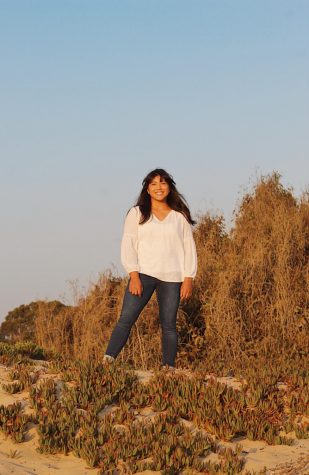 Madelyn Ferreros, Sports Department Editor
Madelyn Ferreros is a senior this year and is the Head of the Sports Department of the Eagle Times. This will be her first year being a part of the Eagles...