Johnny Muñoz, a Division I college commit, attributes his success to his diligence and supporters
Johnny Muñoz's heart thumped hard and fast as he stood at the starting line. This meet could send him to the state cross country race where he'd compete against the best of the best. He wanted it bad.  He had trained hard. So had all the other high schoolers standing next to him.  
He had to slow his heart rate or the race would be lost before it even began. He closed his eyes, took slow deep breaths, and reminded himself that he belonged here. He ran the extra miles, pushed through the rigorous workouts, and was ready to leave everything he had on the course. 
"On your mark!" 
He opened his eyes. 
"Get set!" 
He got into position. 
"Go!"
 Muñoz took his first stride letting his hard work and actions speak for themselves.
Johnny Muñoz, a senior at AGHS, has officially committed to run cross country and track for the University of California, Davis. 
Muñoz searched for a running program that would push him to new limits. He desired to train with other dedicated athletes because running alongside team members who worked hard would motivate him even more to improve. Luckily, Muñoz saw firsthand what UC Davis had to offer.
"Two weeks before Covid shut everything down, I [visited] the campus and I [met] with all of the coaches and I got a really personable experience with them. It made me feel I was at home but away from home," said Muñoz. "I was really happy about [the experience]. Davis offered that great atmosphere… They were an up-and-coming program as well. Runners right now are trying to get even faster and that's what I am looking for."
Muñoz dedicated his full attention and efforts to running in 7th grade. He actually knew nothing about collegiate cross country and track; he would watch it, but never understood how people ever got from high school running to racing on television, representing their school.
"I ran track by sixth-grade year and cross country starting my seventh, so sixth grade was kind of just dipping my toe in the water kind of thing… Then once seventh grade rolled around I was like, 'Okay let's do this, let's go for it.' From then on I've been running," said Muñoz.
For some, it is the thrill or the inclusiveness of their sport that leads them to fall in love with it, but for Muñoz it was the people he immersed himself with who showed him that he could turn this hobby into something advantageous. 
"Who in their right mind would wake up in the morning say, 'You know, I'm going to go for a run right now.' When you're in 6th and 7th grade that is the last thing you want to do. So I wasn't really too keen on it then, but I knew I was pretty decent at it. I could possibly do something with it," Muñoz said. "Eighth grade rolled around and I surrounded myself with some good people and that made me want to be pushed. I felt [running] could be really something I could work at and that's when I started to fall in love with it. When I had friends like [Madelyn Ferreros] and Whitney [Nichols] and everybody like that, you guys would be like 'Oh just push it, push yourself. Why not?' So that always got into my head where I was like 'you know what I might as well go for it,' and that's kind of what made me start falling in love with it."
Muñoz has come a long way since his middle school years and his friends and family are still his motivation to this day. He wouldn't have been able to wake up before the sun to go for runs or to put in extra work after practice without them. 
"The people who surrounded me have given me the most motivation… It's not necessarily chasing a perfect time. It's trying to make sure I do well for those people, because those people matter and those are the people who I care about the most," Muñoz expressed.
Caleb Herlihy, a senior at AGHS and Muñoz's fellow teammate in cross country and track, acknowledged Muñoz as one of the most dedicated people he has met and knows that Muñoz will work hard, perhaps too hard. 
"[Johnny], [h]ave fun and don't try too hard or you might burn yourself out," advised Herlihy.
Moreover, Muñoz's parents played a large role in his athletic career and success. He described his mom as a star athlete in multiple sports and was voted MVP in volleyball, while his dad played baseball at the collegiate level. 
"My mom was one of the scrappiest people [in Tulare] and I think [she's] where I got my competitive edge from… My dad obviously had the skills to play at a high level and I just kind of took [motivation] from those two and was like 'Wow, I would love to be like my mom but I would also love to play at the collegiate level like my dad,' so it was a mix from them both that inspired me," Muñoz explained. 
Muñoz's greatest strength is consistently working hard and pushing his limits. He learned from the lessons of Kobe Bryant, to train harder than everyone else and to develop confidence to have what it takes to beat the best.
However, one of his weaknesses is his mentality. There are moments of doubt that lurk, draining the faith he has in his abilities.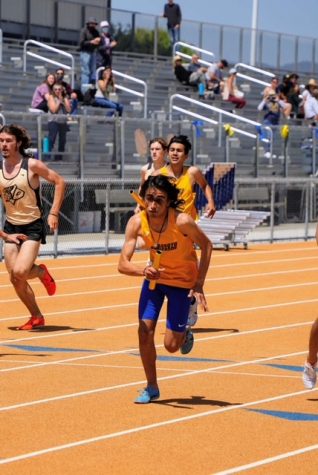 "It's crushing almost. Sometimes when you don't do as well as you want to it crushes you mentally. It's like 'Am I really this good?' or 'Did I hit this one time as a fluke?'… I feel like out of all the sports I've played, this one, when you mess up, hurts a little more."
Just like all serious athletes, Muñoz has had his fair share of obstacles, and some almost led him down a completely different path. 
"There was a period where all I wanted to do was just run in college and it was like the big goal as a wide-eyed freshman, 'I want to go to Oregan I want to run here.'… But sophomore year came in and that was kind of a reality check, 'the sophomore slump'," Muñoz said. "[Sophomore year] hit hard… I got injured and I wasn't hitting what I needed to. My cross country season was not at all what I wanted, and it just felt awful. I hated it. That was the only time I really disgustingly hated running with a passion."
Thankfully, Muñoz didn't give up. Junior year he turned it around. He worked on his mental toughness and produced some of his best times, earning the attention of schools like UC Davis. However, he couldn't have made the same turnout without Whitney Nichols. 
Nichols is also a senior at AGHS, a track and cross country athlete, and Muñoz's girlfriend of over four years. She remains his rock and person. 
"It's hard to talk about certain things with certain people, but [Nichols has] just been there since the 8th grade, always present with every little thing I've done and she's always been that little driving force that's in the back of my head like 'You've got to kick it in gear here, man!'… [S]he helped me mentally stay strong at the times I needed to stay strong and that was really important to me. Then that made me want to do more in my years of running and I think [her support] really is kind of why I pushed myself junior year…she's definitely the person that's helped me to get to where I am at."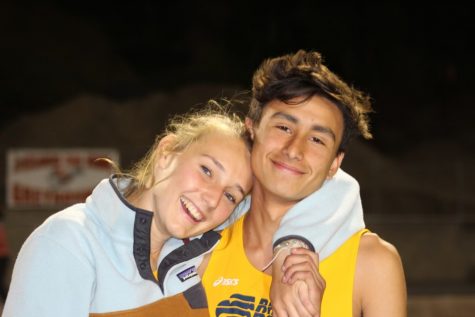 Nichols explained her relationship with Muñoz as being each other's best friend and being a supportive team. Nichols may not have been present for every single race, but was always there to help Muñoz rise when he fell.
"[I]t was just kind of reminding John, I suppose in a running aspect, to keep pushing and that the only thing you can do is to get better from here."
Muñoz's high school athletic career was tough, but very rewarding. To him, running is so much more than simply pounding the pavement mile after mile. 
"[Running] gave me an opportunity I didn't think I really had, this sanctuary in a place where I can go and be mad and have a great run to just go for it. That's my place. I leave it all there, and it's given me this way to get out these emotions… It's given me that feeling that I can be me and I can just go for it when I need to be."
Once Muñoz committed to UC Davis he felt an enormous weight lifted off his shoulders, freeing him from uncertainty. 
"It feels so good to be able to do something. To know that you've worked to this point. You worked so hard and you've had nights where you've been sore and yet you've woken up the next day and you kind of felt sick, but you still got to go running. Those little details make me feel a lot better about where I'm at right now… Go Aggies!"