The Renegade: Cody Gibson grapples with ignorance, leaves the octagon, and enters the classroom
The crowd's cheers engulf the small ring as a young Cody Gibson grapples around the ground with his opponent, finally securing him in a chokehold. As his grip tightens, Gibson's opponent taps out, desperate for air, and Gibson is determined the victor.
While maintaining his fighter name of "The Renegade", Gibson has also taken up the job of teaching U.S. History at Arroyo Grande High School. Although it is a difficult task, he manages to balance his two differing lifestyles exceptionally well. 
Years before the fighting and the teaching, Gibson was a small child growing up in Blackwell, Oklahoma. 
"I was in foster care when I was born, me and my brother," Gibson said. "My mom was sixteen, my dad was in an institution… me and my brother got adopted and we moved to Visalia, California." 
Although the youngest at the time, Gibson would soon become an older brother himself after his adoptive parents had two more boys.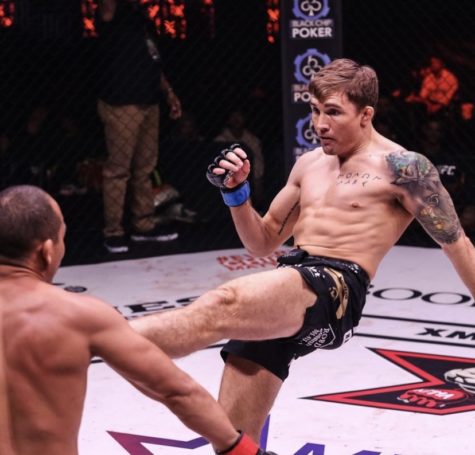 "Both of [his younger brothers] have disabilities so I grew up in a very different childhood than most people," Gibson said. "… I've always drawn inspiration from my little brother, just seeing that he's not capable of doing things I could do physically." 
Throughout his childhood, Gibson often struggled with staying out of trouble and avoiding the occasional suspension. He got into fights and had lots of built-up aggression and anger that were difficult for him to control. However, he was able to find an outlet within wrestling. 
"Wrestling really helped me have a place to spin that energy and it just gave me focus and direction," Gibson said. "It kept me away from bad influences. It gave me a sense of purpose or a sense of identity."
Gibson's wrestling career started as a child, and it later paid off as he began wrestling for state and national tournaments. He would eventually go to college and wrestle for Bakersfield College along with Menlo College. 
While Gibson was home visiting from college one summer, a high school friend invited him to a mixed martial arts gym. Gibson took him up on the offer and quickly learned that he enjoyed fighting, even though he was inexperienced at the time. 
"It sounded fun to me so I went in and started training a little bit," Gibson said. "I wasn't very good at anything but I liked to do it. I didn't mind getting punched in the face as much as a lot of people probably do."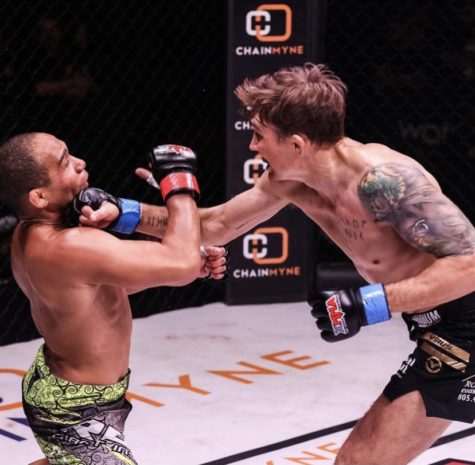 And just like that, Gibson was in the cage making his debut as a fighter two weeks later. 
Over the course of the next few years, Gibson fell into a routine, wrestling during the school year and fighting throughout the summertime. Only after Gibson graduated from college did he realize that he might want to pursue a career in fighting.
"I just started getting more serious about the training and learning the martial arts," Gibson said. "[Fighting] became less of a hobby and more of an 'oh my gosh, I might actually be able to pursue this professionally and at a high level' kind of thing." 
Gibson proved himself right and was signed by the UFC in 2014. 
Along with fighting, Gibson also took an interest in teaching and began substitute teaching after graduating college. 
"I love working with kids, especially high school kids," Gibson said. "I had the right influences at the right times in my life to keep my head on straight, and if I could do that for other kids, whether it be to inspire them in the classroom, help them with their social and emotional progress, or help them on the wrestling mat, that's more important to me than anything."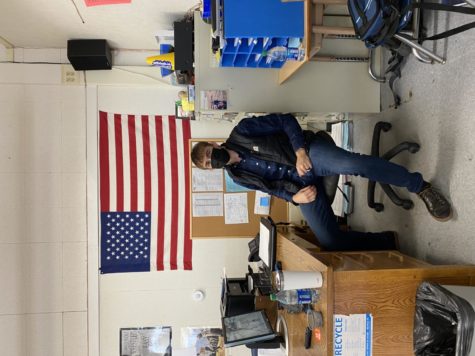 Both Gibson's current and former students share a sense of liking for the new addition to AGHS' staff. 
"He isn't strict on us students, and he is honest with us about what he expects from us," Kaila Overman ('23) said. "He connects with his students and he doesn't treat us as if we are young and uneducated."
Anthony Filice ('22) had a similar choice of words for Gibson.
"He's one of the newer teachers on campus, so in a way we kind of related to him
because he's younger and [we share] some of the interests he has," Filice said. 
Gibson is in his second year of teaching at AGHS, along with currently training at The Pit and taking care of his two young daughters. His life can pull him in many different directions all at once, but he is always ready to put obstacles in a chokehold. 
Leave a Comment
About the Contributor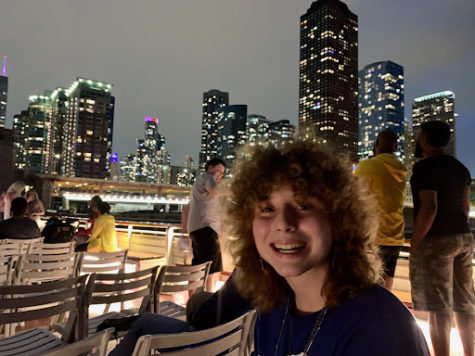 Gwyn Walzberg, Reporter
Gwyn Walzberg is a freshman as well as a new member of the Eagle Times. Academically speaking, her interests consist of English, History, and occasionally...