Junior Varsity football welcomes female Line(wo)man with open arms
Back to the ground, eyes to the stars, Ezmeralda's opponent lay breathless wondering what hit him, or more so who hit him. 
Arroyo Grande High School's first female lineman, Ezmeralda Gonzalez ('24) has made quite an impact during her first season on the Junior Varsity football team. In her first game, she aided her team in the domination of Pioneer Valley with a final score of 19 to 0.
Before this year, Gonzalez had never played football and decided to join "just to try it out," and it was a perfect fit for her. Gonzalez jumped right in, learning the regiment and drills of an AG lineman.
"She's really adaptive and a very fast learner, hard worker too," Nate Auten said, a fellow lineman. 
Junior Varsity coach Corey Moroney says these are vital qualities in any lineman worth their salt.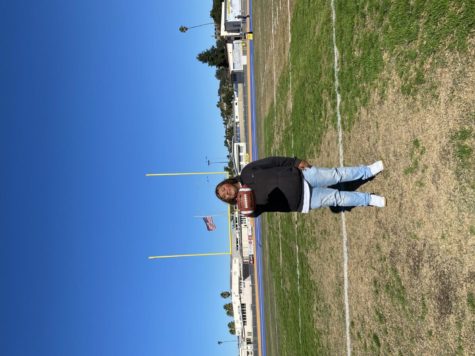 "They are in constant battle all game long and must be able to react quickly and be able to take the physical demands of their position," Moroney said. "Despite being late to the game she contributes by jumping into drills and does what is asked of her to do." 
Being a member of the JV team is a big commitment and a lot of hard work. "We have practice Monday through Friday," Gonzalez said. "We do a lot of drills." 
Her hard work paid off in her first game against Pioneer Valley High School.
"She trucked her opponent," her teammate Alan Mendez said, completely fulfilling her purpose on the field.
"I love when [opposing lineman] are surprised when I take them down," Gonzalez said, exemplifying the lineman mindset of strategic and aggressive tackles and blocking. "It's the best part of the game."
Gonzalez's mother was nervous about her choice to play the rough game of football. It's not uncommon knowledge that football is one of the most brutal games to play. 
The Brain Injury Research Institute released an article saying, "Football injuries associated with the brain occur at the rate of one in every 5.5 games."
"She was nervous I was going to get hurt," Gonzalez stated. "…after my first game, she's still scared for me
but is really supportive and comes to my games." 
The start of Gonzalez's football season all came down to the "new school year itch" to try new things. 
"I was planning on joining with a friend but it ended up not working out," Gonzalez said. "I was nervous at first but once I started on drills I felt more comfortable."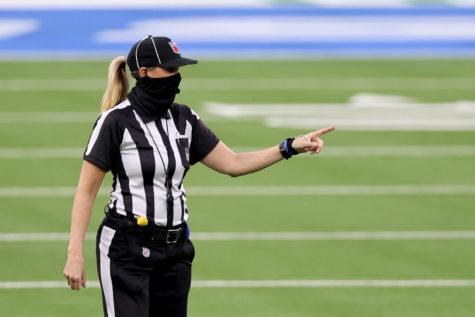 Discrimination is common for any female to face in a male-dominated profession or activity, such as football. Just last year Sarah Thomas became the first female to ever referee a Superbowl game. Slowly, football is becoming less patriarchal and more open to becoming a gender-neutral sport like basketball or soccer. 
Luckily, Gonzalez stated that she has not faced any discrimination for being the only female player on the JV team. 
"Everybody is cool with me, I feel part of the team." 
Jacob Garbiso, a fellow teammate, confirms the accepting viewpoint of the Junior Varsity football team at AGHS. 
"We're all here to play football and have a good time." 
Auten followed up with, "It takes courage to join an all guys team– We treat her like a normal teammate, but it still takes a lot of courage."
Her teammates not only admire her but support her too.
"They're happy when I take someone down," Gonzalez said. 
The goal of the offensive lineman is to fight it out on the line of scrimmage to give the quarterback and running back time to get through and make a play, as well as protect them. The defensive lineman is trying to get through the opposing lineman to get to the quarterback and running back.
"I prefer to play defense because my only job is to take them down, and that's easier for me," Gonzalaz stated, proving why she is the perfect woman for the job. 
Gonzalez says she has plans to continue with football for the rest of her high school years. Look out for number 77 in the upcoming games.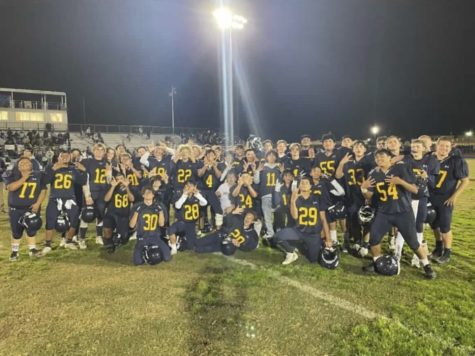 Leave a Comment
About the Contributors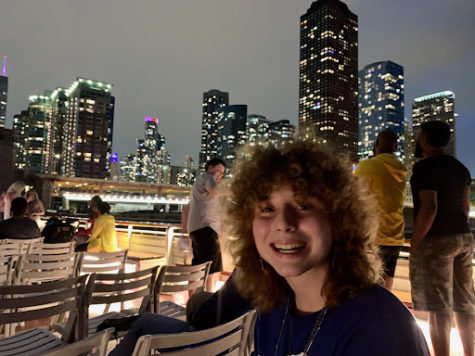 Gwyn Walzberg, Reporter
Gwyn Walzberg is a freshman as well as a new member of the Eagle Times. Academically speaking, her interests consist of English, History, and occasionally...
Pema Secrest, Reporter


Pema Secrest is an incredibly average human being and wannabe writer. She is a sophomore at Arroyo Grande Highschool and is ready to leave. ...