The Unmasked Opinion of AGHS
Students and Teachers share opinions on facial masks
Along with binders, folders, and pencils, students are adding masks to their back-to-school shopping list. Students were in remote learning for the majority of the last two school years. Now as students have returned to campus, controversy has come with them.
Masks in school have been one of the most recent controversial topics. Even though it is a California state mandate that all public schools have to follow, some people don't agree.
"[Mask requirements are] a safety guideline we have to follow. So we don't have a choice of whether we like it or not, it's what we have to do," Principal Dan Neff said.
Freshman Pre-AP English and English 9 teacher Laura Wade has this struggle.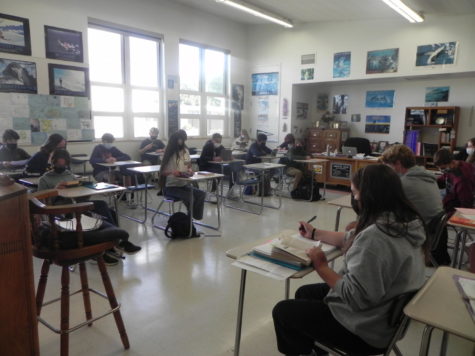 "It's so hard. It's really difficult. I can tell through their eyes if they're smiling and that's a good thing, but it's really difficult for me because I have seen students with their masks off and I don't always recognize them. It's very different. For me, I learn 180 names a year and it's really challenging to not have that full face," Wade said.
For the new teachers this year it's even more difficult. Tessa Jensen Wolf, a biology student teacher, has to learn to face this challenge.
"It is tricky, not being able to see students' facial expressions, it's harder to see if the students are grasping the material. So, I think it's more important to have the best communication you can right now… when you can't see facial expressions," Jensen Wolf said.
Students also have varying opinions about having to wear a mask.
"I don't like the masks, but if we have to wear them to be here, then yeah I will. But if I had the option I wouldn't wear them," James Lyman ('23) said.
Other students agree.
"I don't like wearing masks that much. They're hard to breathe in and they're kinda itchy… it is quite difficult to distinguish between students," Symphony Lozano ('25) said.
When distance learning began, some students had difficulties adapting to the new format. After finally adjusting to learning through a screen, they now have to adjust to learning in a classroom.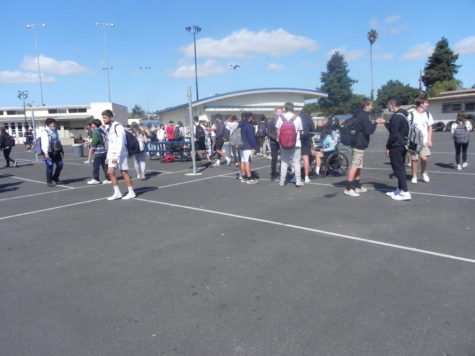 "Kind of compared to if we were marathon runners, we stopped running or doing anything for a year and a half, and then we just started a marathon, like we just jumped right into a marathon," Neff said. "So it's hard right now, it's hard for kids to get used to going into school every day, it's hard for the adults to get back into what I call 'shape.' Being in front of students and having 2000 kids is all the stuff we used to do."
Teachers can easily vouch for this. Katrine Bryan, a math teacher, has had this problem of 'getting into shape.'
"The adjustment after a year where we weren't in school has made it much harder for students and I'm seeing that in math, just knowing how to behave and knowing what class expectations are," Bryan said.
But even though teachers may have trouble readjusting, some students have had no trouble at all with the return to school.
Lyman said readjusting is "not hard at all," but does have mixed emotions.
"[School] was easier online… I had a Spanish class and I don't know anything from that Spanish class," Lyman said.
Some students have received the COVID-19 vaccine as they return to school.
"I have only gotten one vaccine. I haven't really gotten around to getting the second one. I don't really want it cause I have a fear of needles, but it's kind of a requirement to do a lot of stuff nowadays," Lozano said.
Governor Gavin Newsom recently announced that California will mandate students to get the vaccine. But there is still a long process to go through.
"We don't know yet. I mean, that was … the initial announcement. Now there's going to be a lot of work to figure out the details of what that is going to really look like and we don't know yet," Neff said.
A walkout protesting the mandatory vaccination in California schools took place on October 18th. Students were to stay home if they wanted to protest against mandatory vaccination. According to Superintendent Fawcett, Lucia Mar saw a 12% decrease in attendance district-wide. Compared to other school districts, like Paso Robles Joint Unified School District who saw 27% of their students absent on that day.
Even though teachers and students have mixed opinions on face masks and other COVID-19 related things, they can all agree that if the choice is between masks in school, versus no masks at home, they will almost always choose to stay in school.
Leave a Comment
About the Contributor
Adilia Leiva, Reporter


Adilia Leiva is a freshman and is excited to be on the newspaper staff. She enjoys reading, painting, online shopping, and annoying her older...