A halt on Taylor Jones' running career
From a young age, Taylor Jones developed a taste for competition. She started gymnastics around the age of four, but soon found her true passion when she got into running after quitting the previous sport due to a broken arm.
A broken arm, often seen as a painful setback, actually acted as the source of discovery for Jones, introducing her to a sport that has brought her much success to this day.
"I wasn't able to do gymnastics anymore so then I ran a race and won, and I was like, I'm kind of good at this," Jones said.
This led to a growing interest in the sport, and Jones continued to explore this path by practicing with her mother, Jamie.
"I started running with my mom, and I got faster than her when I was around eight, then I started running with my dad, and then training by myself," Jones said.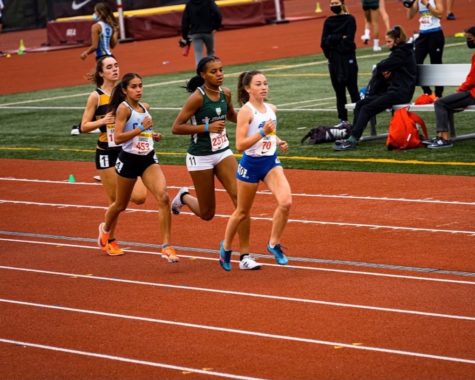 As Jones got more into running she competed in a 5k race in San Luis Obispo, CA, where she met a girl who was in a program called U.S.A. Track & Field (USATF), a national governing body for the sports of track and field, cross country, etc. She became a part of the program, which allowed her to participate in the Junior Olympics.
"When I was 10 I did my first Junior Olympics[for cross country] in South Carolina… I placed 28th out of over 300 people. After that I did the USATF Junior Olympics for 5 years and competed nationally," Jones said.
"It was a great experience because we got to travel everywhere and I got to train with some talented people and meet coaches with connections to famous people like Jordan Hasay."
Jones had been involved in cross country running but was eventually introduced to track and field events in 8th grade. Over time, she began to favor track and field, because of its different events like short distance running. Currently, she is taking a break from cross country for her mental and physical health.
"I'm taking a break from cross country and I stepped back…because I need to focus on myself," Jones said.
Aside from the mental break she is currently taking, her recently diagnosed physical condition has proved a difficult role in Jones's training and competition.
"I also discovered I had hip problems from about a year ago and didn't know why they were there…It turns out I have pretty severe scoliosis and we found out about 2 weeks ago," Jones said. "So right now I'm just kind of doing rehabilitation to help myself get back to where I think I can compete strongly…I'm doing a lot of lifting, a lot of cross-training, like swimming and biking."
Despite her current injury, Jones will continue rehabilitation and hopes to get back to her regular training schedule by track season.
Jones' scoliosis has affected her mentality and her ability to train. Despite the obvious physical aspects of running, the mental aspect also plays a vital role in the success of a runner.
"I think 80% of the sport is definitely mental. Just getting yourself out there and getting yourself to do it…and to train through all that is a huge part," Jones said.
Right before a race, she prepares mentally.
"I say to give it my all because if I don't put everything I have out on the line, there's no point in training to do that. You're never going to get the race back, so give everything you have," Jones said.
This mindset has supported her on many occasions, leading Jones to her successes in running.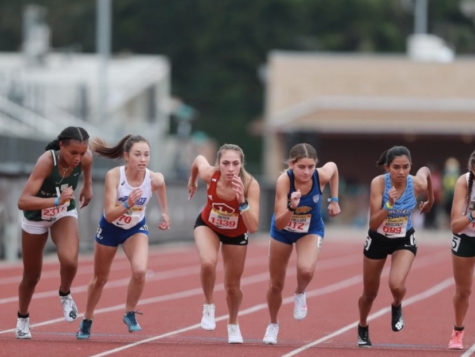 Jones acknowledges her parents, Jamie and Stefani Jones, who have been by her side her whole life, supporting her from a young age, as a main component of her success.
"My parents have been a really big support to me…none of the Junior Olympics and none of the experiences that I've had would likely have happened without them. They have sacrificed a lot and we've done a ton of fundraising so I was able to travel to those other states to do the racing," Jones said.
With her rehabilitation underway, and the support of her friends and family, Jones persists through life, and her injury, so she can one day achieve her goal to compete in college.
"I want to run collegiately and maybe professionally after that," Jones said.
At the moment she does not have a particular school she plans on attending, but she hopes to accept a scholarship for a college with a good architectural program, which she plans to major in, and eventually dreams of competing in the Olympics someday.
Her journey, while postponed, is not at a permanent end. Jones has the potential for a successful career and will soon be back on the track running at full capacity to continue working towards her future.
Leave a Comment
About the Contributor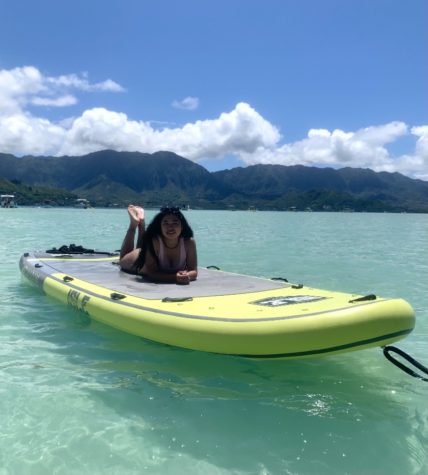 Alexa Min, Reporter
Alexa Min is a junior and new member of the newspaper club this year who enjoys painting, drawing, and other artistic activities. You can often find her...