Swinging into victory: 2021 Arroyo Grande High School Girls Golf Team breaks multiple records, going down as one the best golf teams in school history
The Arroyo Grande High School Girls Golf season has officially come to an end following an outstanding and record-breaking performance by the entire team. While players are sad to know it's over, they can take pride in their immense accomplishments.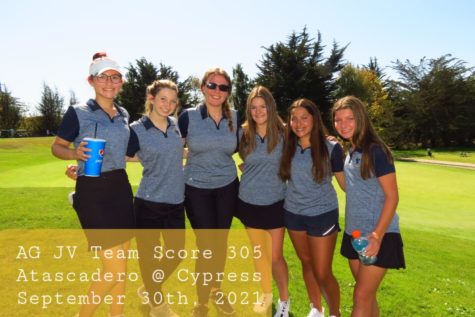 "The girls finished with an undefeated league record," Head Coach Claudia Souder said. "We also won the league championship with a record-breaking 18 hole team score of 409."
Along with going 10-0 on the season and emerging victors of the league, the girls broke their 9 hole team record, setting it at a low 196. 
Independently, Bella Gunasayan ('23) broke the team's 9 hole individual low, shooting a 34 at their Rancho Maria tournament. Gunasayan's younger sister, Gigi ('25), wasn't far behind, as she was able to tie Bella's record-breaking score of 72 for the team's 18 hole individual low. 
The team radiated with success from the start to finish of the season. The girls benefited greatly from their ability to bond and get along, and that attribute contributed greatly to the fortunate outcomes of the team. 
"I felt that we worked together really well," Maya London ('25) said. "We had some very talented players on the team, which was nice to have, and everyone did what they needed to do and played their own game so we were all able to succeed." 
Souder saw the team in a similar light, believing that the girls' friendships made a lasting impact on their overall performances.
"What was really neat was seeing the camaraderie amongst our team," Souder said. "We had about ten new freshmen on the team, and seeing those girls find a happy place out on the course and mix well with the veterans meant more to me than anything. Seeing everyone get along so well and have respect for each other was so nice to have, because you don't always get that."
Although the team soared through the season in good spirits and experienced many highlights, there were some set-backs, mainly revolving around the ongoing Covid-19 pandemic. 
"This year we had a player that was affected by quarantine and was unable to compete," Souder said. "Even in golf, which is the most out in the open sport, we can still be affected by the pandemic. But, the girls were resilient and they didn't complain. They followed the guidelines well."
Though Covid is usually a mood-killer in most scenarios, Souder believes that the pandemic and quarantining actually helped the team to recruit more players. 
"I think that was a jumping board as to why we had so many freshmen and new girls this year," Souder said. "Everyone just wanted to do something, meet people, make friends, anything really. So in a positive light, I think [Covid] helped our team grow."  
The main focus of the season was that the players felt they bettered their overall play. With the Girls Golf Team, this was nearly a no-brainer, as almost everyone collectively agreed that they ended the season a better player then when they began.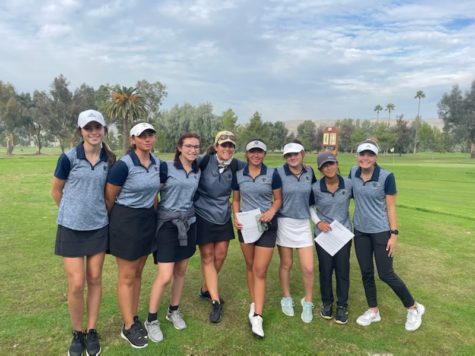 "I'm very happy with my performance," Lili Johnson ('25) said. "I hope I can practice more and get better, but I feel I already learned a lot  from this season."
Anya Klopfer ('24) felt that she was also a player that was able to work on her game and benefit from the season.
"I pretty much learned how to play golf from this season, because I didn't know how to before, and I feel like I learned a new sport," Klopfer said. "I think I improved a lot and I definitely got better from the first practice."
Overall, the Arroyo Grande Girls Golf Team was able to seek out lots of forward progress over the fall, making it known that they are a group of players to be taken seriously. With young and skillful girls as the blueprint of this team, girls golf at AGHS has a bright future. 
Leave a Comment
About the Contributor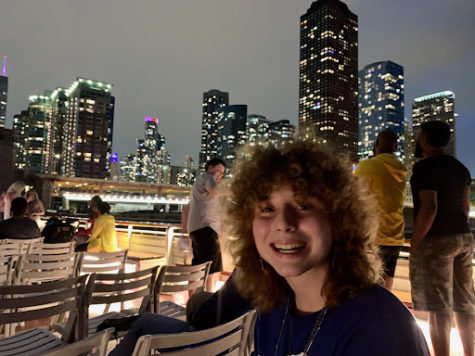 Gwyn Walzberg, Reporter
Gwyn Walzberg is a freshman as well as a new member of the Eagle Times. Academically speaking, her interests consist of English, History, and occasionally...