Winter spirit dress up days 10/6 – 10/10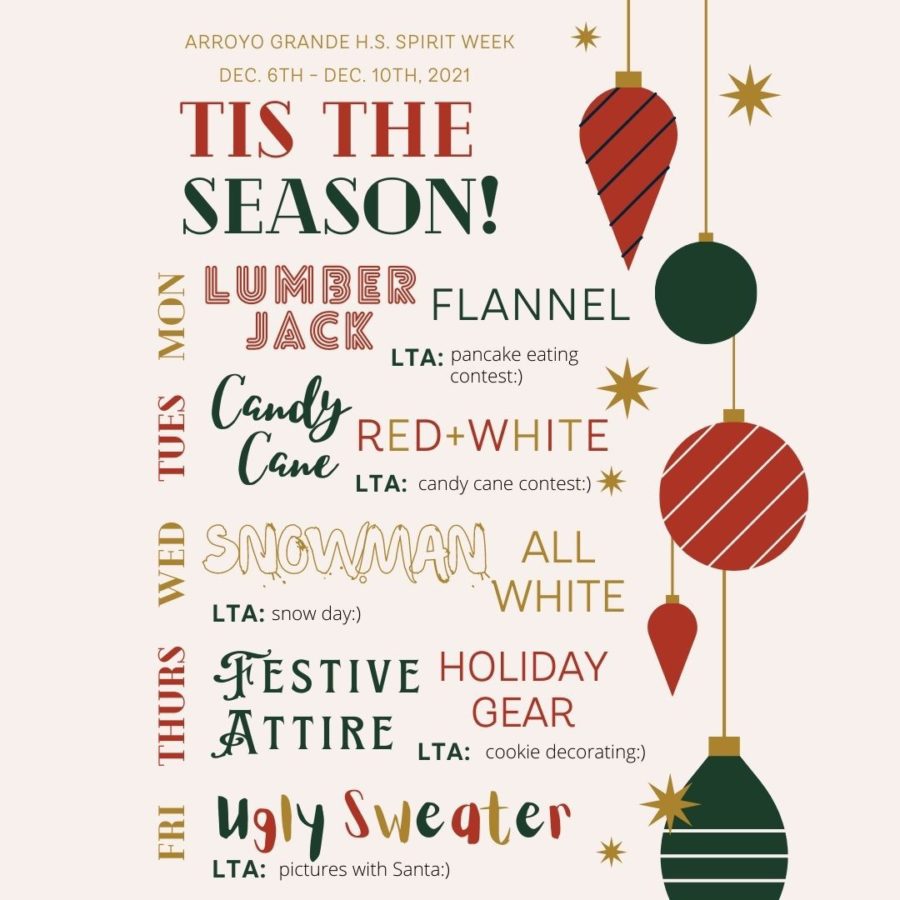 Tis' the season to participate in Arroyo Grande High School's Winter Spirit Week! Starting next week, students will be encouraged to wear a specific theme of attire each day and invited to participate in lunchtime activities. Prizes will be available for anyone willing to take part in these Christmas-themed activities.
On Monday, December 6th, the theme will be Lumberjack. Come to school with flannel shirts and make room in your schedule for the lunchtime activity. The school will be hosting a pancake eating contest during lunch, perfect for anyone whose school lunch isn't filling enough. 
Tuesday's theme will be Candy Cane. Come in red and white attire and enjoy those difficult-to-unwrap treats. The lunchtime activity will be a candy cane contest hosted on the blacktop! 
Wednesday will have a Snowman theme. Dress in all white and blend into the nonexistent snow. The lunchtime activity will be Snow Day.
For Thursday, a Festive theme will be encouraged. Come in your holiday gear! The activity at lunch will be cookie decorating.
And finally, you can expect an Ugly Sweater theme on Friday. Have a sweater that a relative knit for you that gives you nightmares whenever you look at it? This is the time to get out and share that with the world and give other people nightmares. At lunch, Santa will be present to take pictures with students. AGHS looks forward to seeing you participate!
Leave a Comment