AGHS Surf Team waves goodbye to boredom
The Arroyo Grande Surf Team kicked off their season in October, welcoming some new faces along with a few returning surfers. 
Despite some lack of familiarity between the kids, they were all able to bond and find similar interests through their love for catching waves.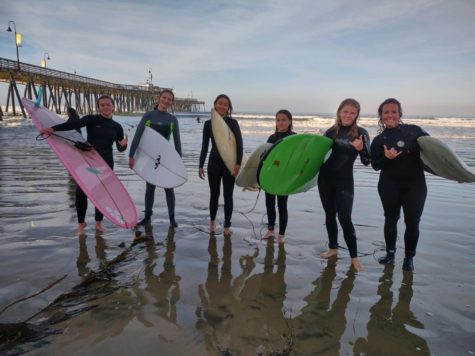 "The kids get along great," Coach Guy Jones said. "They all got to know each other, and they built friendships while surfing together."
Even as surfing represents a significant part of the culture in the Arroyo Grande area, it still comes as a surprise to some students when they become aware of the local team. 
"I had no idea we had a surf team in the area," Ava Montes ('25), a student at Arroyo Grande High School said. "Either way, I think it's really cool that kids are taking advantage of that opportunity and doing something they enjoy."
Montes is not alone, as many people still have yet to find out about the team and it's purposes. 
The all-around concept of the surf team is decently straightforward, as kids are there to surround themselves with water and fun.
"It lets students who have an interest in getting in the ocean and catching waves get together, at all levels of ability," Jones said. 
The team welcomes anyone, from beginners to near pros, and all the kids are currently enrolled at AGHS as well. 
"The surf team is really a surf club and some of the kids compete and some of them like to come out and surf and socialize," Jones said. "There is a place for everybody."
Even for the students that choose to compete, they find the surf world to be a calming environment that serves as an outlet for their worries.
"One of my favorite aspects of this team was being able to compete without there being lots of stress involved," Travis Nelson ('25) said. "Surfing allows me to forget about all my problems and just be in the present, and that is why I especially appreciate this team."
Regardless of how experienced the kids were prior to joining the team, they can all agree that they saw major improvements within themselves contrary to the beginning of the season. 
"I enjoy going out every Saturday morning and getting the experience of competing and learning how to surf better because of it," Annabelle Wood ('25) said." I felt that every practice was beneficial and pushed me in the right direction."
While all the students are just minutes away from the closest beach, they travel all over the coast for different competitions and are able to compete in a few different categories.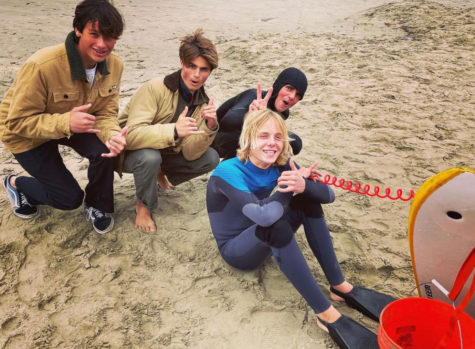 "We have gone to Morro Bay and Ventura, and I know we are going to Carpenteria soon too," Wood said. "I usually compete in the longboard competition, but there is an option to also do shortboard, along with a boogie boarding competition."
The kids are coming upon the end of their season, which is in January. Even as the fun is nearing a halt, all of the students are extremely grateful for their opportunity to surf with friends and classmates, and they are excited for what awaits next season.