"NorWAY!" AGHS gets the pleasure of meeting Henriette Nyholt
Henriette Nyholt: adventurous, athletic, and loyal to gaining growth through encounters new and old. 
Nyholt grew up near Oslo, Norway, and has traveled to many parts of the world beyond her home. 
"I have always loved traveling since … my first vacation [to Spain]. I was like four months old…I've been everywhere. I really like America, Thailand, and Mexico. I like Italy and I like France too."
She now resides in Arroyo Grande, California as a part of her exchange program. 
"I love [California]. It's different from where my sister was [during her exchange program], so it's kind of fun for me to have my own story to tell."
She lives with a host family in our community and is learning of differences between the people here and those in Norway.
"Here everybody's very open and they talk about everything. In Norway there weren't many people open to getting to know people… that was why I was kind of scared when I started here because I was afraid that nobody would open up and get to know me. But, it was the opposite, so it's amazing."
There's little doubt that students are curious to meet Nyholt because of her background in a different country. However, her eager and committed attitude toward developing herself as a person and sharing her stories with others, as displayed through her exuberant smile in response to questions about herself, makes her a very approachable and likable person as well. 
Nyholt's dedication to improving skills and generating bonds is exemplified through her handball team in Norway, which she has been a part of for nearly 9 years.
"Five [was how old I was when I started playing handball] …I started [playing with] the club [I'm currently in] when I was nine." 
In Norway, handball rules are similar to soccer rules, but the game is played on a basketball court indoors.
"It's like in soccer or soccer net, but smaller, and one point is one point we don't get two points and three points [like in American basketball]. Just one goal is one goal. We also have defense, offense, and a goalie/keeper. "
Typically, students in America who join a school sports team will play for roughly 3-4 months before an off-season. In Norway, school sports don't exist, and if one wishes to compete, they must commit to a full year season. 
"It's a full-time season. We don't have school sports, so we only play for clubs, and clubs play for the whole year. So I played handball for 12 years, [each year being] a whole year… The only breaks we take are in summer, but not quite because we get a program we have to follow the whole summer.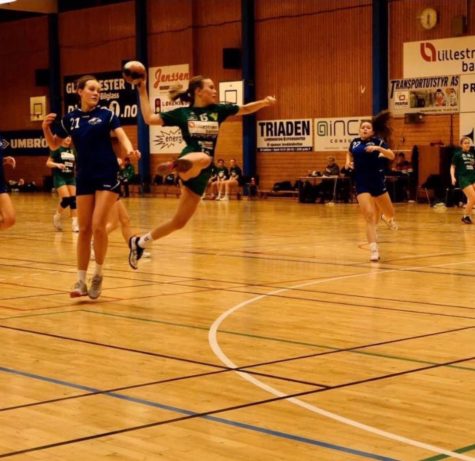 Nyholt's continuous game-play in this format is a good indicator of her strength and zeal. 
"I do weight lifting… exercising…I have to move… I like to work out," she said.
Throughout her experience in handball, Nyholt's team has competed in tournaments against several different countries and has become fairly esteemed.
"We have a lot of tournaments throughout the year, and the biggest one is in summer when we go to Sweden and teams from every country come to their tournaments to play. So we play against Egypt [for example]," Nyholt said. "We have won a lot of tournaments."
 Despite her many accomplishments, Nyholt feels that her greatest achievement isn't the awards or titles her team has won, but rather the bonds her teammates have formed with each other.
"My club is very close and we're like a little family where we're all in it together… Everyone has a special place in your heart."
Just as Nyholt has grown through her dedication to her sport, she continues to grow through her commitment to traveling abroad. 
"I'm trying to be positive and do always my best… and I'm trying to be independent. That's why I'm here." 
The main takeaway Nyholt has gained through her exchange so far is learning not to fear the unknown.
"I have learned that it's not so scary to be all on your own. I was kind of prepared to be alone…At first when I woke up I was like 'Whoa, where am I,' but my host family is amazing, so I was really lucky.. It all worked out pretty well…[I've learned how to] figure things out."
Nyholt recommends that more people step outside their comfort zone and gain independence through new experiences. 
"I think everybody should do the exchange and do things on your own," she said. "Try to be confident, even if you're not confident, be open, and challenge yourself. It's hard in the beginning, but it will get better."
Leave a Comment
About the Contributor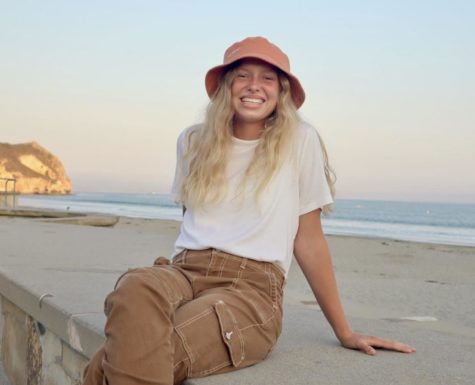 Olivia Theaker, Co-Editor-in-Chief
Olivia Theaker is a Senior and she's stoked to be on the Eagle times Staff for a second year. She enjoys listening to music, spending time outside, creating...