"GRIN & BARE IT" Improv team starts off second semster strong
Team Enchanted Performing Improv Game Slideshow Video Credit: Alexa Min
AGHS' improv team "GRIN & BARE IT" performed their first show of 2022 "Happily Ever Laughter" on January 21st. Hosted by Ashley Teran ('23), the show had great interaction between the audience and performers. Audience members were given fantastical names and any suggestions that fit the fairytale theme were welcomed, making for an extra special performance. Teran did an excellent job as host, having to fill in for another sick teammate. As the Improv Teams' historian, she categorizes all improv team's meetings. Teran is also involved in the Theatre Company as Vice President of the Theatre Board.
"It's so much fun. We have such a great time and we really like to play off of each other and be a family here. It's a really nice community," Teran said.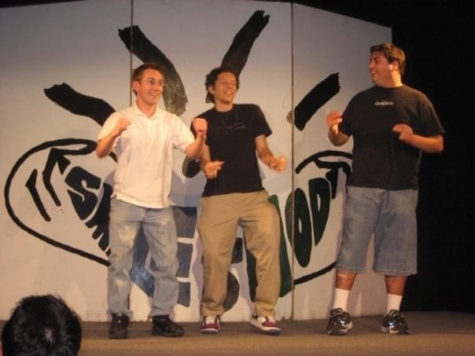 Lester Wilson, the team's coach, has been involved in improv for 18 years. Wilson's passion for improv began at Cal Poly as a part of Smile and Nod, an improv team based in SLO County. He then moved to LA, where he traveled through CA and parts of Oregan to do improv workshops at schools. Wilson's involvement at AGHS began in the AGHS Theater program where he taught improv workshops until the formation of "GRIN AND BARE IT" in 2015 where he now dedicates most of his time. The Team has since gone on to perform at ThesFest in the Improv division, taking 1st in State for the past four years before Covid. 
"[Improv] brings out the best in people. The person you think is the most shy gets their moment to shine," Wilson said. "It brings us out of our comfort zone, so we all get to be in the spotlight and have that moment. [It's] great for building esteem and making better public speakers."
Elyas Gharavi ('22) is the team's treasurer and Smile and Nod's legacy student. His older brother was a part of the AGHS improv team since its foundation in 2015. This year will be Ghavari's 1st year going to improv competitions such as ThesFest. 
To those interested in joining improv, Gharavi encourages just going for it. 
"The people who do the best in improv are the people who put themselves out there at the end of the day. The amount of fun you have is determined by putting yourself out there and fully engaging in [improv] rather than being more reserved." 
Sophie Long ('22) has been involved in improv for the past three years and is part of the AGHS Theatre Department. She's on both the Thespian Board and Improv Board,  primarily managing marketing for improv by running their social media and making posters.  
"One of the big things of improv is not being afraid to just say the first thing off the top of your head… [and] being brave because if you're afraid of telling jokes and saying things then you're not going to do well in improv," Long said. "Something improv can teach is being confident when you talk because doing something without a script is intimidating but can also be really funny." 
For freshman Kallie Diaz, their first year in improv and the AGHS Theatre Company has been an experience involving finding and learning from the sense of community that these groups provide.
"I get to make bonds with my teammates. I get to experience a bunch of different types of humor and expand my own. I believe humor is a way to communicate with others, it helps you think on your feet…It's obviously built my confidence… I apply [improv] to my own life for public speaking… and it's really helpful," Diaz said.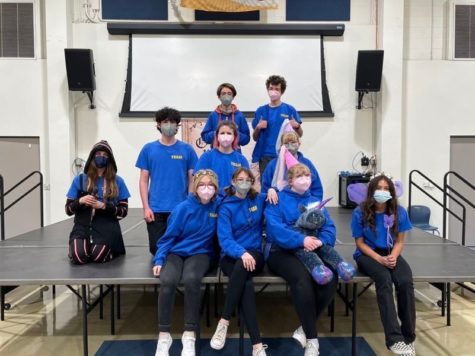 The AGHS improv program is always looking for new recruits, so if interested in joining, the program holds auditions at the beginning of the school year. No experience is required, and anyone is encouraged to try out!
Check out the AGHS Theatre Company and Improv Team's upcoming performances! 
AGHS Theatre Company: An Evening of One-Acts – Feb, 4th, 5th, 11th, and 12th at 7 pm in the studio theatre
Performances include: The Telltale Heart by Luella McMabon, Finding a Chord by Catherine Keyser, The Day the Internet Died by Jan McWetby & Jaden Pizzarello, and Kaleidoscope by Ray Bradbury 
Please wear a face mask covering your nose and mouth! 
Tickets available at Clark Center Box Office or online at https://clarkcenter.org/events/ 
AGHS Theatre Company: William Shakespeare Twelfth Night Performance on March 11th, 12th, 17th, 18th, and 19th at 7 pm and March 13th at 2 pm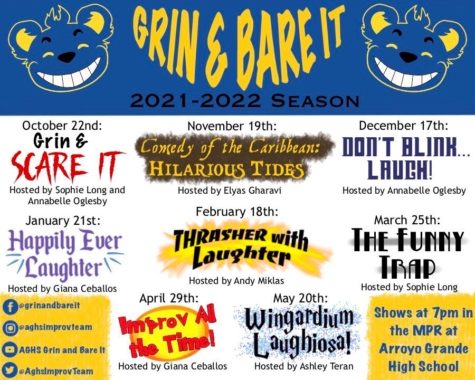 Upcoming Improv Show: "Thrasher with Laughter" themed Skaters vs Surfers hosted by Andu Miklas on Feb 18th at 7 pm in the AGHS MPR
Tickets are $5
Please wear a face mask covering your nose and mouth.
Later shows: 
The Funny Trap Hosted by Sophie Long on March 25th, 2022
Improv all the Time! Hosted by Giana Ceballos on April 29th, 2022
Wingardium Laughiosa Hosted by Ashley Teran on May 20th, 2022
All improv shows take place at 7 pm in the AGHS MPR