Elm Street Park will be getting an all-inclusive playground
Elm Street Park in Arroyo Grande used to have a stand-alone slide, but over 7 years ago the slide was removed, and since then nothing has taken its place.
Anne McCracken noticed the empty space in 2015 and reached out to the city to find out when the replacement would be implemented, however she learned that there wouldn't be one due to the lack of funding. McCracken couldn't leave it at that.
McCracken is a member of the Arroyo Grande Kiwanis Club. This is a local organization dedicated to serving the community with a slightly different approach than others like the Elks lodge or Optimist club.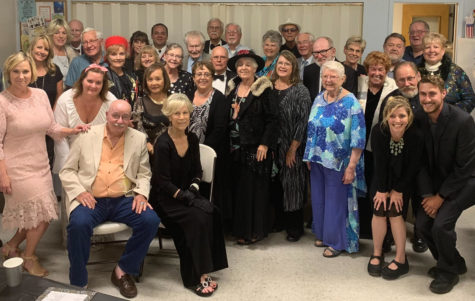 "We've never been a big money club, we're more hands-on," McCracken said.
In 1996, McCracken and the Kiwanis club paved the cement pathways by hand, giving the park wheelchair access that wouldn't have been possible if they didn't step in. This moment was inspiring to McCracken, and she continues to support Arroyo Grande.
"I came home feeling so exhilarated," McCracken said.
Despite the typical lack of fundraising by the Kiwanis club, McCracken began a campaign to raise money for a new slide for Elm Street park after learning the city couldn't afford it themselves. 
"We were drawing from a very small area," McCracken said. "It was a minor miracle that we were even able to do this."
Even though the Kiwanis club was fundraising locally in this small town, they were able to raise over $20,000 dollars for the replacement slide. However, the slide wouldn't be implemented right away. Instead, McCracken and Sheridan Bohlken, the recreation services director for the city of Arroyo Grande, sought a higher goal.
Through the fundraising campaign, Bohlken discovered McCracken's drive to help this community, and due to the passing of Proposition 68, the government finally had funding to help the park.
"Without the prop 68 funding I don't believe the path moving forward would have been where it is today," Bohlken said.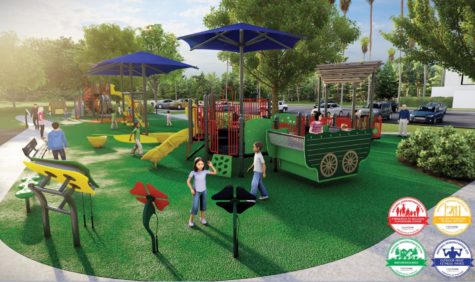 Bohlken proposed a grant for $177,952, and in 2019, it was approved. In order for the grant to be passed, a 20% match from the Kiwanis club in donations was necessary, which they had.
The updated park is not a simple redesign of the current one; in fact, it is not like any park, it is the first park in the entire country that will have an outdoor adult fitness park, nature grounds, play on technology, and an inclusive playground design.
This means that the new Elm Street park will have workout equipment for adults, a display garden, equipment that promotes physical movement, and most importantly a playground that can be used by kids with disabilities.
"[The park] is about understanding one another. We all have challenges," McCracken said.
Besides the inclusion of disabled children, the park will also be able to support the weight of adults, in order to consider disabled adults or veterans who couldn't bring their children to another park. 
Of people in Arroyo Grande under the age of 65, 6.9% have a disability according to the most recent census. A park for children who cannot normally use a playground is long overdue in this area.
Although the grant from the city may seem large, the money will go quickly, fortunately, local groups have volunteered to assist in the park's construction. 
"The community partnerships are definitely a huge piece," Bohlken said.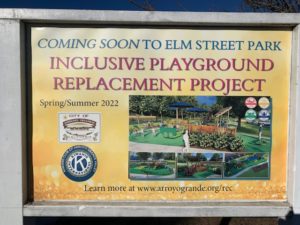 The removal of the old park will be done for free as the carpenters union has volunteered to remove it. The nature grounds will be done by Arroyo Grande in Bloom, and Arroyo Grande Public Art may insert a piece in the new park.
The park will most likely begin construction this year, and this huge project will have many volunteer opportunities. Updating the outdated park will require lots of hands-on help, and will offer community service hours, so this may be a great opportunity for students in need of hours.
"This is so important for your generation to be a part of," McCracken said.