New Teacher Laura Garcia
This year, Laura Garcia began her teaching career at AGHS. Following Madame Lord's retirement, Garcia was more than happy to assume the role of AGHS's French teacher. She teaches all three levels, French 1, 2, and 3.
Before moving here, Garcia grew up in Fallbrook in North County, San Diego, knowing no English, but she adapted to the language quickly through school. Throughout her education, she took French and absolutely loved it.
"My dream was to go to France one day," Garcia said.
As a result, she wanted to attend a college where she could travel abroad. With the help of Cal grants and Pell grants, she was able to attend a private school in Napa Valley, where she was able to study abroad her entire second year of college.
From her studies, Garcia earned her undergraduate degree in French and international communications and began her career soon after.
Garcia's first job was working as a career technician at a school career center. She found that many students would come to her with problems and concerns, which introduced her to the idea of counseling. She became a counselor and has enjoyed counseling for 20 years.
"I love working with alternative [education] kids, continuation kids, community day school kids that are either in foster homes or just have been in trouble…I love getting kids into college financial aid, and AP exams. Now, it's super stressful in high school, a lot of kids need help…so that's how I got into counseling," Garcia said.
Some of Garcia's hobbies include art, thrift shopping, and traveling. She loves being active, whether it's by skiing, on the snow, or water. She believes that being active is important, even though sometimes you can forget how fun it is.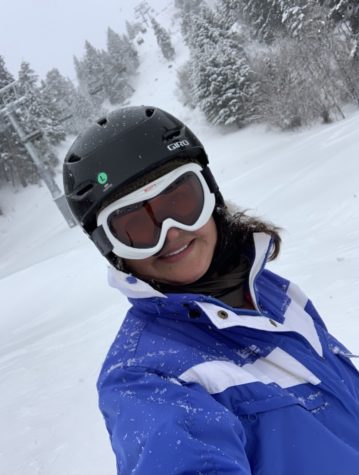 "Take care of your body, it's the only one you have," Garcia said.
So far, Garcia has enjoyed her experience at AGHS. She's received great support from the staff administration and loves her department.
Garcia hopes to continue providing support to her students and is understanding of the effects of COVID on some individuals. With freshman barely having experienced a full year of school, and current French 3 students who took French 2 online, she knew she would face some minor difficulties throughout the school year.
As far as teaching goes, Garcia encourages her students to always be honest, and not to be afraid to make mistakes.
"So learn how to cope with failure, learn from your mistakes here. And because in real life, there's no do-overs," Garcia says.
She also lives by the phrase, "Be who you needed when you were younger."
Garcia hopes to be more patient with herself and her students, especially since the pandemic is still going on. She loves to reward students for their efforts and hard work, even if that means turning in assignments a little late and is understanding.
"Sometimes there's things going on in your life and [a] time constraint."