AGHS students petition against LMUSD mask mandate
Zoe Lodge, Co-Managing-Editor
February 17, 2022
On February 8th, 2022, an AGHS senior, started a change.org petition to remove the mask mandate for the Lucia Mar School District. The petition includes an area for those who agree that the LMUSD mask mandate is no longer needed or who wanted to sign, as well as a detailed description of the change those who sign this document hope to instill. 
This is the purpose of the petition as detailed on change.org:
"Both students and staff are struggling to learn and teach with our school district m-as-k ma-n-dat-es (sic). As of Feb. 15th, m-as-k ma-n-dat-es (sic) are being lifted everywhere in California except for the schools. I am a Senior within the Lucia Mar School District and I want to make a difference. I was recently told by one of my teachers that this is our time to make change. If we want to change something, we can and should. This is what I hope to change. I hope to give students and staff in my school district the freedom they deserve. I hope that my change reflects on other school districts and we can soon create a even (sic) bigger difference. These kids need to live a normal life. Why are we enforcing such policies for a vi-r-us (sic) with such an extremely high survival rate for children 17 and under? Allow kids to have the right to choose if they want to wear a m-as-k (sic) or not, because people deserve the right to choose! I need help from others to create this change. Please take part in this journey and make a difference! Thank you. 
https://www.ksby.com/news/california-news/ca-indoor-mask-requirement-to-end-next-week-some-negative-test-requirements-also-changing
https://www.worldometers.info/coronavirus/coronavirus-age-sex-demographics/
https://healthpolicy.usc.edu/article/mandatory-masking-of-school-children-is-a-bad-idea/"
Several AGHS students in support of the petition, including the creator, declined to comment for this article.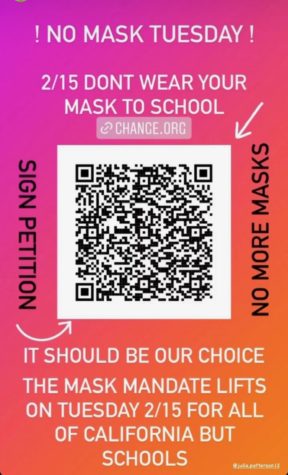 Due to the creator's refusal to comment, it is unclear as to where the petition will go after garnering a certain number of signatures. It is also unclear whether or not the petition is hoping to align with the state guidelines of dropping mask mandates for vaccinated individuals or remove mask mandates altogether. 
As of February 17th, 2022, the petition has over 700 virtual signatures and a number of comments in support of the petition.
The comments come from students and parents, ranging from more serious messages such as, "I understand if people think it is a risk, but that is a risk that people should get to decide for themselves," to less serious comments such as, "masks are sus."
Some other comments from those who signed the petition include:
"Our kids need a normal life and to breath (sic)!"
"Masks (sic) make me not consume air and makes (sic) me not learn." 
"Masks are pointless."
"I would rather get covid than CO2 poisoning. I can't breath(sic) in them either."
"Newsom sucks!"
"Masks are ridiculous and don't prevent disease. Just dissection. (sic)"
The statewide indoor mask mandate for vaccinated citizens was lifted on February 16th, 2022. Because people are now allowed to stop wearing masks indoors elsewhere, supporters of this petition believe the same rule should apply to the Lucia Mar School District. 
According to the California Department of Public Health, masks are required for indoor K-12 settings because "masks are one of the most effective and simplest safety mitigation layers to prevent in-school transmission of COVID-19 infections."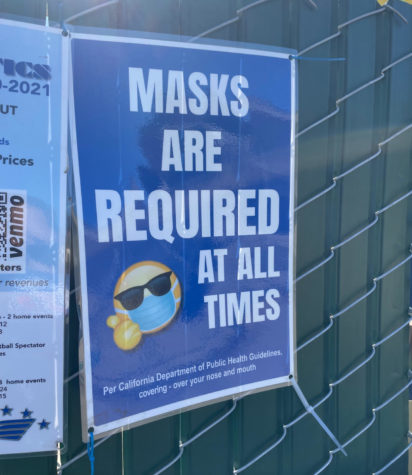 These guidelines are upheld even as other indoor restrictions are lifted across the state and county. The guidelines being lifted are for vaccinated individuals, but both vaccinated and unvaccinated individuals are still required to wear masks in "high-risk environments," which currently includes schools. 
However, Governor Gavin Newsom and Human Services Secretary Dr. Mark Ghaly will reassess the rule on February 28th, 2022, and release an updated decision on that date. 
AGHS has had 452 confirmed COVID cases since the beginning of the school year, as of February 10th, 2022. The Lucia Mar School District, between schools and district offices, has had 2,120 confirmed COVID cases since the beginning of the school year. To get an idea of the scale of these cases, Arroyo Grande High School's current enrollment is 2,002 students. Since August 13th, 2021, LMUSD has had more COVID cases within the district than enrolled students.
LMUSD, SLO County, and the state of California still face a number of COVID cases even as mask guidelines drop for vaccinated citizens around the country and the state. Students and parents seem to grow continually more exhausted with guidelines as time goes on and are making attempts to cease face coverings for the LMUSD district. Time will tell if their efforts are successful.