Taking Math Outside the Classroom
An unimaginable scene recently took place in Mr. Sue's statistics class: students were having fun with math! Instead of taking notes, doing practice problems, or starting their homework early, students were applying what they learned in the classroom to a real life project. 
Students in Mr. Sue's 4th, 5th and 6th period Statistics classes went to classrooms and randomly selected students to complete an anonymous survey. The students were asked about how many hours of sleep they have on a typical night, and whether they would take a zero period language or math class if it was offered as a result of the changes to the new schedule.  
Mr. Sue, who has been teaching statistics at AGHS for the last 9 years, assigned this project to his students for the first time this year, but has done similar projects in the past.
"The best way to learn statistics is by doing statistics, … [this project is] a good way to solidify what we learned in lessons and help students remember what they learned in the future," Sue said.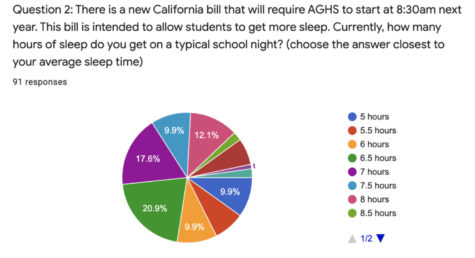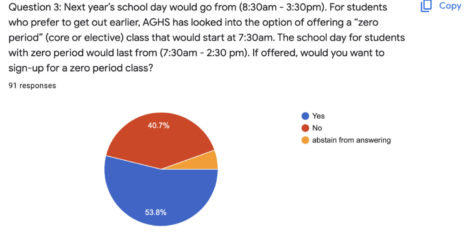 Students enjoyed the project because it enabled them to bring what they learned in the classroom beyond its walls. Some also believed that it was even a better way to gauge how well they were understanding the statistics concepts. 
"A test doesn't show what you know [and if you can apply it to the real world,] but this actually does," Garrett Lehman ('23) said.
Both teachers and students can agree that hands-on projects like these are increasing in frequency in the classroom as opposed to traditional tests. 
"What students are beginning to see is that math is really applicable to things we do in the real world," Sue said. "I think it is important to show them that the things we do in class are not just so we learn a subject for a grade, but actually something that can help us develop an interest." 
Leave a Comment
About the Contributor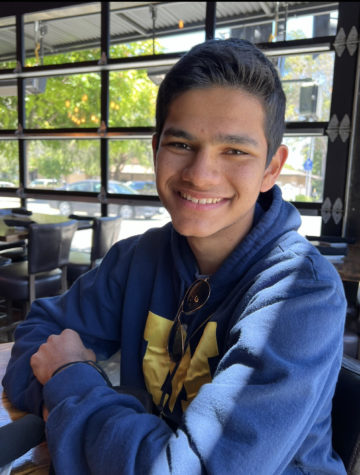 Melih Dookie, Reporter
Melih Cevik is a senior and in his second year with the Eagle Times.  He enjoys reading the news, following current events and watching college football....