The "Doughboy Barber" takes on AGHS
Many of us spend the bulk of our high school years on a journey of self-discovery, utilizing the time to discover our passions and what we want to do in life. Even by our senior year, however, we rarely have a good sense of what draws us in completely. This is not the case for Arroyo Grande High School student, Ivan Mejia Rojas.
Rojas ('24), also known as "doughboycutss" on Instagram, is a sophomore at AGHS with a unique aspiration. Despite only being 15 years old, Rojas is set on becoming a barber.
"I was born in Newport Beach, I lived in Ontario California for a little bit, and then I moved here, probably like in first grade- I've just been living here ever since… [I've wanted to be a barber] since middle school probably, but I pursued it [more] this year," Rojas said.
Recently, Rojas set up shop in the AGHS quad and cut some students' hair, thanks to Mr. Talley and ASB.
"I told my teacher Mr. Talley [who's] like in charge of ASB. I told him I wanted to be a barber, and then one day, he asked me if I wanted to do it at lunch and I said, 'yeah I'm down,' and that was basically it. We just set it up one Thursday," Rojas said. "We cut up like four people that day, in 40 minutes. Pretty good. I hope to [do this again], that's the plan."
While Rojas has invested himself in his passion since middle school, he isn't entirely self-taught. Like most of us, he draws his inspiration from different role models.
"I have two barbers that teach me right now- shout out to Ricky Medel and Leo," Rojas said.
Both of them are barbers based in Grover Beach and are also known as "mmedel3" and "callgodcuts" on Instagram.
Rojas feels drawn to Barbering because, unlike other jobs, it isn't a lot of physical labor, but can still be impactful.
"I'm not really a hard worker, like construction or something- that's not really my thing. Barbering I just have a passion for," Rojas said. 
Rojas wants to tell people to pursue their passions and not get discouraged by the effort it may take to become accomplished. He believes things don't happen overnight, you need to put in the work.
"[You just have to] take the time… expect good things- give it some time and it'll get better. Just pursue your dreams, with anything."
Leave a Comment
About the Contributor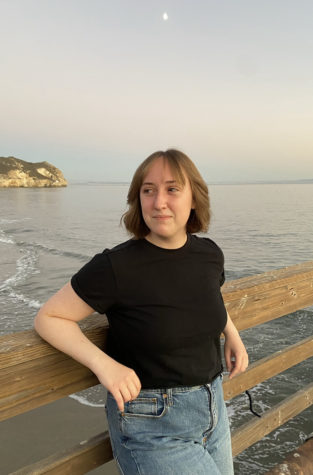 Grace LeVeque, Reporter
Grace LeVeque is a senior at Arroyo Grande High School, and she's ready for her second year in Newspaper. She loves listening to music, reading books,...