AGHS Theatre Company's one-act "Kaleidoscope" chosen as number one in California
"Kaleidoscope," originally a short story from a book called "The Illustrated Man" by Ray Bradbury and later adapted into a one-act, follows the story of the final conversations between crew members on a spaceship, as they face their deaths.
This past weekend, AGHS Theatre Company's cast of "Kaleidoscope" placed 1st at this year's State Thespian Festival and was chosen as the CA Chapter Select! 
"The competition is called chapter select…[which] means that we're the number one student one-act in the state of California …[and we get to represent California] by performing at International, which is amazing," student director Sophie Long said. 
"There are three play festivals for students in California. There's the Northern play festival, the Central/Virtual play festival, and then the Southern play festival. We submitted Kaleidoscope to the Central/Virtual because we recorded it in the black box, and we won first place at the Central/Virtual play festival. That meant we got to go to the California State Thespian Festival to compete with Kaleidoscope. 
"I think it was like 1000 people was the cap [for the audience] and there were more than that, I think …we finished [performing] and it had an amazing reaction…It was so cool… I could hear people in the audience reacting live to it every time someone would die, they'd gasp… and we got a huge applause."
Long mentioned she was already so fulfilled just out of pride for her cast once they finished, but she didn't realize the performance would pay off in more ways than just a wonderful reaction from the audience.
"The cast started picking up their chairs to exit and the lady came and said 'Don't leave the stage yet.' …Some tech people backstage were like, 'Hey, Sophie Go on, go on.' They were ushering me out to the stage and I was like 'What is happening?' And they said, 'We are pleased to announce that Troupe 648 is going to be representing us at International Thespian Festival because they have won first place," Long said.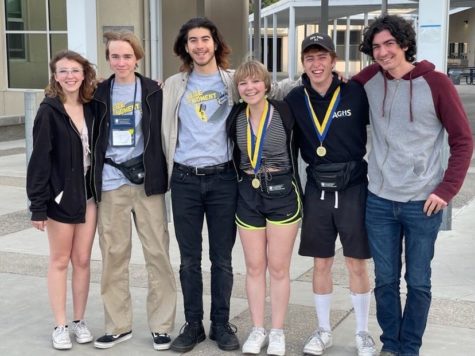 "I was already crying at the very end of it, because I was just so proud. And then they brought us out and said we won. And then just floodgates, I just started crying…literally my entire cast and I just ran to each other on the stage in front of like 1000 people and all held each other as tight as we could and everyone was crying. It was one of the things I'll remember forever, one of those happiest moments."
Long mentioned that winning this award means so much to her personally because she has come to view the characters in "Kaleidoscope" as real friends of her own.
"I fell in love with this one act the first time I watched it being done. And then I was like 'I have to direct this.' And I got the script and I felt even more in love with it… I obviously didn't write this, this was Ray Bradbury's imagination and his amazing storytelling, but I feel a certain amount of ownership of the characters…[it's] like I've gotten to know the characters and they feel almost like real people to me, and they feel like people I really love," she said.
Long explained that she expresses love through theater, so seeing real friends she loves carrying out the roles of the characters she's come to love fills her with immense joy and pride. 
"Theater is kind of my love language.. casting [people] in these characters to me feels like giving [them] gifts, like this is how I express my love for you and how much I care about you and trust you to bring these characters that I have fallen in love with so much to life."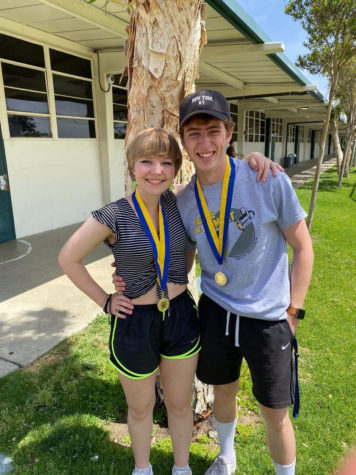 Long expressed her gratitude to her cast for their hard work and dedication to fulfilling her vision for the one-act. 
"I'm so proud of myself and of my cast…It was a little scary for them… but they all did amazing. And they worked really, really hard on it."
Long feels especially thankful for Nolan Lemay, as he stepped up to fill in the role of Applegate for the theatre company's performance at the Thespian Festival and helped make all of this possible. 
"Giana who was playing Applegate couldn't go [to the state Thespian Festival] so I was like, 'Dang, I'm gonna have to recast,' and that's a huge role…I asked Nolan to do it and he was super excited. He only had like two weeks to memorize and four two-hour rehearsals. And then we left for this fest, and he absolutely killed it. So it's just insane how talented everybody is in my cast," Long said. 
Huge congratulations to the entire cast of "Kaleidoscope": Aiden Wolstenholm as Hollis, Giana Ceballos/Nolan LeMay as Applegate, Andy Miklas as Stone, Annabelle Oglesby as Lespere, Kali Diaz as Stimson, Dylan Long as Barkley, and Justus Bates as Woode.
Well done to Long and LeMay as well for placing 2nd in the category of Best Duet Musical. 
The cast of "Kaleidoscope" will soon be representing California at the International Thespian Festival in June. Check out this fundraiser to help support the theatre company in their travels. Click here for more information and log in to purchase your ticket. 
Leave a Comment
About the Contributor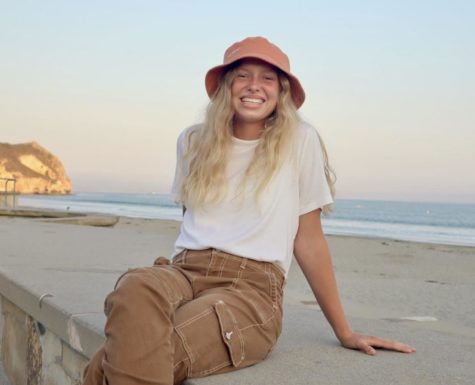 Olivia Theaker, Co-Editor-in-Chief
Olivia Theaker is a Senior and she's stoked to be on the Eagle times Staff for a second year. She enjoys listening to music, spending time outside, creating...