Monarch Sculpture Celebrates Five Cities
The Metamorphosis of an Idea into a Sculpture
Dave Doust is a local artist who primarily works on sculptures. Doust has been a full-time artist for 22 years, creating public pieces that can be seen in various locations within the Central Coast. But Doust hasn't always been able to fully pursue his passion.
"Back when I was around 19 or 20 I was at the University of Toronto as an art student and my uncle forced me into putting an application into the fire department and I was a firefighter for 27 years," Doust said.
Now as a full-time sculptor, Doust works frequently with other local artists and craftsmen.
"I'm part of the central coast artist collective and we also have the central coast sculptors group," Doust said. "If you join that, you meet all sorts of different people and you get invited to do different works and collaborations."
Doust recently completed a sculpture of a monarch butterfly on a hand, which is located outside of the Arroyo Grande Public Library.
"I had to compete against 12 different artists. We were given a certain amount of criteria that we had to develop a concept to address," Doust said. "They wanted something that reflected the five cities so I chose to do a hand [because of its] five fingers.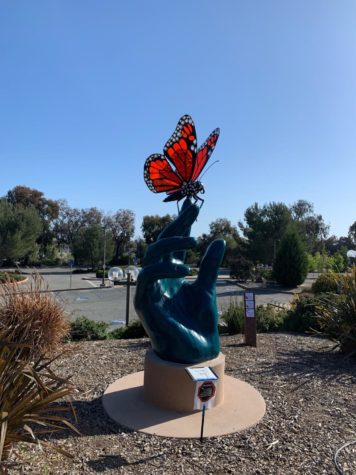 Doust initially made a smaller model to submit before scaling it up to full size for the final sculpture.
"To get the real thing made, I was going to make it with concrete but I had a fabricator make the hand for me. They scanned the hand that I gave them and they made the hand from high-density styrofoam with a steel frame and then covered it in RhinoCoat," Doust said.
Outsourcing was a huge part of the project, as Doust continued to work with other local artists for the rest of the creation.
"For the butterfly, I drew the wings and had a waterjet cut me quarter-inch plate stainless steel wings and then I had to wait forever for the glass from Mexico and we got two different kinds of glass I chose," Doust said. "We had them fused in a kiln and I had those waterjet cut so they would fit all the pieces of the stainless steel wings."
Then he worked on the body.
"I drew the body in shapes and then I had that waterjet cut in stainless steel, as well as the legs," Doust said. "I then covered the body in fiberglass to give it the shape I wanted for the abdomen. Then I made a mold for the eyes and had those cast."
Assembling all the individual parts was a difficult task as well.
"It kept me awake many nights because I thought 'how am I going to take that 300-pound butterfly and put it on top of that hand and not destroy it," Doust said. 
Luckily Doust received additional help from the community, and they were able to successfully place the monarch on top of the hand.
"A friend of mine said 'I have a buddy and he's super strong and I'm gonna bring him', so I had four volunteers, and one of the guys I had looked just like that John Cena guy. He was gigantic and my anxiety went completely away, he could pick it up himself," Doust said. "Everything went well and it was great."
The project should've only taken about three months, but numerous delays dragged out the project significantly.
"It was stop and start because of covid. I would get part of the project done and then it would stall for six months," Doust said. "The county stalled it just because of the bureaucracy of getting permits."
Delays weren't the only issue Doust had to deal with.
"During covid, stainless steel basically doubled or tripled, so all my costs were thrown out the window," Doust said. "[The funding] came from Arroyo Grande Public Art. Because I couldn't get the project to move forward as fast,… [since] covid was sort of hampering the glass coming from Mexico, I said I would make the donor totems for people who contributed, so I made five that are installed there now."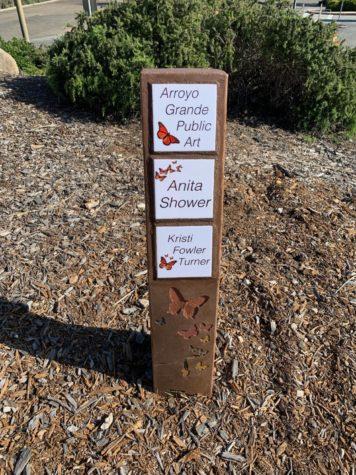 Now that Doust has completed the sculpture, he is currently working on a smaller project.
"I'm making a 14-inch monarch… just for me."
Leave a Comment
About the Contributors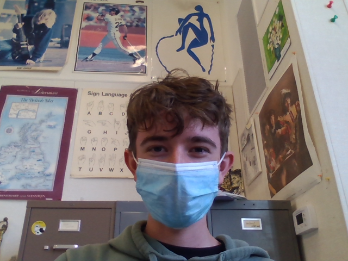 Jeremy Slayter, Reporter
Jeremy Slayter is a reporter from the Eagle Times. He is new to journalism but is excited to dip his toes into the world of objectively recording events....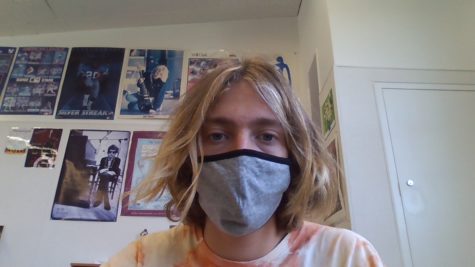 Cory Wack, Reporter
Cory Wack is a senior, assistant to the editor in chief, who has an undying love for objective journalism. Besides his consuming devotion to the news,...