Garland the golden retriever: AGHS' second mascot
Not far down the street from Arroyo Grande High school lives Garland, a golden retriever who is loved and known by many.
Garland lives in a comfy yellow house along the street of the high school and is often seen laying or waiting patiently to interact with the high school students as they leave the school to walk home or to the surrounding donut shop or log cabin market.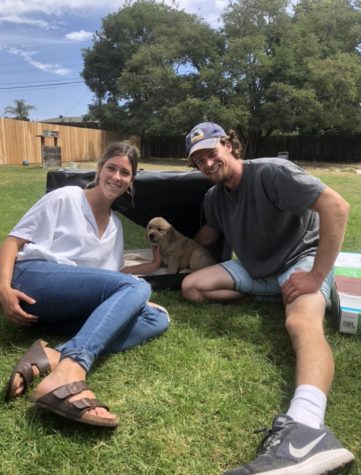 Garland lives with Mackenzie Bishop and her husband Wyatt Bishop, who attended Arroyo Grande High school many years ago, and their two-year-old son.
Wyatt Bishop has lived in the house his entire life. He grew up in it and eventually took ownership of it after the passing of his father, the previous owner.  Mackenzie Bishop moved in around two years ago and it's been their family home ever since. 
Mackenzie Bishop likes the Arroyo Grande Area and enjoys living close to the school.
"Everyone's very friendly…It's kind of fun,  seeing everyone pass by and…[play] with Garland," Mackenzie said.
Mackenzie has had a great experience with the students.
"One time a student accidentally threw a ball and then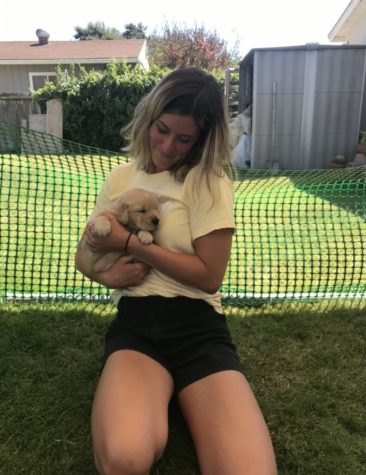 left a note under this brick on our sidewalk that said: 'I'm so sorry, my apologies, I threw his ball into the tree,'" Mackenzie Bishop said.
Mackenzie spends most of her time either in the backyard or inside, but when she is out in the front yard, she'll say hi to some of the students if they walk by and talk to her.
Many people in the community know the Bishops as they have lived in the area for many years, and now incoming freshmen are familiar with the family and Garland as well.
The name Garland is a combination of two names, Gary( Wyatt's Father) and Hayland (Gary's brother).
Wyatt's Father owned a hamburger restaurant called Garland's in the 1980s which is how he got his name.
"We named him in memory of Wyatt, my husband's dad, who had passed away that summer," Mackenzie said.
Garland loves people and gets along well with their kid and cat too. He loves playing with his ball and water, especially at the beach.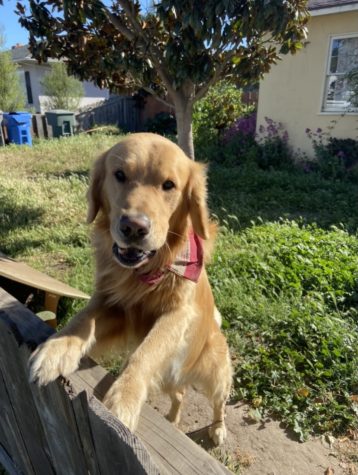 He is great at traveling, so the Bishops take him on many road trips, and he is quite obedient.
"[Garland] is a little bit timid, so he would never attack. He's always been one to hold back," Mackenzie said.
AGHS students agree that Garland seems very approachable and kind.
"I've seen Garland a few times when I've walked to the Log Cabin Market during lunch or after school. He always looks so happy as people pass by and I've thrown his ball a few times. He's really friendly," Ryley Reynolds ('23) said.
Garland is well known throughout the community, and AGHS students are happy to have him there to brighten up their day. Thank you, Garland!
Leave a Comment
About the Contributor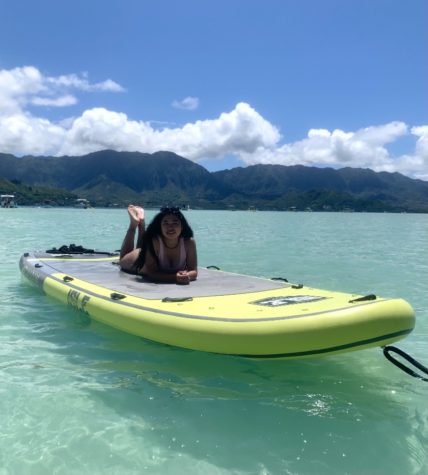 Alexa Min, Reporter
Alexa Min is a junior and new member of the newspaper club this year who enjoys painting, drawing, and other artistic activities. You can often find her...