AGHS takes the win!
Arroyo Grande High School band, choir, and percussion students win first place in Valencia competition!
On Saturday, May 7th, Arroyo Grande High School's band, choir, and percussion teams took to Valencia for a day of competition and fun at Six-Flags Magic Mountain. Most people were likely prioritizing the latter, however, despite the obstacles faced and bumps in the road, AGHS managed to snag the win, 1st place, in all three categories.
Lauren Corr ('22), a senior at AGHS, has been in the band for 7 years, and choir for 1. 
"Going in, the competition honestly wasn't really my first priority on the trip, as I'm sure most people also felt," Corr said. "I was really going to have fun and get to hang out with my friends at Magic Mountain."
Although there was a lot of excitement in the air, not everything was entirely perfect.
"During the warm-up for the band, I discovered my saxophone was broken, but there wasn't enough time for me to do anything about it before the performance… I kind of just had to roll with it and hope I played what I could right," Corr said. "For choir, I know all of us were not very confident with our performance because of the setup and the sound we were getting in the room… but I'm still proud of all of us and how good we did, even when we didn't feel our strongest."
Danica Watanabe ('22) had a similar experience. "The competition was amazing. At first, we warmed up in a small band room with questionable music stands and not enough chairs, but when we started playing we all started to feel normal again…" Watanabe said. "As we walked to the performance center though we were caught off guard that it was a gym- which if you're not in a band sounds VERY different than a regular performance room."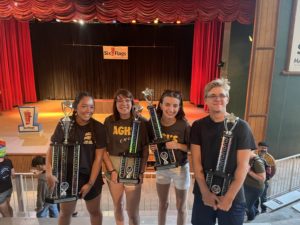 "We adjusted to the sound and played amazingly with only a few bumps in some pieces," Watanabe said. "After that, we headed over to Six Flags knowing that we did the best we could have."
Despite all the unexpected challenges of the competition, it went well for all of the AGHS groups.
"When the announcer said that the choir got first place, I was shocked," Corr said. "Like I said earlier, none of us in choir were super confident with how we did but getting first place just showed us that we're better than we think we are… and for band, hearing we got first overall was also so amazing. I'm just so happy that everyone in band, choir, and percussion can see that hard work really pays off… Now we get to show off and brag to the school about how good our music programs are here."
"As a senior in band this year, it is so great to see all the improvement everyone has made over this year," Watanabe said. "We wouldn't have been able to do it without the help of our amazing director Mr. Dunsmoor!"
Congratulations to the Arroyo Grande band, choir, and percussion! Here's to another great season!
Leave a Comment
About the Contributor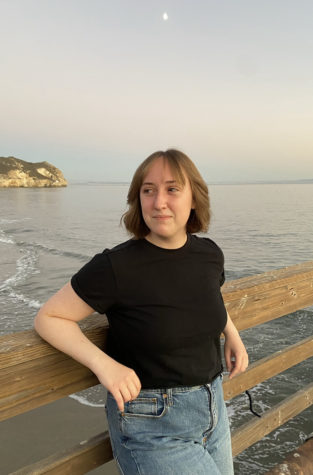 Grace LeVeque, Reporter
Grace LeVeque is a senior at Arroyo Grande High School, and she's ready for her second year in Newspaper. She loves listening to music, reading books,...