Loralei Dawson's eagle project contributing Knots of Love
In 2019, Boy Scouts of America finally opened up their Scouts BSA program to girls. Although they had a few co-ed programs, such as adventuring, sea scouts, and explorers, fully opening up everything to everyone was long overdue.
"Boy Scouts of America was one of very few, few countries in the world that didn't go fully co-ed, [along with countries] like Iran, Afghanistan, and China. We were falling really behind. Most of Europe… has been co-ed since the 90's," Scout Loralei Dawson ('22) said. 
Dawson has been heavily involved in scouting activities since her youth but never got to fully experience everything she wanted to, simply because she wasn't a boy.
"My little brother would always get to tag along on anything, but because I was a girl I didn't get to tag along on a lot of stuff, even though the only difference was my gender," Dawson said. "I wanted to be part of it and really involve myself in anything, but I couldn't."
Since Dawson couldn't be a boy scout, she briefly joined girl scouts.
"It wasn't really my thing," Dawson said. "Girl scouts tends to focus more on business and home economics and things like that, whereas boy scouts, I've found, focus more on the outdoors and wilderness survival skills. The main thing to keep in mind when comparing boy scouts and girl scouts is that they are two completely separate organizations. They have nothing to do with each other."
Not only did the focus of girl scouts not appeal to Dawson, but there wasn't as much prestige attached to it.
"If you go around and ask people if they know what an Eagle is, they'll have an idea of it. With Girl Scouts they have something called the Gold Award. If you ask someone if they know what the Gold Award is, they'll have no idea, even though they're very similar," Dawson said.
Now that Scouts BSA is open to girls, Dawson is finally able to achieve the rank of Eagle Scout.
"You have to earn six other ranks before you can get there. You have to have a basic understanding of the outdoors, you have to know first aid, there are swimming requirements, there are running requirements, you have to be physically active, you have to go on a certain amount of campouts and activities, [and] you have to be involved in your troop and community," Dawson said.
To achieve the rank of Eagle, scouts must also complete a self-created project.
"An Eagle Project is a project that helps to bring your community together and it helps to support your community or the world in some way,"  Dawson said.
Dawson recently started her Eagle Project, which serves two purposes; to teach people a useful skill and to donate to those who need it.
"I'm organizing crocheting and knitting drives for cancer patients for an organization called Knots of Love," Dawson said. "So what I'm doing is organizing a couple of workdays… and  allow[ing] people the resources to crochet and knit and teach others those skills that are kind of fading away."
Dawson was inspired by people she knows personally, making the project especially important for her.
"I've been crocheting since I was seven and I know a lot of people in my life who have been impacted by cancer," Dawson said. "I wanted to do something with crocheting and knitting because so many people asked me 'hey can I learn?'"
Marissa Fugitt is the Senior Patrol Leader of Dawson's troop and has helped with Dawson's project.
"[We've had] two days of working on it, and then she sends the materials home to keep working on it," Fugitt said. "I've crocheted two beanies."
Before Dawson began her project, she had already been teaching friends to crochet, including Fugitt.
"I taught people just for fun and then I [realized] that this was kind of a service to my community that I'm doing already," Dawson said. "I can get more people involved because I know other people that know how to crochet and knit, and they can teach others and I felt like it was something that could bring people together and connect, especially after COVID."
Although on paper, girls like Dawson now have the same opportunities open to them, there are invisible obstacles that girls have to overcome.
"At summer camp, my very first year, there was a lot of sexism. I also went to… A scouting Ranch in New Mexico. I went on a 12-day trek with my crew and we were one of the few groups of girls out there and the sexism there was crazy," Dawson said. "A lot of backhanded comments and rude things said."
But Dawson is optimistic, believing that as boys are more exposed to girls doing scouting, they will become more accepting.
"As it goes further girls are going to be more widely accepted into the program, but part of the issue is that proportionally boys troops vastly outnumber girls troops," Dawson said.
Leave a Comment
About the Contributor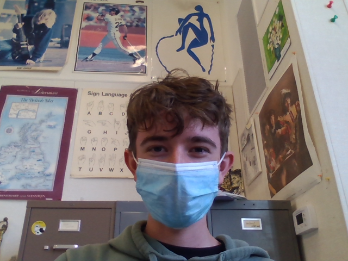 Jeremy Slayter, Reporter
Jeremy Slayter is a reporter from the Eagle Times. He is new to journalism but is excited to dip his toes into the world of objectively recording events....