Failure to meet earthquake safety leads to deconstruction of AGHS's track shed
Following the remodel of the Arroyo Grande High School track, a storage building was constructed on the East side end of the field for storage of track and field equipment.
The building has been standing for about two years, however, it will be deconstructed before July 1st, 2022.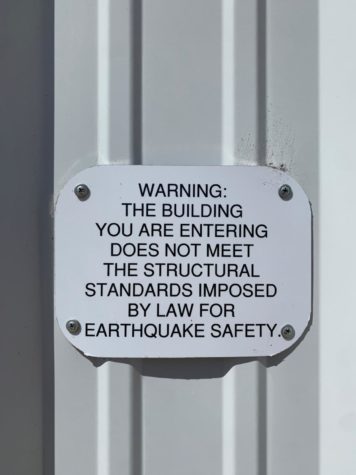 Jay Delory is the lead custodian at AGHS and has worked at the high school for 4 years.
"The building isn't cleared for earthquake safety," Delory said.  "It needs to be surrounded by a fence line."
Unfortunately, the district will have to remove the illegal building, however, it is not going to be a complete waste, as the building is going to be repurposed elsewhere in the district.
"[The building] is going to be dismantled and rebuilt at Nipomo," Delory said. "The shed will be used for the groundskeeping crew and possible storage for other items as well."
At Nipomo High School, the building will be constructed under the proper earthquake regulations and provide a much-needed storage building. 
The previous location at the AGHS will be filled with sea trains to store the track equipment for the foreseeable future.
Despite an oversight, the best has been made of what could have been a very wasteful mistake.