AGHS students express their creativity
Students participate in school Art Walk
On May 20, AGHS hosted its first "Art Walk Student Showcase" since the beginning of COVID, displaying pieces from the art classes on campus including Drawing, Painting, Ceramics, and AP Studio Art. The showcase provided a space for AGHS students to celebrate their creativity and expression through their artwork.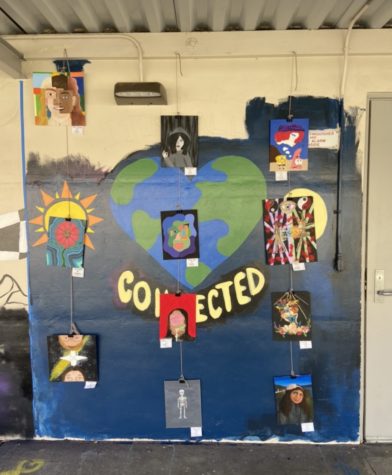 AGHS' art teachers: Jenna Draine, Julissa Andrade, and Maureen Cattaneo hosted the art show along with their students. The teachers were responsible for the planning and execution of the art walk, which took place across the entire 900 art wing. The classes had pieces displayed on walls and tables, separated by classes and project assignments.
"We had table groups collaborate together and organize the artwork to have it displayed in a nice way," Drain said. "Different types of artworks were grouped together, and had a description for each of those styles that the artworks were," 
"I wanted students to have an opportunity to showcase their work because it's wonderful, it should be celebrated, and it's just so expressive. I think it's something that we don't often get a chance to see."
Draine believes appreciating student accomplishments that aren't usually celebrated or are often overlooked is important.
"For some students, this is what they're good at. The school does a really good job celebrating sports and celebrating academic pieces, and I just want [art students] to have their moment in the spotlight," Draine said.
Drawing students presented a mix of assignments from the beginning of the year which primarily addressed skill-building.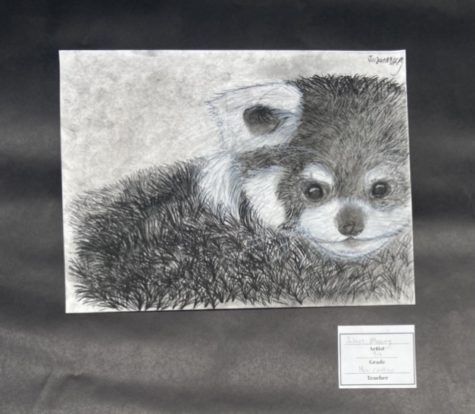 "We were doing lots of observational drawing, playing around and exploring traditional drawing materials…and then as we moved into the second semester, we worked with lots of different materials like oil pastels and colored pencils, and then we expanded into more creative, creative genres like pop art," Draine said.
Jordan ('25) and Devinn Mussey ('25) were in Ms. Cattaneo's drawing class and decided to show off their charcoal animal drawings of a red panda and their pet dog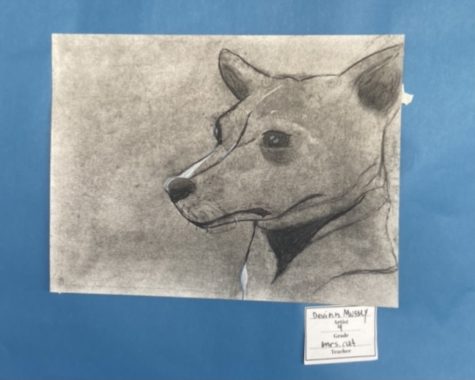 "We had to make an animal by using charcoal and…make it look as realistic as possible. As a kid I used to really like [red pandas], so I thought it'd be cool to be in an art piece," Jordan said.
"I chose my dog for the charcoal drawing because I really love him and he's a new part of our family…so I [drew him] from memory," Devinn said.
The two enjoyed the class and the drawings they got to create.
"The people were really fun to talk to and it's like another genre of people you only meet in an art class, and it's hard to meet other people like them. It's really fun working with [their classmates]," Jordan said.
As far as the painting classes, students displayed different types of paintings in different styles such as unusual surface paintings and batik paintings, which use a method of dripping hot wax onto fabric, then hand dying images.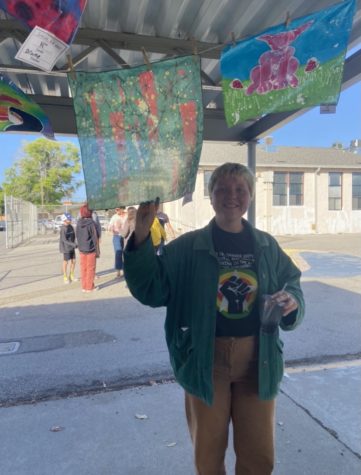 "The goal is always to give a theme for the project, but then let the student take it and do their own creative interpretation…that's what's so exciting to see," said Draine.
Josie Binns ('22) displayed many of her pieces from Ms. Draine's painting class, her favorite being her unusual surface painting on a plane propeller.
"The theme [for the piece] was a journey, and I had already got the propeller… and knew I wanted something from the ocean on it because I wanted to try out [a painting method] where I sprinkled [paint with] newspaper over it," Binns said.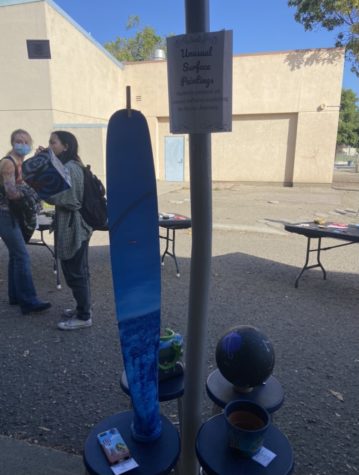 "I like the creative freedom because it was just kind of you got to do basically whatever you wanted to go no restraints on it."
For the ceramics section of the art walk, students chose a free choice piece to show off their creative style along with displaying one of the various projects assigned in class. Andrade teaches regular and advanced ceramics, so she has students of all levels showing off their work. Some of the assigned projects shown include pinch pots, gnomes, origami bowls, and food art.
She was glad to be able to participate in the art walk this year. 
"I'm very excited. This is gonna be my first art walk here at AG. I thought it was a great idea because we haven't had one or two years to be able to display everything because of COVID…It's really fun and it brings everybody together," Andrade said.
Ceramics student Darby Forsythe ('22) had a great experience in the class. The project she proudly displayed was a cereal bowl with a built-in straw. The bowl itself not only had a function but was a piece of art in itself decorated like a watermelon.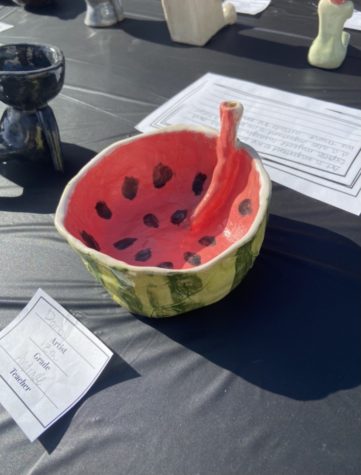 "I decided to make a bowl and then Ms. [Andrade] said to add some more to it, so when it came out of the kiln…my friend was like, you should make it a watermelon," Forsythe said.
The last section presented pieces from AP studio art, taught by Ms. Draine.
Students in this class choose a question as the theme for their art portfolios and create art that helps develop and explore that question throughout the year. Ella Hagen ('22) displayed three pieces from this year, the longest piece taking 30 hours to complete. She has enjoyed watching her art improve as the year progressed.
"I like the detail-oriented stuff, and AP studio gave me the time to do that," Hagen said.
The teachers were especially excited to be able to host the art walk this year and we're proud to see the work of all their students out on display.
"It's awesome…We're really impressed by getting to see all of the art that's going on in other classes…It's fun to watch students get excited about it and to watch other people having fun," Cattaneo said.
"There's so much heart and soul that students put into what they create…I find so much value in their openness and willingness to share those pieces through their art. For some students, it's a therapeutic piece, for other students it's just getting emotions out on the page, and for other students, they're building their skills and an ability to communicate personal messages. And for me, that's a voice that needs to be valued. It just makes me happy to see it all," Draine said.
The art walk was a fun way for students to express themselves and for parents and other students to enjoy and appreciate the art created by all the art classes. Thank you eagles for a beautiful display!