Mural mural on the walls
Those who saw campus before the pandemic may remember a series of murals covering the art classrooms on the east end of campus. They were covered up in the 2019-2020 school year with the expectation that they would be repainted by that year's students, however, quarantine prevented this from happening.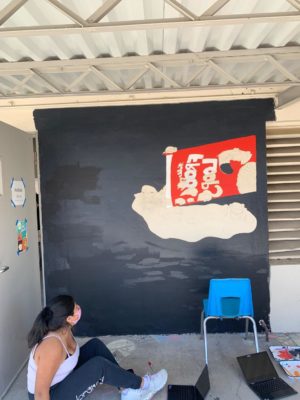 Jenna Draine has taught art classes at Arroyo Grande High School for 12 years and she has painted murals on the art classrooms for most of those.
"The first thing we talk about is the importance of public art." Draine said. "All year long [the students] are building their skills."
Draine's painting classes are working in small groups on individual murals in the art wing, these murals are focused on conveying a specific message.
"I'm excited, I like our idea, I love having thought of this and being able to put it on a wall" Gabriela Gomez ('22) said.
While Draine's classes work in small groups on individual projects, Maureen Cattaneo, a first-year art teacher at AGHS, is having her classes work on larger scale murals as a whole class.
The difference between Cattaneo's work and Draine's is her plan to spread the art around campus.
"I rode all around campus on my bike and looked for the sites that would have the most visibility and impact," Cattaneo said.
While in the past, the murals have been concentrated around the art buildings, the art department decided that it was time for a change.
"Both [Cattaneo] and I have discussed that color is lacking on campus," Draine said. "Color is powerful, and color is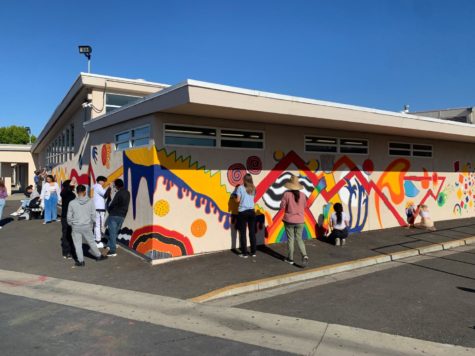 needed."
Although the entire class is working on one design for Cattaneo, the students were still left with creative control. Those in her class created a concept sketch, and the whole class voted on which one would go up.
"[The mural] is an example of students making art, and it is for students," Cattaneo said. "It's important for the student body to see what they can be a part of and what they could do."
Although the students have been practicing art all year, creating something permanent is a whole new challenge.
"[Painting the mural] is a little scary, it's scary to think other people will have a perception of it" Paige Ernest ('22) said.
Although the paintings will make big changes to campus, getting approval to put them up wasn't difficult.
"Mr. Neff was hoping that we would do some murals so he was supportive of the idea," Cattaneo said.
Cattaneo teaches drawing classes, and she has four classes painting murals.
"There are a lot of students who didn't take art because they don't love art," Cattaneo said. "And [now] they are getting super into it."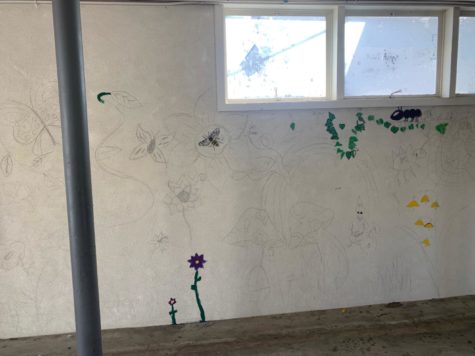 There are many different art classes taught at AGHS and the levels of skill are considered.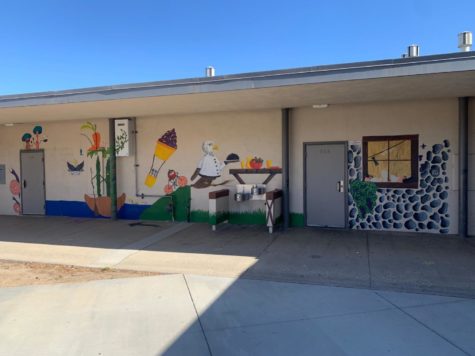 "In different classes we do it in different ways," Draine said.
Draine's AP Studio Art class is tackling a tough challenge with a cohesive, food-themed mural for Amber Russell, AGHS's culinary teacher. 
This painting is different from the others, as the students are taking requests from Russell as well as using their own creativity to make a cohesive mural.
"It's all for culinary, but we came up with our own ideas," Bella Gonzalez ('22) said.
Between all the different classes and varying techniques, the Arroyo Grande High School campus will have much more variety. 
"There were a lot of places [on campus] that looked sad," Cattaneo said.
With the splash of color from these murals, the campus will brighten up and color will be added as future art classes come along.
Leave a Comment
About the Contributor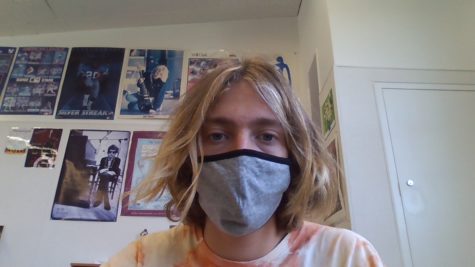 Cory Wack, Reporter
Cory Wack is a senior, assistant to the editor in chief, who has an undying love for objective journalism. Besides his consuming devotion to the news,...