Gabe Rivera, his wheelie sensational passion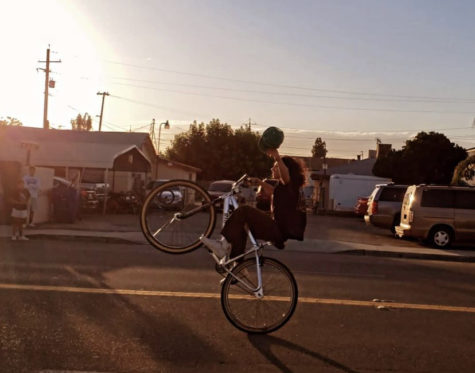 Gabe Rivera ('22) glides on an open street in the middle of the night with a grin and one wheel in the air, appreciating the progress he has made. 
"I like biking because I can see my progress. It doesn't take a long time to realize that you're getting better at it. Your progress is day to day. I get better every day. As long as you push yourself and you're willing to fall every day you'll get better. That's why I like doing it," Rivera said.
Rivera first taught himself how to do wheelies at age twelve, and has since become a part of several biking communities including one that he has founded called the 805 ripperz.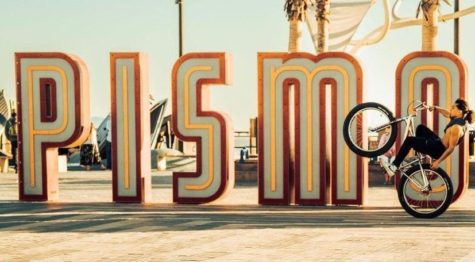 "Me and my friends started [the 805 ripperz] for [bikers] around here. I have friends in Ventura that ride with that as well."
Because Rivera is focused on perfecting his ability to do wheelies, he has gravitated more toward riding in the street than going to the skate park. 
"The only trick I've ever done on a BMX bike was a wheelie, so I never really got into jumping or doing skate park stuff. I would always only ride in the street. I didn't get a big ripper, that's an SC bike, until like two years ago."
A wheelie, while being only one trick, still allows for a lot of variation for Rivera when performing it. 
"There's things called combos and that's like jumping on your pegs and stuff and jumping on the seat and then there's other things like swerving, going really fast, and there's different bikes like fixed gear bikes, geared bikes, and then free wheel," Rivera explained.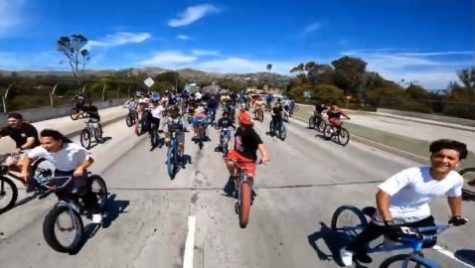 Rivera enjoys going on ride-outs where he can bike for long periods of time surrounded by a crew of other bikers, but he also values the time he spends alone bettering his skills.
"There's not a lot of [local] people that ride and my friends are usually busy, so I ride by myself a lot. Since I don't like [it when] cars [are around] I go at two or four in the morning and that's probably my favorite, when there's no one out."
While Rivera spends a lot of time alone with his bike, he has also had the opportunity to meet a lot of people through biking who have played a part in developing his character.
"[Through biking, I met] my mentor that I look up to the most; his name is James. He was the first person that ever took a video of me and we had a really crazy connection. He taught me how to do calisthenics as well," Rivera said. "[I also met] probably my best friend that I ride with, his name is Jesse. He's from Santa Maria and he just hit me up out of nowhere and we have been riding ever since."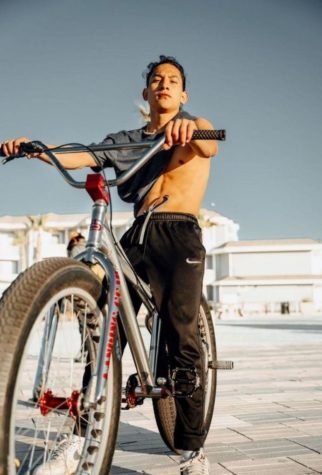 Biking has provided Rivera with many fond memories, his favorite being the time that he was able to meet a popular Youtuber in the biking community and share an afternoon ride with him, both in his truck and on their bikes. 
"I'd say [my favorite ride is] probably my first ride out ever because I met the guy that I have looked up to for a long time. He drove my truck actually and I got to be in his Youtube video. That was probably my favorite moment ever in biking."
Now that Rivera has over six years of experience with biking and doing wheelies, he has some new goals he wishes to accomplish.
"I want to build a bike…I'm trying to get sponsored too," Rivera said.
Rivera is an advocate for the importance of practice if one wants to see end results as he mentions he "rides every day."
To anyone pursuing a new passion, Rivera suggests, "just don't stop."
Gabe Rivera/ Olivia Theaker
Leave a Comment
About the Contributor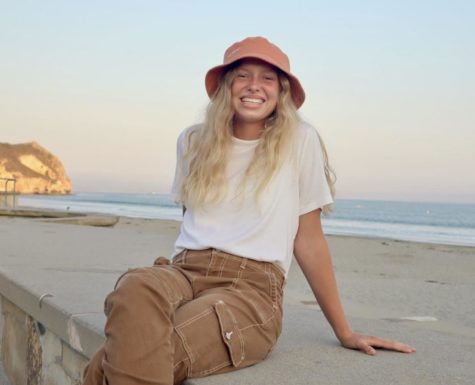 Olivia Theaker, Co-Editor-in-Chief
Olivia Theaker is a Senior and she's stoked to be on the Eagle times Staff for a second year. She enjoys listening to music, spending time outside, creating...