A rough year for UC admissions and students' positive spin
During the most brutal year yet for college admissions, AGHS students found some hope

The theme for the 2021-2022 admissions cycle was rejection. Particularly amongst the esteemed University of California system, colleges were overwhelmed with a flood of highly qualified applicants, leading to their worst year yet. Every UC campus received record numbers of applicants, resulting in record low acceptance rates. The UC system as a whole received 250,179 applications for the fall of 2022, 210,840 of which were freshman applicants.
UC Berkeley saw 128,192 applicants, which created about a 16% acceptance rate- after a scare of potentially only being able to admit a fraction of their normal acceptances. UC Davis received 94,725 applications, resulting in a 45% acceptance rate. UC Irvine had 119,165 applicants and had a record low 26% acceptance rate. UCLA, per usual, received the most applications of the group at nearly 150,000, resulting in an acceptance rate of just 10%, the lowest of the group. UC Merced, the newest and smallest, saw 26,043 applicants and a roughly 85% acceptance rate. UC Riverside had 54,365 applicants and showed a 62.5% acceptance rate. UC San Diego received a whopping 131,226 applicants, resulting in a 30.5% acceptance rate. UC Santa Barbara saw 110,991 applicants and had a 28.8% acceptance rate, and UC Santa Cruz had 65,866 applicants and a 54.7% acceptance rate. 
Still, despite these daunting numbers, AGHS seniors remained strong throughout the 2021-2022 admissions cycle and were able to find the silver lining.
"It didn't go the way that I expected," Claire Devaney ('22) said. "I got into Davis and Berkeley but never imagined I would get into Berkeley after I got waitlisted and rejected from all the other UC's. 
Devaney will be attending UC Berkeley in the fall, among the few graduating seniors that were part of Berkeley's 16% acceptance rate this cycle.
Another senior who is excited to pursue higher education at UC Berkeley in the fall is Sofia Reynoso ('22).
"I got into UC Berkeley, I didn't get into UCLA, but I did get into UC Davis and UC Santa Cruz," Reynoso said. 
Though Reynoso got into her top choice schools, she experienced a lot of stress surrounding the admissions cycle. 
"I didn't think I was honestly going to get accepted anywhere," Reynoso said. "Especially because the UC's were seeing a record amount of applicants."
"It was a massive amount of anxiety. Every day I would check my portals, it was my little ritual," she said. "Really seeing those results and getting into those schools was so unexpected and I just think it was extremely exciting."
Reynoso explained that a large part of her stress came from seeing classmates and friends getting rejected from UC's as the days went on, something that eventually created a bit of guilt for her.
"I know there were… extremely smart people who I think 100% deserved to get in and just seeing me get in and them not get in was frustrating, because you know, they deserve to get in," Reynoso said. "It sucks that some school… based on a little application they decided that you don't get to go."
Reynoso offered some advice for future students going through the UC admissions cycle or college admissions processes in general.
"Try to relax as much as possible. I know everyone says that," Reynoso said with a laugh. "But really, they should try to find their safe space… and resources that can help them because at the end of the day, there's only so much you can do."
"And you shouldn't feel bad if the school rejects you… because it doesn't make you any less of a person. It really just means that they probably didn't have enough space."
Amy Becker ('22) had a similar experience with the admissions process, but ultimately chose to attend Cal Poly over the UC's she was accepted to. Being closer to home and family took priority in her decision. 
"I was really happy that I got into Davis… but I decided I wanted to stay closer to home and go to a good school around town," Becker said.
She experienced similar feelings to Reynoso in terms of seeing deserving classmates and teammates get rejected or waitlisted from UC's and other top schools.
"I think it's really a gamble… to be honest," Becker said. "Sometimes it works out for you and sometimes it doesn't."
Becker parted with advice from others that she took to heart.
"I hear a lot of people say 'rejection is just redirection, like where you need to go,' but it's honestly kind of true and I'm happy where I'm going even though [I didn't imagine] it would work out that way."
Leave a Comment
About the Contributor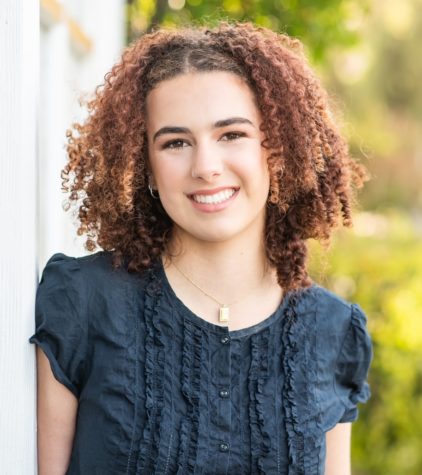 Zoe Lodge, Editor-in-Chief
Zoe Lodge is a senior and this is her second year at the Eagle Times! When she isn't writing (for the Eagle Times, for school, or creatively), you can...