Summer updates for Lopez Lake
The California drought is impacting aspects of life in many different ways. For SLO County residents the most notable effect is seen at Lopez Lake where lake levels have gradually been decreasing.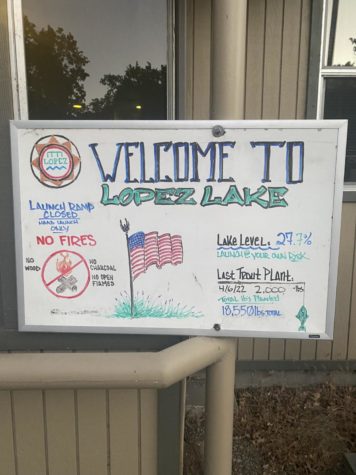 The County Water District routinely measures the lake which as of Sunday, June 5th was at 27.7% capacity.
The low lake levels directly affect SLO County residents as Lopez Lake water is continually let out of the dam, to keep water flowing to the Lower West reservoir as a natural way to treat drinking water.
The impacts of the drought on lake levels are going to affect summer activities. 
¨Our launch ramp for boats will be closed and there will be very limited access for boating activities," Mark, a park ranger who has been working at Lopez Lake for 8 years said.  "Hand launching is the only thing currently allowed at the lake and currently, we allow people to drive down with their four-wheel drives and try to put a very light hand launch boat in, but that may be sort of up to our discretion.¨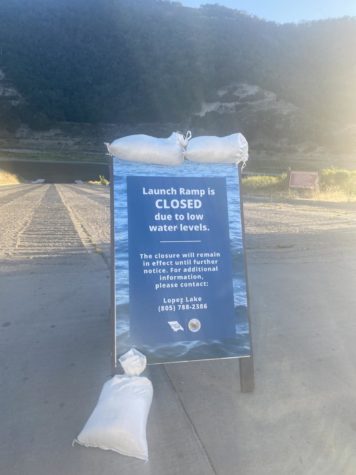 ¨If we get a very crowded beach area, we'll probably not let somebody get down there with their car and everything. And if they get stuck, it's up to them because it's getting pretty muddy. So those are all conditions that will change. Your best bet is to come and show up with something you can carry, like a paddleboard or windboard and that stuff will be allowed all summer,¨ Mark said.
Drake, another park ranger who is working his 7th summer at Lopez Lake elaborated on some of the changes that the drought and decreasing lake levels are creating. 
¨[The lake level] is going to affect the launch ramp which is closed now for boating. You can only hand launch stuff, so small jet skis, kayaks, and paddle boards are only really what we are allowing right now," Drake said. ¨The lake level also does affect the number of people we bring in here because people can't launch their boats and might not want to camp here¨.
As for worries about the drought and California fires Lopez lake officials have implemented a fire ban in the park and are working with everybody that comes into the park to obey the rules while having a good time.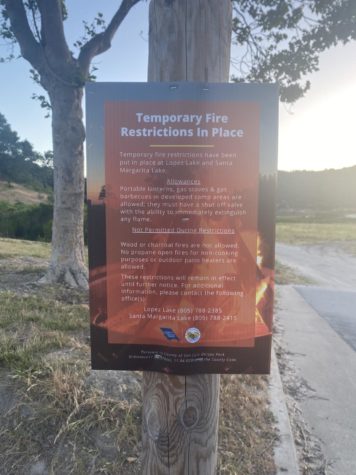 The drought's effects on Lopez Lake are signs that county restrictions and water rationing might occur.
¨We just gotta hope for some rain in the fall and winter of next year.¨ Mark said.