Happy Kindness Week Eagles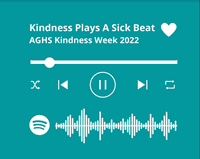 Happy Kindness Week Eagles! Kindness week has been an AGHS tradition since 2013, each year with a different theme. Last year's theme was "Coming Together", focused on coming back together as a school community after lockdowns and online learning.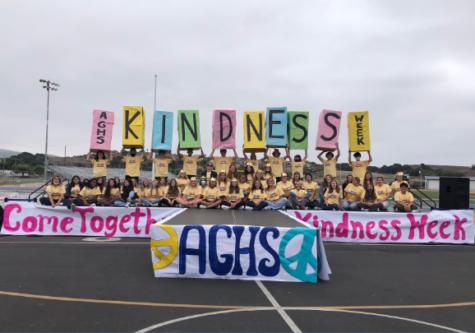 This year's Kindness Week is "A Sick Beat" themed, and as such AG Leadership will be wearing blue "Kindness Has a Sick Beat" shirts, where kids can scan a Spotify link and listen to the school's kindness week playlist, containing upbeat and popular songs.
Each day is based on a different song and with that song an accordingly themed activity and spirit wear.
As a bonus, ASB will be walking around campus Monday, Tuesday, and Thursday with a wishing well for dollar-worth items that they will purchase and deliver for Friday's rally; be there to collect your wish!
Monday's song is Party in the USA, and we are targeting first responders with our kindness by wearing red, white, and blue, and allowing students to write letters to first responders.
Tuesday's song is Wake Me Up Before You Go-Go, and we will be showing kindness to ourselves in pajamas while focusing on mental health and showing people how they can be thoughtful and kind to themselves. Play-Doh and Legos will be handed out. There will also be a cereal-eating contest during lunch.
Wednesday's song is Walking On Sunshine. Wear hippie and tie-die-themed clothing and be on the lookout for flower lollipops that will be handed out throughout the day. Wednesday is a minimum day but we will still be celebrating it by being kind to the environment and the things around us.
Thursday's song is We Are The Champions. Wear your Greek Week colors and focus on being kind to your classmates. Following AG tradition since 2006, there will be a Chalk Talk at lunch where students can make art on chalkboards, which will be displayed around the whole campus for other students to admire.
Friday's song is Firework. On this day there are four major events:
A rally in which Greek Week points will be awarded, along with performances from Robotics, Cheer, and the Drum Line,
A lunchtime teacher-student dodgeball game,
A whiteout football game,
and lastly the Color Blast.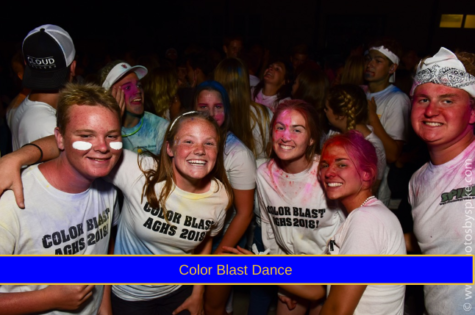 The last rally AG had was in 2020, so needless to say ASB is itching to do another. The dodgeball competition will be between each of the grade levels, with 5 staff and 5 students per team.
Here is a list of teachers who will be participating:
| | | | |
| --- | --- | --- | --- |
| FRESHMEN | SOPHOMORES | JUNIORS | SENIORS |
| Lachemann | Souder | Silveira | Zipze |
| Hoffman | Traylor | Callaghan | Andy |
| Warn | Richards | Silva | Sue |
| Valez | Ballesteros | Peters | Sligh |
| Goosen | Carter | Alverez | Hubert |
And here is a list of the students you will see:
| | | | |
| --- | --- | --- | --- |
| FRESHMEN | SOPHOMORES | JUNIORS | SENIORS |
| Conor Reed | Jayce Dawson | Jacob Angulo | Adam Lerma |
| Oliver Jenssen | Jack Boyer | Drake Missamore | Vincent Diaz |
| Seamus McGuckin | Logan Armitage | David Soto Reynoso | Bret Pinkerton |
| Peyton Morris | Grant Fordyce | Ulises Chavez | Devin Lewis |
| Albert Cortes Jose | Isaiah Flores | Jhared Lapaz | Jackson Javan |
Wear white if you plan on being in the stands for the football game against Lompoc to show spirit for Whiteout Day.
For people who buy Color Blast tickets, the event will be after the football game, where students will run through a tunnel of people and have lots of different colored powders thrown at them to celebrate.
That wraps up this year's Kindness Week, remember to be kind Eagles.