Olivia Lübker: From Denmark to Arroyo Grande
Olivia Lübker ('23), is new to Arroyo Grande High School for the 2022-2023 school year. Coming from the small island of Fanø, on the west coast of Denmark, she came  to Arroyo Grande as part of a foreign exchange program.
"With EF… the exchange program that I am with, you cannot choose where you want to go," Lübker said. "Some people choose to pay a certain amount of money, and then you can wish for a couple of [places], but it does not necessarily mean that you will get placed in one of them. My mother was an exchange student here in Arroyo Grande and went to AGHS 34 years ago, so she knew some people that helped to get me places here."
Olivia was able to file for an application in September 2021. Using the information in her profile, she was matched with her host family on May 31st, 2022.
"I have been really lucky with my host family. I would say that me and my host family are a perfect match, and we have a lot in common," Lübker said. "I have a host mother, a host father, and two younger host sisters. Already from the start, I felt like a part of the family and I feel really safe with them. They will forever be my family."
Olivia's connections with other exchange students, like her mother, and her love of travel, made her want to be an exchange student since she was young.
"I have never been to the U.S. so this is my first time here. I have always been interested in learning about other places and how it is compared to where I am from and meeting new people."
Despite loving Arroyo Grande, she has noticed some key differences between here, and her home country of Denmark.
"I really like it here in America, but it is definitely different than where I am from… the school is different, I am used to having one classroom with the same people. I would have different teachers for every class, and they would go from classroom to classroom," Lübker said. "My school that I graduated from this year [had] around 400 students, and it was kids from around 6 to 17 years old. I would say that the school here in the U.S. is more strict than my old school at home."
Olivia has made plenty of friends thusfar, and found comradery in the cheer team.
"I have met a lot of people and made some really good friends here… I am on the cheer team and I really like it," Lübker said. "The girls and our two coaches are amazing and I have had a lot of fun on the team. I have never done cheer before, but I did gymnastics when I was younger. I have also joined the stunt team, which I am excited for to really start."
Welcome to America Olivia!
Leave a Comment
About the Contributor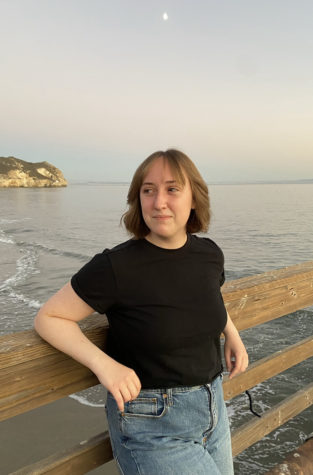 Grace LeVeque, Reporter
Grace LeVeque is a senior at Arroyo Grande High School, and she's ready for her second year in Newspaper. She loves listening to music, reading books,...