Nathan Thomas: Junior Adventures
Whether it be being artsy, athletic, or technical, there are many under-appreciated aspects of students' lives worth highlighting at Arroyo Grande High School. One student to whom this especially applies is Nathan Thomas(23).
Thomas' talent comes in the form of a Youtube channel he has had since April 2018, under the name Junior Adventures. 
"I called it 'Junior' because I'm a kid, and I'm just a kid going on adventures," Thomas said. 
Of the current 41 videos Thomas has created, there are two categories the content can be separated into: Overlanding and Off-road Recoveries. Overlanding is the content the channel is most centralized around. 
"Overlanding is a term that describes a certain type of camping method. Overlanding is like having an off-road vehicle and having different gear and things like that to be self-sufficient," Thomas said. 
Thomas' videos portray his family traveling to various locations, all while relying only on the resources they bring in their vehicles as they travel. Thomas educates his audience on the techniques he uses to survive and enjoy their travels while also showcasing the vast and unique environments they travel to and the journey along the way. 
"On our van, we have a whole solar system, we have our own bathroom system, we have our own shower system, and everything to be self-sufficient and take care of ourselves," Thomas said. "We have a whole kitchen setup and everything."
Instead of relying on something like a campground, everything in their van is portable, meaning that they can go just about anywhere without much hassle. However, it takes a lot of effort to fit all the necessities one would need into a single vehicle. A lot of additional effort is put specifically into reducing the load they take. 
Almost every location Thomas travels to lacks cell service or signal to connect with the rest of the world. He and his family take a satellite phone with them when they travel as a precaution in case of an emergency. 
"A lot of it is dirt roads, different car trails, and stuff that is a little challenging to go over but that's part of the fun of Overlanding, to navigate those trails and camp out there," Thomas said. "It's nice to just be away from, you know, the stress of real life or civilization." 
Thomas also travels around with many other tools, storing two boxes of common working tools as well as special equipment like an air compressor. 
"When you're Overlanding it is good to lower your tire pressure so it's a much smoother ride and it's easier on the vehicle," Thomas said. 
Thomas also carries some Maxtrax.
"Essentially [Maxtrax] are tracks that you put on the ground to help you get unstuck from certain areas," Thomas said. 
Thomas is always sure to bring other essentials in case of emergencies.
"Extra gas is always important to take with," Thomas said. 
Additionally, Thomas brings equipment like bedding for sleeping in his car at night and a makeshift kitchen for the mornings that incorporates propane stoves and common kitchen appliances. Both vehicles that go Overlanding, a 2008 Ford Explorer and a red four-by-four van, also are installed with fridges powered by solar paneling on the vehicles.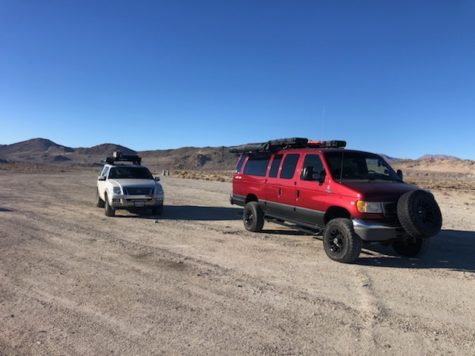 "My favorite video would probably be the one that took me the longest to edit," Thomas said. "It's Death Valley from last year."
In the video "4×4 Diesel Van and stock Ford Explorer take on the Johnson Valley Trailhead (Death Valley)," Thomas traverses a tricky path down death valley, incorporating many different camera angles from both dashcams of the vehicles and camera angles recorded by himself and his brother. 
Though Death Valley is considered to be an incredibly hot place, the temperatures are only around the high sixties during the Thanksgiving season, according to Thomas. 
Each year Thomas and his family travels down to Death Valley as a part of a Thanksgiving tradition. 
"We have a whole tradition where we cook Thanksgiving dinner early and take it with us. We have Thanksgiving out there around a fire because this is the best time here in California to go camping," Thomas said. 
Though the weather is nicer than one would expect, it does tend to get seriously windy down in Death Valley. 
"My two siblings sleep in tents which are usually really good but in the severe winds we thought it best for them to sleep in the vehicles," Thomas said. 
Fortunately, this year the winds are projected to not be as violent as last year. Unfortunately, a flood put holes in Thomas' plans, marking off some destinations. However, no flood would discourage Thomas and his family from making the most out of things.
"We're also going to be in the next-door neighbor … Panama Valley, which normally people don't care about but it's got a couple of ghost towns and mines and a waterfall in a canyon called Surprise Canyon that we're going to go see," Thomas said. 
Thomas' trip this year should make for a great Thanksgiving family outing as well as a great potential next video for the channel. 
While the next edition of the Overlanding series is in production, there are many other videos to check out such as the other videos Thomas has in his Offroad Recovery series. 
"For Offroad Recoveries we like to go to the beach and we like to help people that get stuck," Thomas said. 
Thomas has a special place in his heart for the beach and wants to make sure that everyone visiting the beach does not have their experience ruined by vehicular mishaps. 
"Driving on the beach is what makes this area. It is the best thing and originally attracted my family to move here from Ohio," Thomas said. 
Thomas and his family have gathered up recovery equipment from Freedom Ropes, an offroad recovery company, and give the most professional assistance to those in need at no cost.
"We don't pull people with your conventional tow strap or chain, we have what's called a kinetic rope, it's the safest way to do things," Thomas said. "People shouldn't have to fear going out there and getting stuck and then having to pay a fortune to get out." 
When it comes to what Thomas enjoys the most, although Overlanding is the majority of Thomas' content, he tends to favor his Off Road recovery videos. 
"The Offroad Recovery ones are my favorite because those are the most action-packed. Those are the most heart beating, you don't know what will happen until the pull is done. It's the most exciting," Thomas said. 
Thomas does the YouTube channel primarily and foremost for fun. It's a small hobby he has been able to flesh out over the years to explore his interests. 
"I started it basically because I was curious, like, what video editing was because I kind of took a little bit of an interest in it," Thomas said. 
Thomas talked with his father and others about his interests, and they all recommended he start a YouTube channel. 
"I'm solely doing it for fun and also I have a lot of relatives spread around so it's good to keep up with that. It gives me a chance to show what I can do. It also gives me a chance to experience what it's like publishing something out to the public and dealing with the public, but most importantly to have some motivation to keep video editing because I really do enjoy it," Thomas said.
Leave a Comment
About the Contributor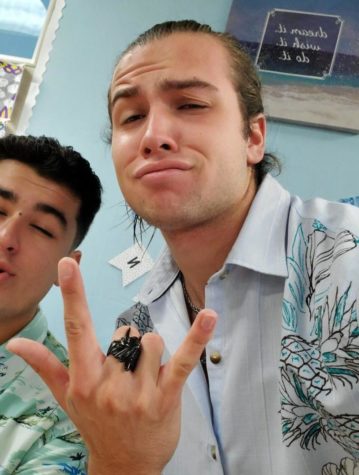 Ethan Weller, Reporter
Ethan Weller is a Senior and first-year newspaper student. He enjoys drawing, creative writing, and music. He is also an avid dog lover and quite regrettably...