Staff Stories on their Tattoos: What they are and what they represent.
Tattoos in professional settings are starting to gain conversation and acceptance, including at Arroyo Grande High School. Several staff members at AGHS have tattoos, each with their own story. Here some teachers tell the story behind theirs: 
Mullen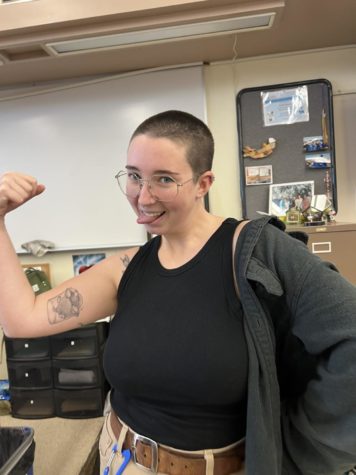 Ms. Mullen has four tattoos. She got her first tattoo when she was 19. She got her most recent (and also favorite) tattoo earlier this year. This tattoo is a mole in a beaker representing her love for chemistry.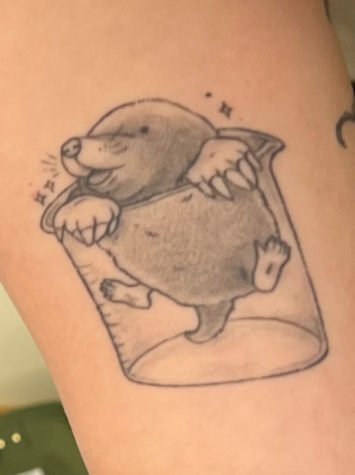 Stoddard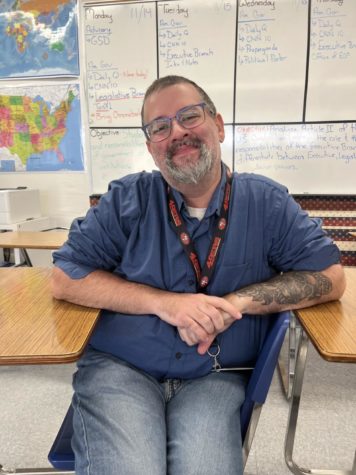 Mr. Stoddard has fourteen tattoos. He got his first tattoo for his 18th birthday. His most recent tattoo was only a few years ago. His favorite tattoo is a lily flower. He has many tattoos planned for the future, including one a student is currently designing for him. He currently already has student art tattooed onto his body.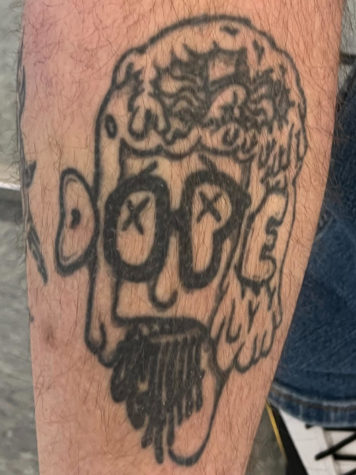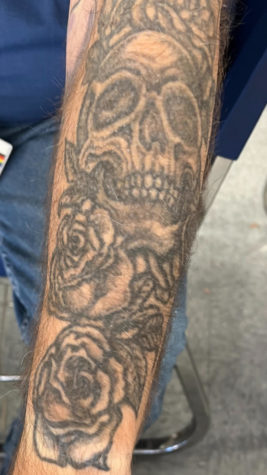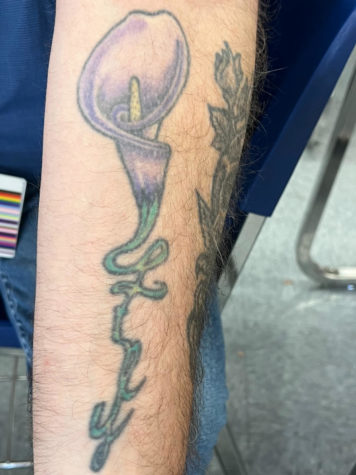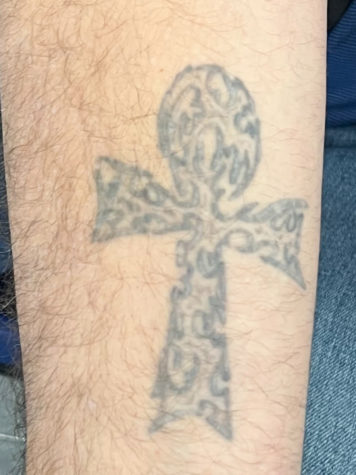 Peters
Ms. Peters has two tattoos. She got her first tattoo around age 20, a pink ribbon in honor of her grandmother who had died of breast cancer.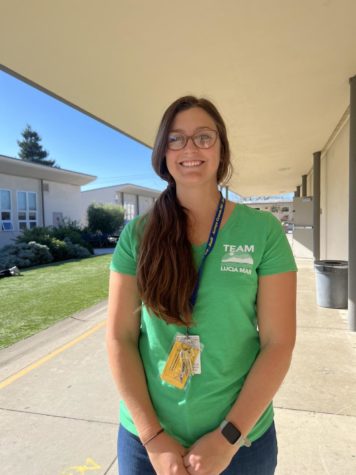 Her second tattoo is much more recent, she got it around age 28. This tattoo says "more" in her father's handwriting. 
"He was also going through cancer, and it's a thing he says to us a lot, so my sister and I have matching ones," Peters said.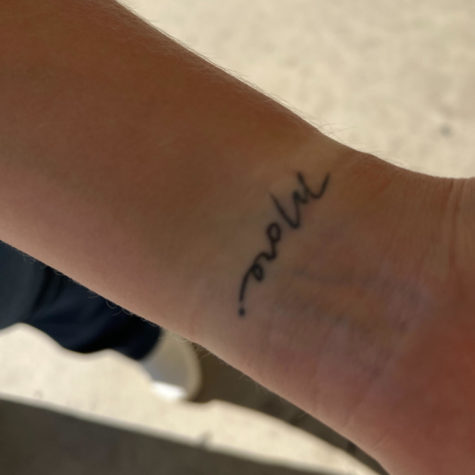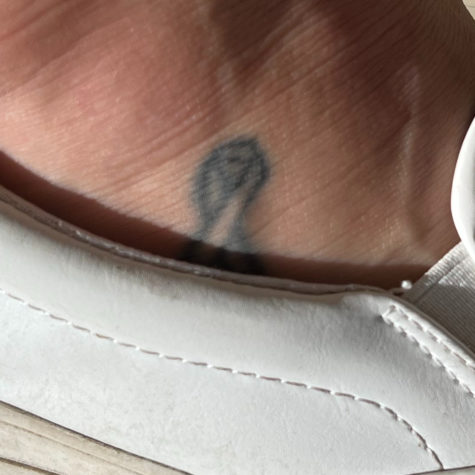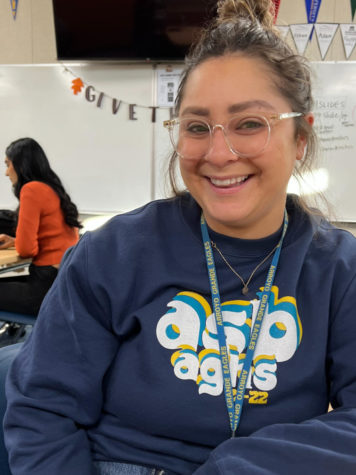 Conrad
Ms. Conrad has one tattoo. She got her first and only tattoo at age 25.
This Harry Potter-inspired tattoo is the Deathly Hallows symbol, with each part separated as three individual things.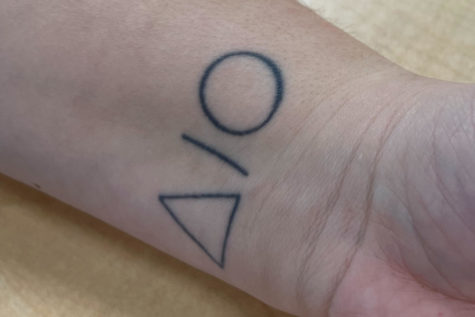 "I love Harry Potter, I grew up with it, it was a huge thing for my generation…so I've always wanted something for it, but I didn't want a stereotypical one that people get," Conrad said.
Boos
Mrs. Boos has one tattoo. This tattoo, her first and only, she has had since she was 19 years old. This tattoo consists of three parts, each representing her coming of age; the saying "Carpe Diem", a Lupin flower, and a Tiger Swallowtail butterfly. The first part, Carpe Diem, was inspired by one of her high school teachers.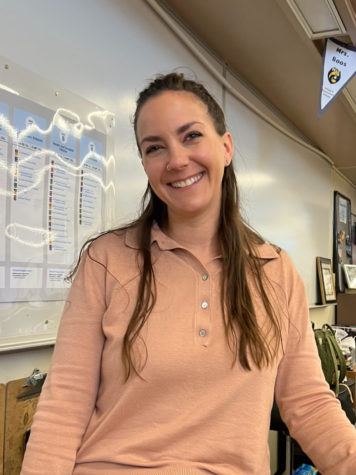 "On the first day of school, they did a whole lesson about this term: carpe diem, which means seize the day, and it always stuck with me," Boos said.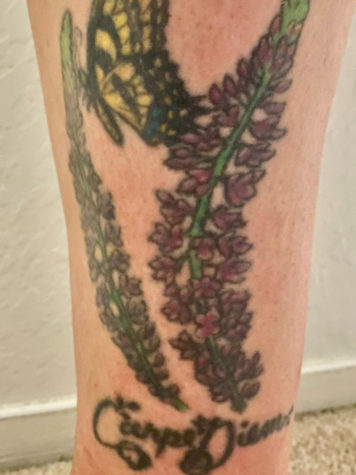 Later in life, she found out about the movie Dead Poet's Society, where the Latin phrase is a common theme and holds significant meaning. The second and third parts of her tattoo are inspired by her roots, with both the Lupin and butterfly being things that were found on her parent's property where she grew up.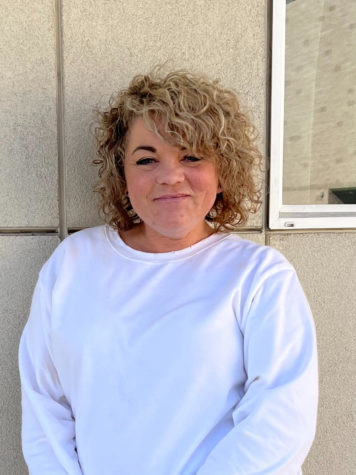 Solis
Mrs. Solis only has one tattoo. In honor of her grandmother, she got her first and only tattoo at the age of 33.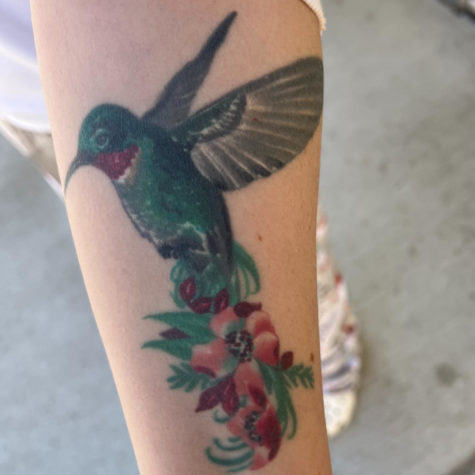 "She had passed, and she loved hummingbirds, and we always think spiritually hummingbirds are her messenger," Solis said.
This tattoo is one of several hummingbird tattoos in honor of her grandmother. "All of her grandchildren got hummingbirds, all different variations of different types of hummingbirds on their body," Solis said.
Bill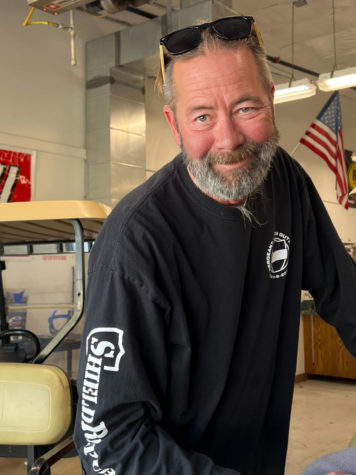 Bill has several tattoos. As he has always worked for the government, all of his tattoos are appropriate for professional settings. When he was serving in the Air Force he had to cover his tattoos by wearing long sleeves, as only 20% of his showing skin could have tattoos. One of these tattoos is a sleeve on his arm with flames.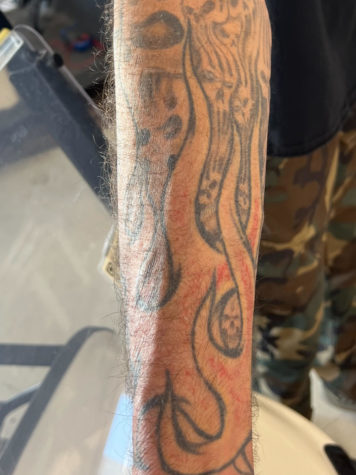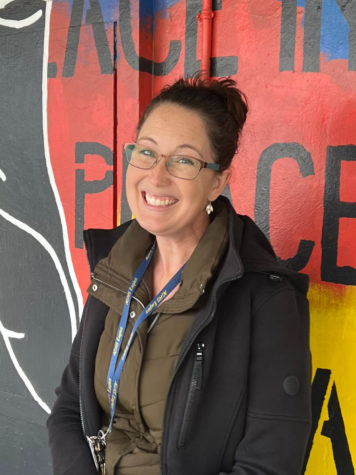 Draine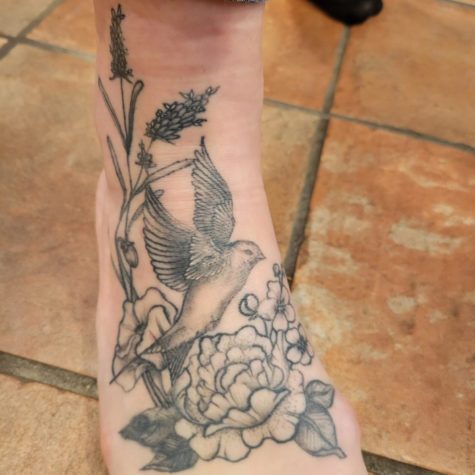 Ms. Draine has two tattoos. She got her first tattoo when she was
18 years old, and her second tattoo is a coverup of this tattoo, which she got done last December. On her foot, the first was a cursive piece that said "love" in her handwriting. The coverup is flowers, for each of her family members' birth months, along with a flying bird.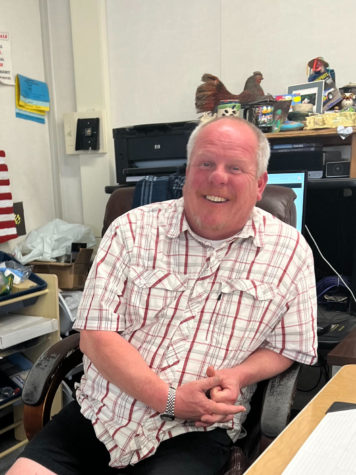 Huss
Mr. Huss has one tattoo. He got this tattoo when he was 21. It is a dragon and it is the symbol of the fraternity he was in when he attended Dartmouth College.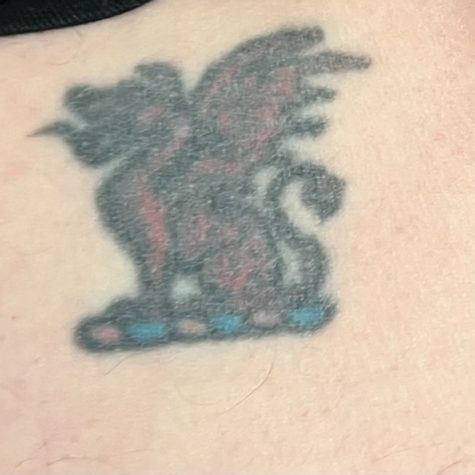 Holst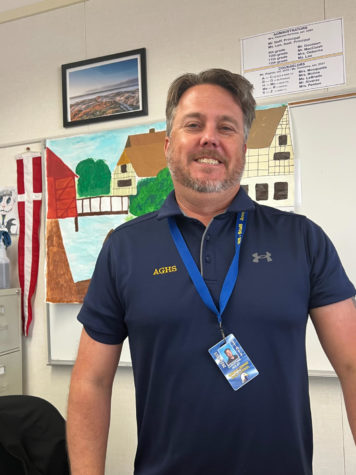 Mr. Holst has three tattoos. He was 22 when he got his first tattoo, and 33 when he got his most recent tattoo. His two favorite tattoos are the ones he has in honor of his sons. On one arm is a hawk and on the other, a spear with a Celtic knot in the middle.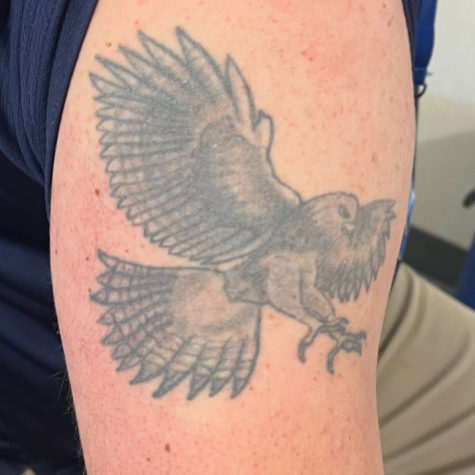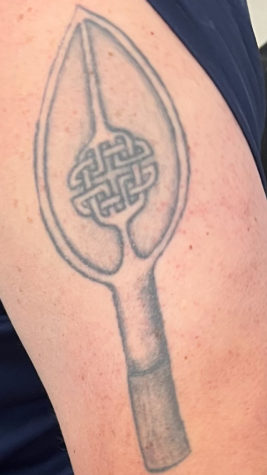 The hawk is to represent his older son whose middle name is Gavin, which means "little white hawk in battle" in Gaelic.
The spear with a Celtic knot represents his youngest son's middle name Garret, which means "noble spearman" in Gaelic.
It has been said that "our bodies are our journals and tattoos are our stories", and for these teachers, their tattoos tell their history.
Leave a Comment
About the Contributor
Dakota Clark, Reporter
Dakota Clark is a junior. Her Starbucks order is an iced chai (with oat milk). She enjoys listening to Taylor Swift and getting free dinner rolls at fancy...