Ryan Hoover : Patience for Passion
Ryan Hoover, a water polo coach for Arroyo Grande High School, has recently become a new art teacher on campus. Due to the resignation of the previous teacher earlier this school year, Hoover stepped into the position. He spends half of his day teaching drawing and the other half teaching ceramics. Hoover's love for art didn't start recently, he's been involved with the subject since high school. Not only that, but it also turned into a career in which he works as a freelance artist for Nickelodeon. 
"Right now, I'm currently working as a freelance contractor or a remote 3D artist for a subsidiary of Nickelodeon, known as Garden," Hoover said. "It's very similar to Veggietales, but I don't know if the music is gonna slap like Veggietales did."
This interest wasn't confined to just Nickelodeon either, Hoover did a lot of activities in his own time that involved art including Skills USA in 2016, while he was still in high school. 
"I went to the state championship in Louisville, Kentucky, where my partner and I placed ninth in the nation."
Hoover's passion for art didn't stem from drawing specifically, but rather from animation.  
"We had the pathway of either architecture or animation and I wanted to do animation… I don't know what it was about, it just captured me a lot more than architecture." Hoover said, "I chose animation kind of on a whim."
For most of his time in high school, Hoover was involved in both animation and water polo, but animation was his main focus. 
"My senior year I did not swim, because it was interfering with a lot of animation stuff that I was doing, and I just wanted to focus on that," Hoover said.
Hoover's love for art continued into college and beyond.
"I went to Cal State University Fullerton," Hoover said, "I majored in entertainment, art, and animation with a focus on 3d modeling and video game design. I [still] do 3D and virtual reality art."  
Hoover has worked on multiple different 3D projects, animated tv shows, and some video games, the first of which he worked on during his junior year of college. 
"My junior year of college, I got an internship at a civil engineering firm, where I made virtual reality tours of Costcos that were being built throughout the country," Hoover said. "That way, architects can see their floor plans and understand how they're building them."
Hoover had plans at first to be a teacher in the animation pathway here at AGHS but the pathway has since been taken out, but because of that, he became a water polo coach.
"I wanted to take over the animation pathway…but it fizzled out because nobody knew it was an option," Hoover said, "…and so water polo found me."
Working only as a water polo coach didn't last long, however, as he was given the chance to work as an art teacher just this year.
"I heard that the art teacher position had yet to be filled due to unforeseen circumstances… I joked about applying for it, and [admin] supported it 100%. It moved my life in a different direction faster than I was expecting. I wanted to try getting into teaching closer to 30  and not 24, but eventually, it was an expressway into teaching." 
At the moment Hoover works as an art teacher, ceramics teacher, water polo coach, and freelance artist for Nickelodeon. 
Despite having worked on numerous different projects running from video games to TV shows, Hoover still has some jobs he wishes he could be a part of. 
"I would really like to work on a blizzard-Esque cinematic [game]… A six-minute story that gives an insight into the life of the character that you play as, but still leaves enough to be open-ended and filled in with the player's imagination," Hoover said. "I like the small-term, more manageable projects that you can take breaks on in between."
Because of Hoover's experience and love of the arts, he is bound to make an impact on the students he teaches, and create a positive environment for the artists of AGHS.
Leave a Comment
About the Contributor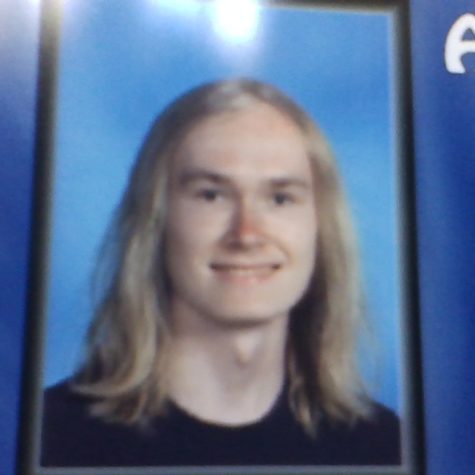 Darren Langstaff, Reporter
Darren Langstaff is a senior at Arroyo Grande High School. He enjoys listening to a lot of music, reading fantasies, and writing fictional stories every...