Arroyo Grande High School Theatre Company tackles classic children's story
Since published in 1988, Roald Dahl's "Matilda," has been a hit. The children's fantasy novel went on to get a movie adaptation, directed and co-produced by Danny DeVito, as well as a Broadway musical. Now, the Arroyo Grande High School Theatre Company is putting on their own production of the beloved story.
London Raftery ('25), plays the titular character: smart and loveable Matilda Wormwood. What makes this even more exciting for Raftery, is that Matilda has long been a dream role of theirs.
"I have seen the movie multiple times, and the book was one of my favorites when I was little,"  Raftery said. "This character has been a dream role of mine since I was nine. I've been wanting to play Matilda for six years, when I found out we were doing the show I was aiming for Matilda, so I'm very happy I get to play her."
Joy and happiness can be found in many things, and for Raftery, one of those things is acting.
"[I enjoy acting because I love] the community… and the adrenaline rush of being on stage… there's not really much stuff that I think can relate to it… you get so excited about just doing it, you get nervous beforehand but its just such an adrenaline rush. I love playing characters that I don't get to be like on a daily basis," she said.
Raftery explained what the story is about, and why it's so special to its primarily young audience. 
"Matilda is about a little girl named Matilda, she is in an abusive household and her family doesn't really care about her. So, her escape is through reading and books, she has a library nearby where she connects with the librarian there. She eventually goes to school, [shes in Kindergarten.] She goes and meets new people, specifically Ms. Trunchbull, and Ms. Honey. Ms. Trunchbull is kind of her main enemy, and Ms. Honey is like her saving grace," Raftery said. "Throughout the show, we just see her grow as a character and defeat her personal battles, and also stand up to Trunchbull and get away from her family."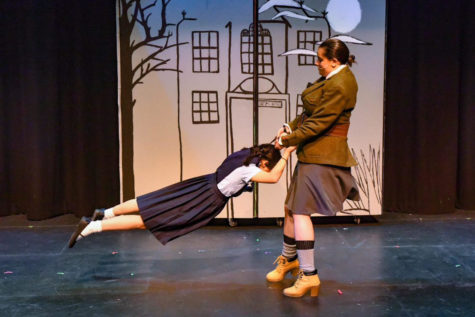 Another cast member is Hannah Hay ('24), who plays the "mean old Ms. Trunchbull."
"Ms. Trunchbull has a lower range, and I'm a tenor," Hay said. "She is very much a talk-singer, so it's not as much about the voice and more about the character that you put behind it. I actually wasn't there for the first audition, so I sent in a video… It's a lot of character work with Ms. Trunchbull because she's a mean old lady."
Hay decided to audition for Ms. Trunchbull to experience being someone she isn't in everyday life.
"I [thought], bullying kids might sound like fun during the production," Hay said. "She's just such a fun, random character to play, she has to have a lot of emotions and I was drawn to this character because she increased my acting abilities in a lot of different ways."
Despite the wrath of Ms. Trunchbull, Matilda is able to find comfort in someone who believes in and encourages her: Ms. Honey, played by Quinlin Gallagher ('24).
"I was always the teacher's pet in school, and I feel like I had a lot of 'Ms. Honey's' as teachers," Gallagher said. "I feel like it's really cool to be [her.]"
Matilda is a story that teaches us that we are able to overcome our struggles, a message that resonates with many people.
"This show means a lot to a lot of people, in this case especially," said Nico Monge ('26), who plays Nigel, a school friend of Matildas.
The production itself is also quite impressive, in terms of technology and mechanics.
"It's one of our most technically difficult shows," Hay said. "I'm also in tech theatre, so I helped hang lights and build all the props and sets. It's so cool. When watching it, it's like watching magic- people get lifted into the air, and cups randomly tip over. It's just so mind-boggling. It's a great show for all ages… it's just a nice story that everyone can enjoy."
As well as being impressed, some will find inspiration in the show.
"I think this is one of our shows that can really inspire people to join theatre…" said Mia Beck ('25), who plays Mrs. Wormwood, Matilda's mother. "My theatre awakening was 'Wicked'- so I think everyone who is interested in it kind of has their own, and maybe this could be it."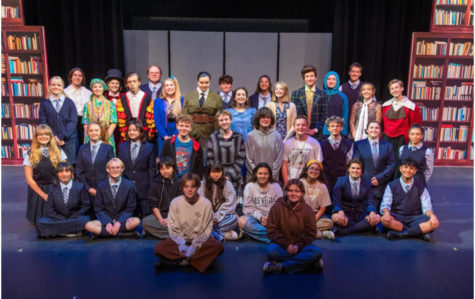 Even without prior knowledge of the story or meaning behind it, it's ultimately clear that the AGHS Theatre Company takes pride in what they do.
"The actors have put in so much work, everyone is honestly putting in the effort to make the show amazing," said Hay.
The production will be performed in The Clark Center on December 2nd, 3rd, 4th, 8th, 9th, and 10th. 
"The story is a little bit different," said Raftery, "So you might want to come to see what's changed!"
Leave a Comment
About the Contributor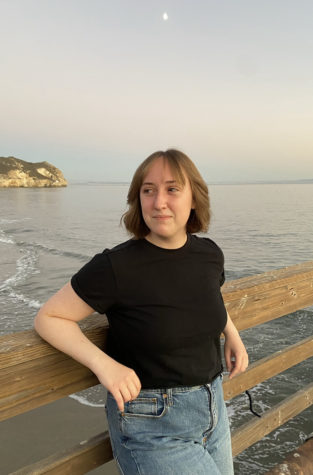 Grace LeVeque, Reporter
Grace LeVeque is a senior at Arroyo Grande High School, and she's ready for her second year in Newspaper. She loves listening to music, reading books,...