Thanksgiving at AGHS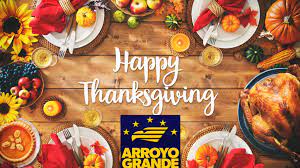 Thanksgiving is a tradition celebrated by most people across the country, and the Arroyo Grande High School community is no exception. From the people who stuff their faces full of turkey, to the people who spend time with their family, Thanksgiving is a time to be thankful for what you have with the people closest to you. Everyone has their respective likes and dislikes about Thanksgiving, so let's find out what the students of AGHS like most about their Thanksgiving. 
 The food of Thanksgiving is definitely a lot of people's favorite part of Thanksgiving. 
"I like eating until I can't eat anymore. Getting full and fat off some good food, there's nothing better than that," Quin Zepeda said.
 Thanksgiving is a time of thanks, and being thankful for what you have. Family is definitely something to be thankful for, and Sawyer Lassiter ('24) agrees. 
"I love spending time with family. I'm a big family guy so being able to eat some good food and spend time with family, what [is] there not to enjoy," Lassiter said.
You've seen the fam, you've cut the turkey, and you've said your thanks. What comes next?
For some, it's going home and enjoying the rest of the day, it's taking a nap after eating a large meal, and for some, it's even more eating (those people can't be real). One tradition has risen above the others, and that's watching the sport of American football.
Some like it so much that it's what people look forward to most at Thanksgiving.
Diego Rodriguez ('24) said, ¨I love watching Football with my family. It's one of my favorite sports and the games on thanksgiving are always entertaining." 
That's a wrap on Thanksgiving at AGHS.