Swimming to success: AGHS girls' water polo secures 20th consecutive league title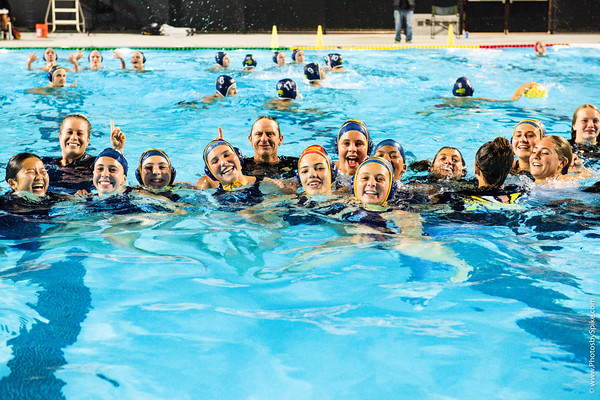 Just this year, the Arroyo Grande High School girls' water polo team clinched their twentieth consecutive undefeated league champion title, a record that no other athletic program at the school can quite hold a flame to. In addition to these titles, the program also holds four CIF titles from the Southern Section, a regional title from the 2021-2022 season, and second place in the CIF championship game this most recent season.
So, what makes the girls' water polo program so special?
Year-round hard work and a plethora of unique opportunities are the answer. 
For Arroyo Grande water polo players, the season only stops for a short period of time in the spring for swim season. The rest of the year is dedicated to water polo, with a summer and winter club season and the fall league season.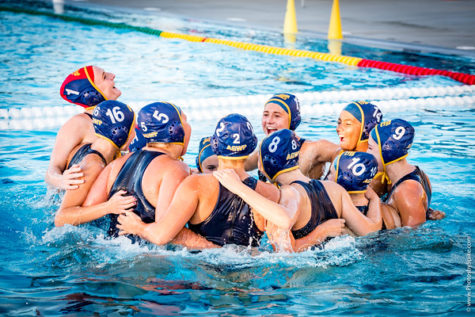 "I think what a lot of kids our age just don't realize [is] the amount of work that the athletes put into the program," Eve Adamski, one of the three seniors on the team this year, said. "We're here every morning for zero period, then we have after school practice, all of that between games, then we have games… during the week and then games on the weekend which we usually travel for, so it's a huge commitment in all aspects."
Coach Steven Allen, who also teaches PE at AGHS, has been with the girls' water polo team since the beginning of their glory days and runs the unique club program that sets AGHS apart from the other water polo competition in the area.
"Our philosophy is that we want to play together year-round… that really helps us [be] a cohesive unit when it matters at the end… some of this group will have played together for seven or eight years," Allen said.
During the club season, the water polo teams are grouped by age, ranging from 18U to 10U teams. This is the first year there have been 10U players, with two girls under the age of 10 playing with the Arroyo Grande Water Polo Club.
"We still play as our high school team, and then usually we'll have one or two kids from other areas who will join us, but most of the time it's pretty much 95% AG kids," Allen said, talking about the club season.
AG gets a few dedicated athletes from other schools who join them during the club season to stay in shape, but on occasion, the success and rigor of the program attract athletes from other local schools to transfer.
"We have transfer students come because our program is so good," Michaela Evans ('23) said.
Even in recent years, AGHS girls' water polo and club water polo teams have shifted to attract players with an interest in water polo from a younger age.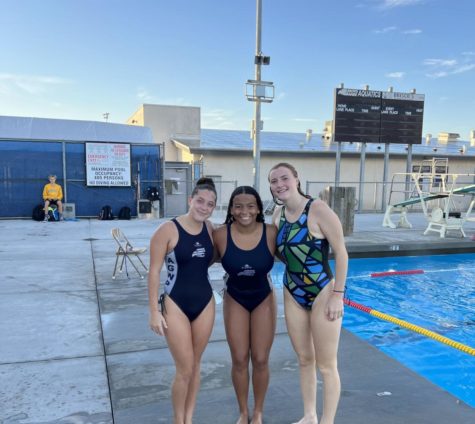 Adamski and Evans both joined water polo the summer before their freshman year, Adamski through a recommendation from a family friend and Evans due to her previous connections with swimming. This late level of interest is becoming rare, as the players cycling through the program have mostly been playing water polo since their elementary years.
"We're getting kids who want to play water polo at a young age, which we haven't had in the [past]," Allen said. "In the past, we would just kind of teach them how to play… their freshman year and now we have this young crop of kids who have learned how to play and have played a lot of water polo before they even get to high school."
Coach Allen marveled at the growing interest in water polo that has changed drastically over his years of coaching. 
"Especially in the… last eight or so years, we're starting to get one or two kids that haven't played water polo as opposed to getting one or two kids that have, and that's really changed our program as far as it's really getting more competitive at a higher level," he said.
The AG team focuses on the travel aspect of their club seasons to prepare them and receive well-rounded experiences for the school seasons. On the weekends, the team travels all across the state for tournaments to compete against high-level teams from the Los Angeles area and the Bay Area. 
One of the larger tournaments that the AG club teams have qualified for nearly every year for the past ten years is the Junior Olympics, a unique competitive experience for players of all ages.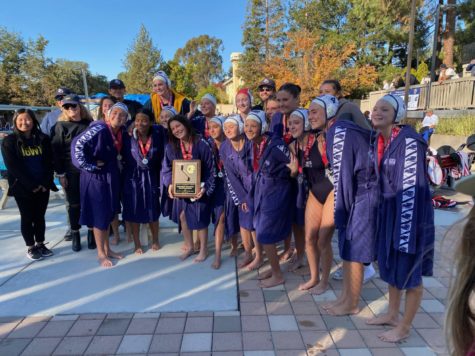 "[Junior Olympics] was a really cool experience because we got to go out to Palo Alto, and then the 14U team played at the Stanford pool, so we met Maggie Stevens," Evans said. "It was a really insane experience to meet, like, the best Olympian, the best female water polo player in the world," Evans said.
Coach Allen also tries to plan non-tournament trips in an attempt to keep the girls engaged and excited about water polo while preventing burnout, something that looms while playing a year-round sport.
"We try to do some fun trips that we put around water polo, so any year we don't go to a big trip, we do a travel training trip… we'll go to Orange County and stay there for a week at a house and train with all these teams, but then we do these other games… and try to have as much fun as possible while still working hard," Allen said.
As a senior this year, Adamski has had experience all four years trying to juggle water polo, school, family, and her social life. Fighting burnout with the sport is certainly a challenge, but the game can be hard to resist when positive results are so tangible.
"It's hard to manage school and life outside of polo when you kind of have to give it one hundred percent, especially in the summer," Adamski said. "We have three practices daily, then we go to Santa Barbara to play on Tuesdays, then on top of that we have tournaments on the weekend and league games during the week as well… it's a huge commitment but it's worth it, and the work that we put in shows with how we play."
Another unique and appealing aspect of the program is the famed international water polo trip that takes place every four years, when not interrupted by COVID, of course. The most recent trip, which both Evans and Adamski attended, was to Croatia, the blooming water polo capital of the world.
"Everything is water polo there, they have courses set up in the Mediterranean Sea… and they have pick up games. You know how people have pickup games of soccer? Over there people have pickup games of water polo, which is crazy," Evans said.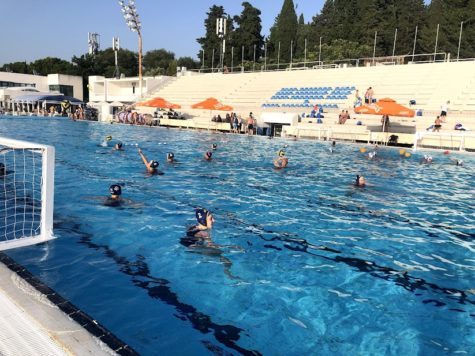 Allen focused on the learning opportunities that came from playing international athletes.
"It's so much more physical and us getting there really allows us to get used to what we're hoping plays out at the highest levels," he said.
Evans and Adamski also discussed some of the differences in ruling and strategy of Croatian teams versus what Central Coast players are used to.
"[The teams we played against in Croatia] showed us really interesting and unique techniques that we would have never thought of, like the set player sat on the bottom of the pool until she was ready to set up against our defense and we had no idea how to even approach that," Evans said.
"We got to play in… an indoor pool facility, but we also got to play in the actual ocean… it was a whole different ball game, but it was really cool," Adamski added.
Ultimately, the wide range of opportunities, constant training, and tight-knit team environment are all major contributors to the long-lasting success of the girls' water polo program at AGHS.
The program not only ensures league success but provides opportunities to play water polo beyond high school. Just last year, two players signed to play Division I water polo at the University of California, Irvine, and another player went on to play for Santa Barbara City College, ultimately being dubbed MVP for the team this season. 
"We want to be able to provide a program that will allow [athletes] to play at the next level," Allen said.
Allen then thanked his three seniors for helping guide the young, bright-eyed players that conquered the pool this year.
"I definitely commend Aubrie and Eve and Michaela for really leading us, even though they weren't necessarily always in the pool. That was pretty neat to have this year," he said.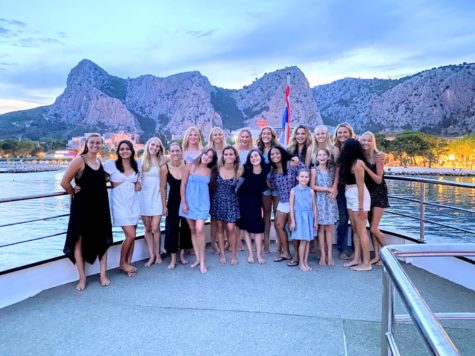 "It's just really important to focus on our dynamic and make sure… we can play to the best of our ability… I think our team has done a really good job with that," Adamski said. "There have been some challenges, but we've overcome them for sure."
Arroyo Grande girls' water polo continues to maintain their undefeated league record, but with a solid foundation and incomparable experience to local competition, they're coming for a CIF Central title next. 
Leave a Comment
About the Contributor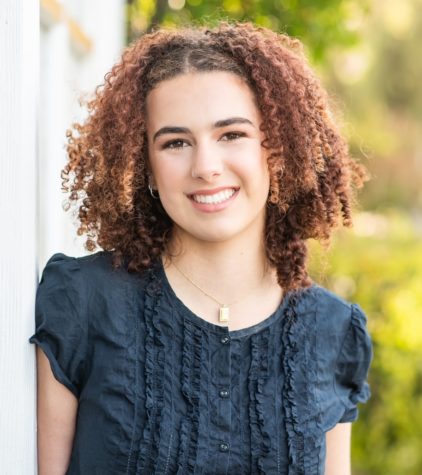 Zoe Lodge, Editor-in-Chief
Zoe Lodge is a senior and this is her second year at the Eagle Times! When she isn't writing (for the Eagle Times, for school, or creatively), you can...