Central Coast Climbing Culture
Physical, mental, and community based benefits of rock climbing.
 The Pad in San Luis Obispo has four core values: climbing, community, fitness, and love.  The Pad gives local rock climbers a safe and convenient place to exercise and boulder locally, and allowing them to share their sport with family and friends who don't have the time and equipment to explore this unique sport on their own.  Climbing is a sport of peak athleticism requiring a balance of incredible delicacy with almost inhuman upper body strength to maneuver the walls. The Pad encourages strong competition, hosting their own competitive team that regularly attends climbing competitions. Despite the aggressive nature and physicality of the sport, rock climbing culture's attitude is anything but cold, even towards new climbers.  
Skye Fernsler '24, a student at Arroyo Grande High School regularly climbs at The Pad, and finds it to be both a welcoming and relaxed environment. 
"The climbing community is chill and they're super willing to help you with difficult routes, it's an overall really nice environment," Fernsler said.
Regardless of how much climbing experience one has, the climbing community at The Pad reinforces the message that anyone can climb and enjoy the sport.  And the values that name and define The Pad: climbing, community, fitness, and love, along with open and accepting staff members only help to emphasize the inclusivity and strength (both physical and mental) of climbing culture.  
"It's a good way to get exercise and a fun thing to do with friends," Fernsler said. She has been climbing for about a month.
Climbing not only increases fitness but can help decrease stress, especially for younger climbers dealing with the academic stresses of school.
Evan Nichols '24, another student at Arroyo Grande High School not only climbs regularly at The Pad, but also works at the front desk.  Nichols recently became an employee at The Pad, but has been climbing since his sophomore year.
"[Junior year is] more demanding relative to other years….when you're climbing you have to be pretty focused on what you're doing in the moment, [and it] takes away things that are clouding your thoughts," Nichols said.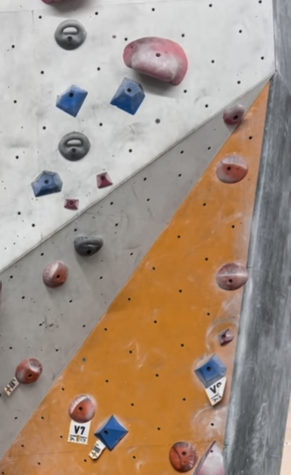 Nichols isn't alone in the observation that climbing has a positive effect on mental health and clarity.  The American Psychological Association
"Some researchers suspect that exercise alleviates chronic depression by increasing serotonin(the neurotransmitter targeted by antidepressants)", and "Another theory suggests exercise helps by normalizing sleep, which is known to have protective effects on the brain," Weir noted.
Climbing requires complete focus of the mind and body, otherwise, there's the risk of falling off the wall. The intense and unwavering focus requires brings clarity to busy minds.  Released serotonin into the body while climbing boosts mood, and gives climbers a good workout.  
So whether you are searching for better mental clarity, focus, sleep, or a place to exercise and try a new hobby, the Central Coast's climbing community is here and ready for new and experienced climbers alike to hop on the rock wall.
Leave a Comment
About the Contributor
Mia Hinds, Reporter
Mia Hinds is a senior at AG High School, and is in her second and final year with the Eagle Times.  She has a dog named Miko, who is a pitbull and husky...