Grand Treasures: Grand's Most Fashionable Non-Profits
Grand Street Treasures. 
The quaint town of Arroyo Grande hosts a brigade of hidden thrifting treasures all speckled around Grande Avenue. 
In 2020, when the world was on lockdown, COVID-19 presented a chance for people to reinvent themselves, taking the opportunity to have a full wardrobe makeover. Many people had excesses of undesirable clothes needing a new home and donated them to thrift stores. Perspectives shifted, creating an innovative and inexpensive shopping hobby while the world was shut down.  
This is not the first time thrifting has witnessed an influx of popularity. In the 1890s, thrifting hit the world by storm during the Industrial Revolution, a time of extreme material production, largely through factories and mass labor.   
For the first time, people had the opportunity to have fluidity within their wardrobe, constantly refreshing with new trends, and recycling clothing items, hence the birth of thrift stores. People used thrift stores at a more functional level, second-hand clothing sold at a cheaper price for people who couldn't afford new clothes at full price. 
Nowadays thrift stores are seen more as a "What will I find today?" activity. 
"I love going thrifting, it's a great alternative to brand shopping," Lily Klapper ('25) said, "I like to go to Achievement House and In2It by the Dollar Tree."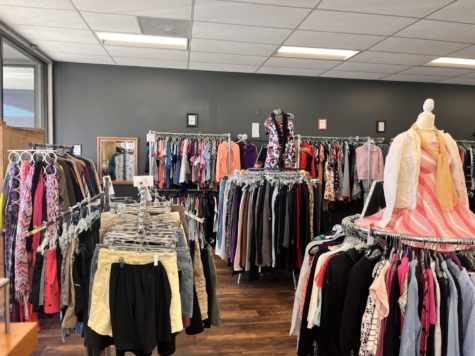 Achievement House is not only a thrifting gem but doubles as a nonprofit agency that provides vocational training and customer service to adults with physical and mental disabilities looking to still participate in work. Many people with disabilities live altered lifestyles that seem behind the norm. Providing an opportunity for work and money is a positive bonus to the goodness of the Achievement House.
"We're always rotating all of our stuff out for new incoming clothes," Kaitlyn Lynge said. "This is kind of our boutique, so we usually have some higher stuff, but it's nice." 
Thrifting is a down-to-earth hobby that is sweeping the nation.  With its environmentally friendly practice of reusing clothes and giving them multiple lives; it not only reduces waste but also reduces natural resource consumption. 
"The creation of new things takes a lot of resources, especially in today's world of fast fashion and hyper–consumerism," Goodwill.com states.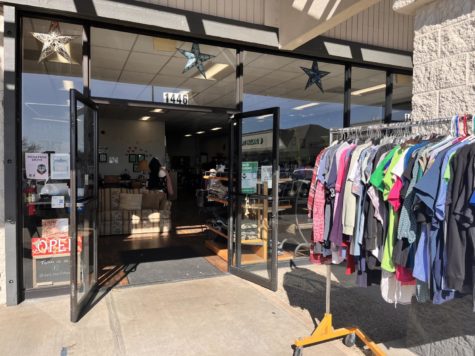 Hyper fashion or hyper-consumerism is the polar opposite of ideology thrifting. Born from social media, micro trends are a series of fast fashion items that are heavily promoted for about a month and then replaced by the next trend. Likely, people immediately discard the out-of-fashion item due to its lack of relevance. This cycle results in environmental waste. Clothes are made of limited resources that are rapidly dwindling on our earth and can support fast fashion, a vicious cycle of always needing the next novelty. Don't buy into it. 
The Achievement house isn't the only charity-based thrift store in AG.  Shamrock Thrift is a nonprofit organization, with all of the store proceeds above maintenance costs going towards St. Patrick's school to help support and better itself, benefiting students and their families.
 Gigi Carroll is the manager of Arroyo Grande's Shamrock Thrift.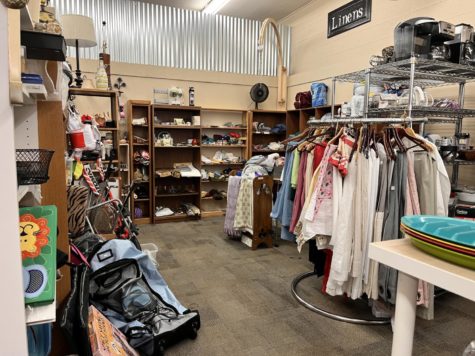 "I was a parent [at St. Patrick School], but it seems like I lived there," Carroll said, "I went with the kids to every one of their sports games. I have two children, of different ages.  I would go and serve lunches at their school and get involved in every way I could. I love that school." Located at  924 W Grand Ave, Grover Beach, Shamrock Thrift aids in contributing to the school and its students.
"We have a little bit of everything, starting from the Art Department crafts, to children, women, men, accessories for everybody in the family, and miscellaneous for the home kitchen," Carroll said.  "We are one of the only ones who accept toys for children as well." Finally! The unicorn of thrift stores is here for you to donate your kid's old toys today! Or, current ones if they misbehave!
"We take donations from 10:30 in the morning till 2:30 pm. We try to process as much as we can. We do have clients with loads of clothing, so it will take us a little more than a day, but we take as much as we can. We almost never say no!"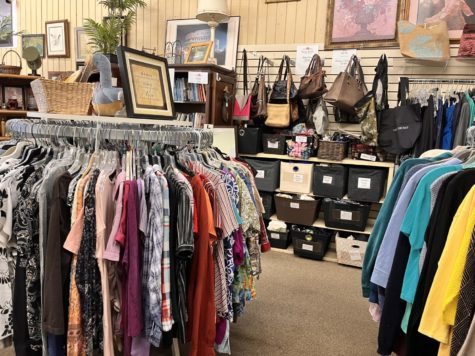 Captive Hearts is one of the more hands-on nonprofit organizations on Grand. Their program is specialized for women recovering from compulsive/destructive behaviors caused by trauma, various addictions, human trafficking, and domestic violence. These are serious issues that might be more localized than the average person might think due to Arroyo Grande's sleepy atmosphere. Yet the central coast is a huge hot spot for human trafficking due to its unique location between big cities
Abuse-induced trauma can be very serious and detrimental to a person's ability to function because of overstimulation. 
Captive Hearts works hard to counteract the true horrors of the world a little bit at a time. 
"We provide spiritual mentoring, life skills, and individualized care to promote healthy living at home and in the community. Through the transforming power of Jesus Christ and unconditional love, we help restore lives and families." Captive Heart's website states. Their program includes a one-year stay with a community of fellow survivors in a safe space filled with love and faith, with the hope of slowly integrating victims back into a family dynamic. 
Captive Heart's sister stores and two boutiques called Second Chances also are nonprofits and contribute to the reformation program. Captive Hearts is more than welcome to student volunteers. 
"We have a really good volunteer program. We do half-day shifts. The best part is when you do your half day, you get $15 in merchandise to take home with you that day!" Laurie Stuempre, a manager, said. 
Grand Avenue plays host to a wide variety of Arroyo Grande's top thrift stores, yet these stick out. Shop here and you are racking up good juju points. Repurposing old clothing and expanding their life to reduce natural material taken from our Earth? Check! Helping support a school and pay tuition of students in need just by "splurging" on a new summer tank? Double check! Helping support a women's abuse survivor program just by getting a cute little tea set for an aesthetic photo shoot with your sister? Triple check!! Get those karmic brownie points just with a little light shopping. Help our Earth and our community by shopping at Grand's most fashionable nonprofits!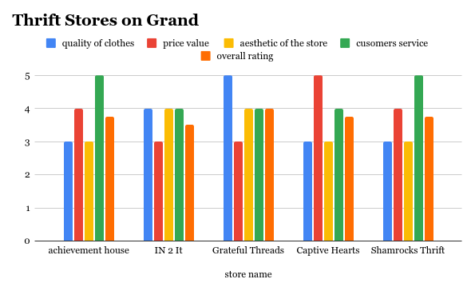 Leave a Comment
About the Contributors
Pema Secrest, Reporter


Pema Secrest is an incredibly average human being and wannabe writer. She is a sophomore at Arroyo Grande Highschool and is ready to leave. ...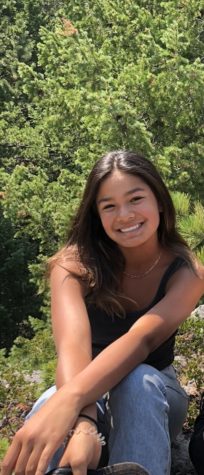 Jade Webber, Reporter
Jade Webber is a Junior at Arroyo Grande High School. She is very interested in international travel and playing soccer.  She listens to a wide variety...