Shaunna Angell: Alumni, Teacher, and Upcoming Author
Shaunna Angell is a second-year Biology teacher at Arroyo Grande High School and this spring, she will be publishing her first book; "Lavender", a collection of poetry that contains over 200 pages. The collection was written over the years of her life, some dating back as far as 9 years ago.
The title "Lavender," represents a time of contentment in her life. 
"I'm just kind of content with where I am, and in my brain, that feels like Lavender." Angell said.
The collection is personal. It doesn't abide by a certain form of poetry. Some poems rhyme and some do not, the style of these poems are the source; straight from her brain onto the page. 
"The theme kind of shows all these transitions and seasons of life, and that's kind of how I wanted to write it, being in my actual life timeline," Angell said. 
Lavender will be the first book that Angell has published, but it is not her first experience with writing. Angell recalled discovering her passion for writing as soon as elementary school, where she first entered her writing into contests and won."It was the first time that I cared about it a lot, had a lot of fun writing it, and got recognized for it." "I've always liked writing," said Angell.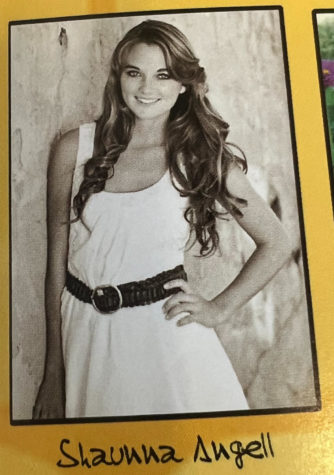 Angell attended AGHS and graduated with the class of 2012. Now that she has reached the point in her career of being a new teacher and a new author as well, she can look back on her time here on campus and what she was able to take from her experiences. 
"I think the teachers here are good at connecting with students, and that was probably the best part for me," said Angell. "The classes that were good stuck with me, that's why I wanted to be a teacher; because of teachers like Mr. Callaghan, Mr. Glanville, and Mr. Schmidt, I had good relationships with them and that's what I've always had in mind when I'm being a teacher because I'm striving to be like those people," said Angell.   
When Angell attended college at Cal State Monterey Bay, before beginning her teaching credentials, she wrote for a few different magazines in the local San Luis Obispo area. Such magazines include; "Coyote and Oak" (covering the topics of entrepreneur artists and small businesses), and "The Wedding Standard" (about anything wedding-related). Because she enjoyed the writing process, Angell was motivated to keep creating work. Her current project is nearing completion and eventually, she wishes of writing much more.
"Basically, I have always written and I really want to write a novel, but I've just kind of never been in a place in my life where I've had the time or focus to sit down and actually write an entire novel, so I've just always written short stories," said Angell. 
As she was new to publishing, Angell did a lot of research to answer her curiosities, such as whether she would need to self-publish. Regardless of whether or not she would have to publish and put her work into a book herself, she wanted a finished product. With most of these poems being stored in the notes app on her iPhone, she felt compelled towards a more permanent way of keeping her work.
"Last year I was like; 'you know what? I need to do something with this because someday this phone is going to fall into a bucket of water and everything is going to be gone," said Angell.  
Through her research, Angell found that many publishers only accept collections of poetry at certain times of the year (spring and summer) and that most only accept work through contests (where the prize is getting published, and often a monetary reward as well). 
The process of finding a publisher took effort. As Angell was going through the process this last November, she needed to find a publisher that would accept poetry collections at any time of the year, not just the typical window for the spring and summer seasons. After a continued search, Angell was able to find what she was looking for. 
"And I wanted to do it now, so I found some that would take them any time of the year and I submitted them, and a publisher got back to me super fast, and they were like; 'Hi, we like this, we love it, we want to publish it," said Angell. 
The publishing price is simple. Once the books are printed and sold, the publishers along with the writer will get a certain percentage of the sales. Reaching stores is the goal, and with the contracts held by her publishers, you can expect to find "Lavender" on Amazon, at Barnes & Nobel, and at other book retailers. By contacting local bookstores and giving them the information for her publisher, Angell can get her books sold there as well. 
With the publisher she chose, she will own all the rights to her work and is given freedom on decisions such as which illustrator she wants to use, and what she wants the cover to look like.
Being at the final stages before completeness, the date of publication is still up in the air. 
"Im imagining in two months. We are just finishing the cover and there are a few more final edits- making sure the layout looks really good, and then it gets printed, and then it gets shipped places," Angell said. 
Nearing the end, Angell looks back on the process and reflects on the advice given to her. After going to Mr. Callaghan, as a previous student and now as a current colleague at AGHS, Angell was able to find a source of advice. 
"When I was first looking into this I had asked him for advice and he told me; do your research and just keep putting pen to paper, don't stop writing', and that's literally what I did."
And that is the advice she wants to pass on to others; "if you want to write something, just keep writing and you will figure it out."
Leave a Comment
About the Contributor
Dakota Clark, Reporter
Dakota Clark is a junior. Her Starbucks order is an iced chai (with oat milk). She enjoys listening to Taylor Swift and getting free dinner rolls at fancy...