Guide to the IGETC
The Instructional General Education Transfer Curriculum (IGETC) is a list of categorized courses available at a California Community College to complete lower-division general education requirements before attending a public university, such as those in the CSU or UC system. Many students go to a community college after graduating from high school, fulfill their IGETC, and then transfer to a public 4-year university. With the new opportunities California Community Colleges offer high school students, it is possible to achieve IGETC while still in high school. The IGETC curriculum offers many benefits to high schoolers.
Many Califonia Community Colleges provide Dual Enrollment or Enrichment programs, which allow high school students to enroll in their courses while still in high school. When students attend a 4-year university, they are required to take several specified courses to complete lower-division general education requirements. Lower-division GE courses are the courses offered to first and second years at a 4-year university to complete their GE requirements. This course list varies but often consists of courses similar to those on the IGETC. When a student completes the IGETC before attending a public 4-university in California, the university accepts that for lower-division GE requirement. 
Former AGHS students offered their opinions on the benefits of the IGETC. 
Aravinth Ruppa ('22) achieved not only his IGETC, but completed enough classes to earn his Associate's degree before graduating from AGHS. 
"I would recommend that high school students pursue the IGETC certification… the IGETC placed me out of all general education requirements so I didn't have to do any normal general education requirements like Spanish or VPA," Ruppa said. 
Paige Woods ('22) graduated and now attends online Cuesta College courses to earn her associate degree before transferring. 
"I took one community college course that was dual enrollment. I wish I had taken more… I would definitely recommend taking college courses during high school," Woods said.
Some benefits of completing IGETC in high school:
California high school students are not required to pay tuition at community colleges when they go through a Dual Enrollment program as long as they enroll in less than 12 units a semester.
"I'm doing a year of Cuesta before going to a university because it helps me so much financially. I only have to pay for two years of school now," Woods said. 
Some DE classes fulfill high school credits and college/IGETC credits.
"I was able to fulfill many high school graduation subjects like economics and political science. I also was able to simultaneously use the same courses to fulfill IGETC requirements which allowed me to skip general education in college now," Ruppa said. 
DE classes only last a semester instead of a year-long high school class that may fulfill the same credits. Unless you are taking a DE course at the high school campus which lasts a whole school year. 

Online summer courses are short semesters that allow a student to fulfill credits in a fast-paced curriculum.  

Students are not required to take the public 4-year lower division GE requirements. 

A student may be able to fulfill portions of the IGETC with AP classes, as long as they receive a score of 3 or higher on the AP test.
"My AP classes have really helped me since they all transfer to community colleges," Woods said. 
Classes are weighted like an AP class so courses can boost high school GPA depending on the grade received in the course. 

Students can complete the majority of the required courses online, so they don't have to go to campus every day for class. After COVID many professors found ways to make their classes asynchronous-friendly.

Depending on the school, grade, and how many courses a student is taking, they may be able to have a shorter day at the high school.

Taking college classes just like taking AP courses makes a student more competitive student, often making them a more appealing applicant to colleges. 
"Cuesta offered classes that were not offered at AGHS, which differentiated me from other applicants coming from AGHS. I believe that this was influential in my acceptance to UCLA," Ruppa said. 
Possible Drawbacks of completing IGETC:
If a student wants to complete their IGETC while also attending high school they will most likely have an impacted schedule or a significant course load that can be overwhelming.
Ruppa took a total of 49 credits in 3 years (7 semesters) at local community colleges while also being enrolled in 5 or more classes at AGHS.
"I had a lot of work at school but I still had time to do other activities. I continued to play varsity soccer and practice martial arts throughout high school. I also did an internship at Dignity Health during the summer of 2021 when I was taking a full credit load at Cuesta and an additional class at Hancock" Ruppa said. 
Less time at 4-year university, as a result of earning the IGETC will enable a student to graduate quicker  (Some people may see this as a benefit depending on preference.)
"I only had to do one year of community college to get my Associate's degree of transfer. I'll transfer in as a junior so I'll only have three years of college overall," Woods said. 
Registration is unnecessarily complicated and a high school student has more steps to complete. 

Different than high school, students must have a C or higher to pass the class and for it to fulfill IGETC requirements
How the IGETC works?
The IGETC includes six different areas that encompass a school subject. Area 2 is Mathematical Concepts. Each area includes groups, some only have one group, and some have two. For example, Area 5: Physical and Biological Sciences includes Group A: Physical Science Courses and Group B: Biological Science Courses. Under each group is a list of class names (for that college) that can be taken to fulfill the credit. The IGETC outlines how many courses or credits students take to complete each area or group. 
Differences between CSU and UC requirements?
CSU and UCs have different requirements of what courses students must complete to have their IGETC accepted. There are only a few differences, but they are important to pay attention to, to know what classes to take based on the school you plan to attend.
CSU Differences
Must take an Oral Communication course that is 4 credits (this is basically a communications and public speaking course).
UC Differences
Language other than English 
There are several ways to complete this requirement outlined on the IGETC. 
Most students take a language other than English in high school. This is beneficial because this credit can be fulfilled in two years of high school foreign language with a grade of C- or higher. Students can also take a community college course.
Suggestions to anyone planning to complete their IGETC or partial IGETC:
Talk to a high school counselor, and ask if they think this is something you can do and what they recommend. 

Talk to a counselor at the community college you plan to get your certification. They can assist you in planning out how you will complete it and what courses work best for you.

If you can't get into a course at that same community college, look into courses at another college. LACCD, the Los Angeles community college district, has several campuses that offer fully asynchronous courses, along with Allan Hancock Community College, a local option. You can google California Community Colleges and see what opportunities there are for high school students. 
"I was enrolled at Allan Hancock Community College as well during Summer 2021 since Cuesta had a credit cap of 11.99 for enrichment students. I took a class at Hancock to sidestep this rule and take more credits during the summer," Ruppa said.
Some public 4-year universities accept a partial IGETC. Meaning you have completed all but two courses on the IGETC. If you get a partial IGETC, some schools will let you complete the classes you have left on that when you go to the 4-year. But look into the college because not all accept it. 
What to look for when finding IGETC requirements:
If you google: "Name of Community College" IGETC "Year"
In the search results, there will be a PDF file that has the IGETC courses for that specific community college.
For example, When I google "Cuesta College IGETC 2023" the first link is the most recently revised IGETC.
If you are looking for what AP courses and scores of AP tests are equivalent to a course at a community college, y

ou can google: "Name of Community College" "Advanced Placement Chart"
For example, Santa Barbara City College (SBCC) Advanced Placement Chart
Sometimes it can be difficult to find the chart for the community college you are looking for. If you can not find the college's chart, meet with a counselor from there and they will be able to tell you what IGETC requirement that fulfills. 
Leave a Comment
About the Contributor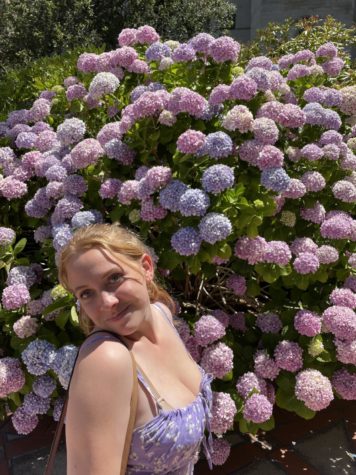 Samantha Davison, Reporter
Samantha Davison is a senior and it is her first year on the newspaper staff. She enjoys reading, traveling, going to the beach, and hanging out with friends....