Lost and Found Items
Items are set to be donated soon.
Mrs. Karen Robles, the keeper of the lost and found, sees dozens of items reunited with their owners weekly. At least twice a week, students and staff bring valuables (or invaluables) in hopes of someone claiming their missing belongings. Below is a list of items that are missing their owner. It is important to note that these things will be donated to the thrift store if not claimed in a reasonable time (two weeks give or take a couple of days).
Hats
A good variety of hats differed in size, style, and color. Extra points for the beanies because of their usefulness in the unusual recent storms. In particular, the black baseball cap and fedora increase the score because they remind our high school's equal population of future dadbod athletes and "broadway bound" theatre kids training to jazz-hand their way to New York. Lastly, regarding the "wanna-be Pinterest boy" bucket hat, the chain is a little unconventional (maybe a trying a Ryan Evens meets skater boy combo?). Overall score: 7.5/10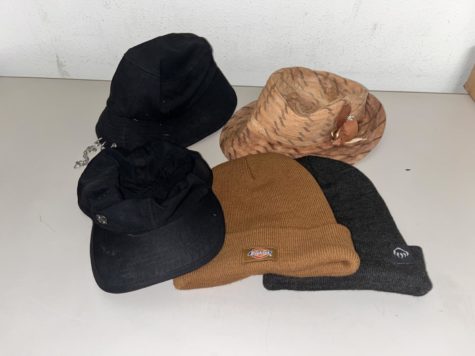 Shoes
Converse was surprisingly the only shoe residing in the lost in found (a protest maybe? Lookout, Converse cancel culture might be coming your way). Bonus points because both were in fairly good shape (again I ask: Protest?). The true star of the shelf of misfit items appears here: the poppy-embroidered converse! Who could leave such a Pinterest-worthy shoe behind? We will confess we thought of nicking, yet the shoe was a size 6. In trying on the shoes we faced a cinderella stepsister moment and were humbled greatly. We must take off some of the perfect scores though because of the stench endured while photographing… Overall score: 9/10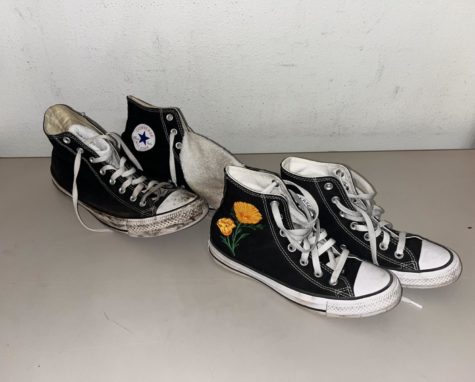 Earbuds
Not surprisingly, earbuds made up the most significant percentage of the lost and found. If all singular earbuds were accumulated, there would be enough for ten complete pairs. The AirPods and other ear devices were not clean. We will leave it at that for the sake of writing decorum in an academic setting. PSA to everyone who enjoys music through devices shoved in their ears: Clean them, it's not hard.  Special thank you to the front office for dealing with these germ-riddled devices, even taking the extra measure of attaching the date of turn-in to most of these electronics to help the owners retrieve their earbuds. They are angels. In passing by, remember to give thanks to our lovely staff who keep the school in top-tier shape. Overall score: 6.5/10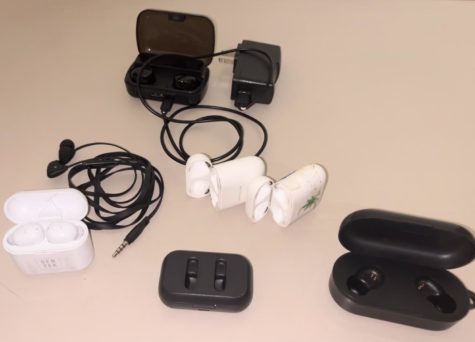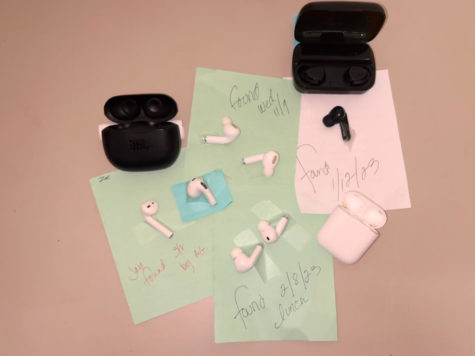 Jewelry.
The Lost and Found is home to so many singular pieces of jewelry it rivals the floor-morning-after-a-techno-rave. Many of the pieces are actually extremely nice and are too nice to be without their counterpart. That being said, come collect them if you see your stuff! A personal favorite is the charm bracelet because of its bright colors and dainty nature; it will give any outfit a touch of granola girl Lummineer feel. Overall score: 8/10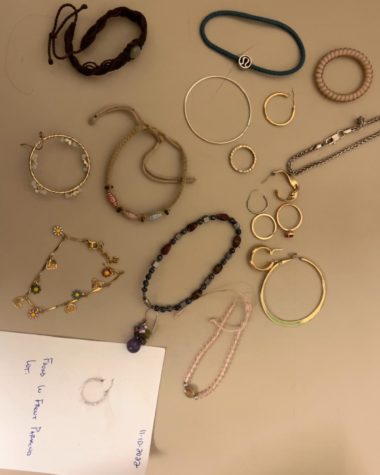 Waterbottles 
The like all other categories, some quality items were left behind and are waiting to be retrieved. With the bright colors and stickers, this is the most lively category by a long shot. For example, the cherry red water bottle with its Pancho's sticker was easily the standout item in the lost and found. If it were its single category, the water bottle would be a 10/10. Water bottles on campus present their personality through stickers. The most decorated bottle presents a "toy Mack" sticker on the front and stickers of local shops on the back (yay shopping local!). Over a quarter of the water bottles are in mint condition as well.  Overall score: 7/10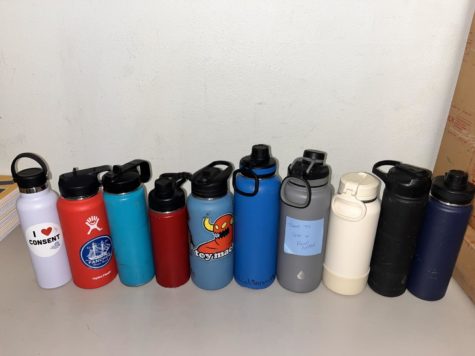 Clothes 
From shorts to jackets to pants, someone could snag a whole wardrobe from the lost and found. Quality clothes from name-brand places are found here; brands like Nike, Champion, and Adidas have found their place in the well-organized closet too. But some personal clothing like sweaters with names and a sweatshirt from the water polo Junior Olympics are here as well. To whoever's jacket that is, congratulations on going to the Junior Olympics! Now go get your sweater and show it off! Overall Score: 6.5/10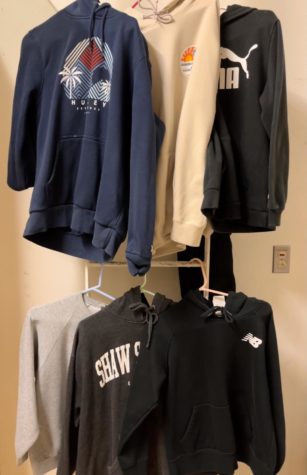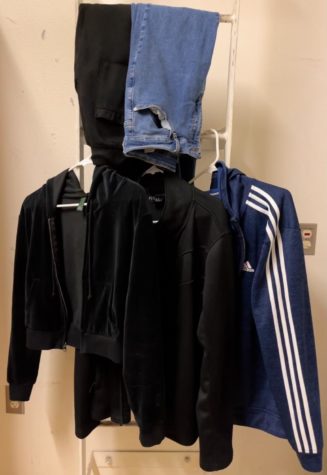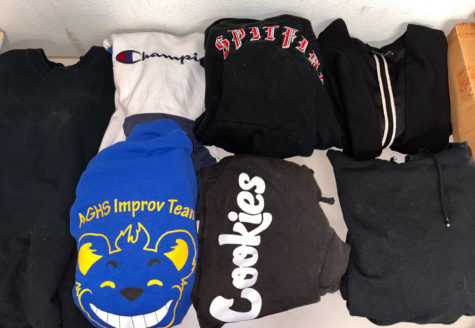 Scooter and skateboard
It is a shame that two precious modes of transportation and fun are sitting in a closet behind the front desk. The scooter and skateboard are fun waiting to happen. Although they look a bit run down, they certainly have personality and have been a part of many good memories. Both are also benefactors of the environment, which is bonus points in my book. Eco-friendly transportation for the win! Overall Score: 7/10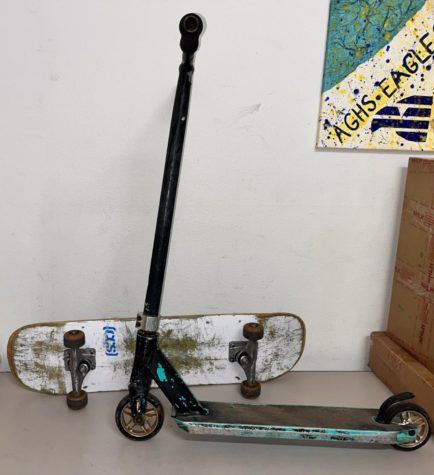 Phone
To whoever is missing the only phone in the lost and found, your cat, panda, and homunculus conodonts (photos inside phone case) miss you. The homunculus conodonts look especially concerned with the fact you haven't come to get him back too. The owner of this phone is most likely aware that it is very much dead. But this is your sign that it is waiting for you and deserves to be retrieved and recharged whenever you're ready. Overall Score: 7.5/10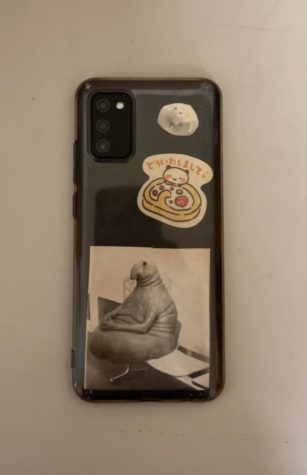 Lunch boxes/Pencil cases
Lastly, the lost and found closet is overflowing with lunch boxes and pencil cases. All of which are still very functional and useful. There is no shame in claiming a lunch bag with a week-old lunch inside (well…maybe a little shame) because they should be cleaned out and reused for the sake of the environment and because sandwiches floating around in a backpack is not a smart move. Overall Score: 6/10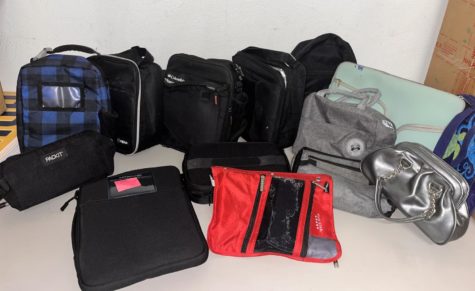 Leave a Comment