Arroyo Grande Swinging Bridge Reopens
Arroyo Grande's historic Swinging Bridge reopened after it was closed due to damages brought on by the January 9th rainstorms. The bridge was closed for just over a month, and has now been restored and is back open for pedestrians to cross. 
According to Bill Robeson, Assistant City Manager and Public Works Director for the City of Arroyo Grande, damage to the Bridge's support structure made it unsafe for public use. 
"Back during the Jan 9th storm event, the swinging bridge was hit by a large tree that was flowing down Arroyo Grande creek," Robeson said. He added that this damaged one of the diagonal support cables, and broke a steel hold down, both of which are vital to ensuring that the Bridge can be used. A community member who witnessed the bridge being struck by debris, alerted police, which then notified public works.
"Early that morning we went out and looked at it, and we made the decision to temporarily close it," Robeson said.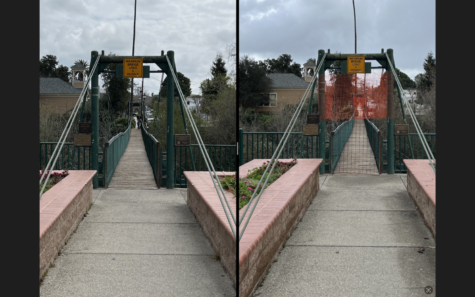 The city made emergency repairs to the bridge while it was closed to the public, and reopened it in mid-February. These repairs were initially funded by the city's Capital Improvement program, however Robeson hopes that because the city declared an emergency declaration, the project will be eligible for FEMA funds. 
In addition to these emergency repairs, the Swinging Bridge is also expected to receive numerous renovations and general improvements, necessary to maintain the 110 year old structure. 
Robeson stated that Arroyo Grande had applied for Federal funds to undergo this project, with little hope that they would be selected. However, in December of 2022, congressman Salud Carbajal announced that the Swinging Bridge will be receiving part of $4,000,000 in federal funds. 
Arroyo Grande mayor Caren Ray Russom addressed the issue in a press release. 
"Through the Congressman's efforts, $500,000 was recommended by the Appropriations Committee…This funding will enable the City to rehabilitate its Swinging Bridge, restoring an iconic bridge that provides a vital asset and benefit to the community of Arroyo Grande," Ray Russom said.
Robeson hopes that the city will be able to go through the regulatory requirements, both federal and state environmental rules smoothly, so that they would be able to begin the long term renovations by the summer of 2024, but for now the iconic and historic structure is open again for pedestrian use.
Leave a Comment