Nan's Bookstore: The Spine of 5 Cities Readers
In 1987, Nan Fowler started Nan's Pre-Owned Books in Arroyo Grande where she ran the store and worked part-time as a nurse. As the business grew, Fowler retired from being a nurse and started working at the store full-time.
Later in 2001, Nan's Pre-Owned Books expanded and moved its location to Grover Beach on the corner of 13th and Grand, which previously held The Corner Tree Market owned by Fowler's brother, Dave Fowler.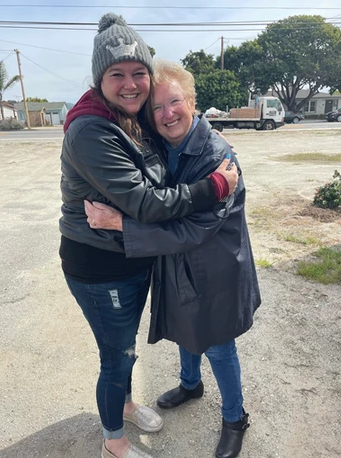 After running the bookstore for 23 years Fowler retired in 2020, passing the bookstore down to her granddaughter, Kassi Dee. Fowler continues to work at the store part-time as an employee for Dee.
"It's been a long journey of turning this store kinda into my own because it was my grandma's store. A lot of it has stayed the same," said Dee.
Much of what has stayed the same about Nan's Pre-Owned books are the more well-known attributes such as their readerboard. As Nan's current location was previously held by The Corner Tree Market owned by Fowler's brother, Dave Fowler, he had used the readerboard to write store prices for milk and eggs with the intention of driving more customers to the shop. 
Over the years, Nan's Pre-Owned Books has been responsible for changing the 13th and Grand Reader Board every single month. When Fowler first established the bookstore, she featured riddles and sayings about the store before putting other sayings and jokes unrelated to the store, that could give people a laugh.​ After putting up two messages on the readerboard a month for over 20 years Nan's has showcased over 480 quotes, sayings, and jokes.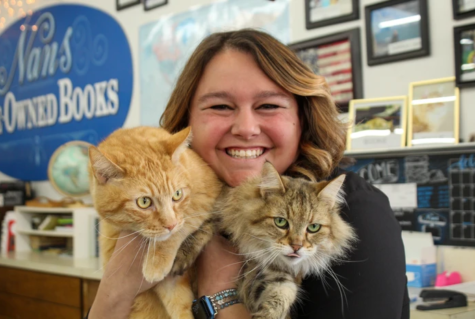 Nan's Pre Owned Books has always rescued cats. The store's first cat was Bucky, a street cat who found a home at Nan's and became an impromptu mascot for the bookstore. Since Bucky, there have been multiple cats at Nan's such as Callie who they had for 13 years, and Nan's most recent cats Jay Katsby and Scout Finch. Katsby and Finch were adopted from North County Paws Cause a non-profit volunteer organization that seeks to better the lives of cats through fostering and adoption to decrease impacts on local animal shelters and nuisance abatement calls for abandoned or ferals to animal control. 
While the bookstore is a cheery place for all readers to enjoy, it has faced adversity, particularly during Covid-19. At the beginning of the COVID-19 pandemic in early 2020, Fowler hadn't yet retired. Nan's Pre-Owned Books had to formally close for about 2 months before slowly moving towards reopening again with Dee's new ownership.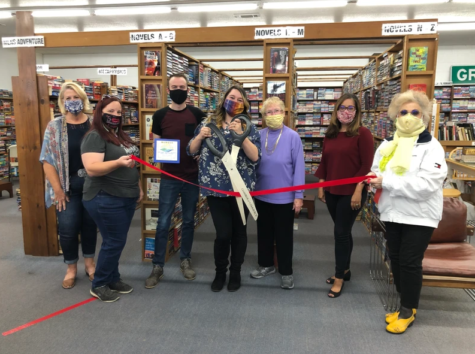 "I had people calling me and telling me, 'Oh are you sure you want to go down this route? The [Covid lockdown] is not going to stop and the business might not make it, you should make a career change,' and I just had to ride it out and trust people… you just have to trust your people are gonna take care of you, your community, your city, your family." said Dee. 
Nan's would adapt to the constraints of the Covid-19 lockdown regulations on reopening businesses by taking phone and email orders for customers. 
"The community really came together to support us and other small businesses," said Dee. 
Community is central to Nan's Pre-Owned books as they have been a great proponent in the local community. The Fowler family has always been community driven as Dee's uncle had been the mayor of Grover beach and all members of the family have served the city.  
Fowler was one of the founding members of the Grover Beach community library, a volunteer-based library to which some of the books in Nan's bookstore are donated. In addition, the store takes book orders for local schools such as St.Pats and Lopez High School and donates to the Boys and Girls Club and the YMCA. 
"We are here for the community no matter who you are… we are a safe space … we hope to be as inclusive as possible … no matter what or who you are, we and the cats are here for you. "
Stop by Nan's Bookstore anytime Monday-Saturday, 10 am-5:30 pm, or Sunday 1 pm-5 pm. 
Check out Nan's Bookstore online to find out more about their store policies
You can be featured in the Famous Reader Board by sending jokes and sayings to [email protected] 
Visit the Nan's Bookstore Instagram page @nanspreownedbooks 
For more content about Jay Katsby and Scout Finch check out Nan's Bookstore TikTok page @jasthebookstorecats
Leave a Comment
About the Contributor
Sofia Perrine, Co-Managing Editor
Sofia Perrine is a senior and a returning staff member of the AGHS Eagle Times. Despite not considering herself much of a "writer" she finds journalism...