Local Cities Repeal Drought Restrictions
An usually strong atmospheric river drenched the Central Coast over the past months. As a result, according to the U.S drought monitor San Luis Obispo and Santa Barbara counties are no longer experiencing droughts. Local cities have responded by removing drought restrictions on their residents.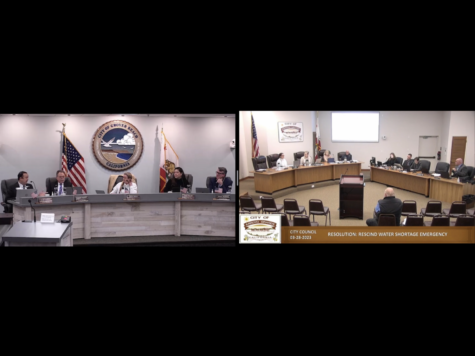 During a city council meeting on March 13, 2023, the city of Grover Beach ended their Stage 3 water restriction declaration, moving to a Stage 1 level. Stage 3 of the water restrictions, originally enacted in September of 2022, required that residents reduce their water usage by 20% of their allotted budget or else face fines. After a presentation by City Engineer Greg Ray, the city council voted unanimously to end the penalties and move into a Stage 1 water shortage declaration, thereby removing fines for water overuse. 
The city of Pismo Beach recently adopted a resolution declaring that the city is now under a "Normal Water Supply Condition." In a presentation to the city council on March 21st, Director of Public Works Benjamin Fine noted that both the city and state have seen dramatic increases in their water supply, and as a result, the current restrictions implemented in January 2022 are no longer necessary.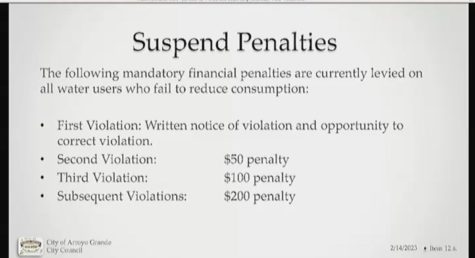 The city of Arroyo Grande has also removed their mandatory water reductions and penalties associated with them. At the March 28th city council meeting, the city council unanimously voted to repeal the declaration of a Stage 1 Water Shortage and their water penalties. Despite the removal of the restrictions, members of the city council expressed concern that water use may increase to unsustainable levels. Mayor Pro Tem Kristen Barneich remarked that "I am hesitant [to lift restrictions], but I know we do not have the information in place to continue the fines and penalties that we have in place."
Mayor Caren Ray Russom expressed optimism that Arroyo Grande is able to enter this phase of the drought, and hopes that the city will continue to emphasize the precious nature of the water supply. "I want to look at as many carrots as possible [to encourage conservation]," Russom said. She went on to say that programs such as Cash for Grass, which encourage the installation of artificial grass or the Water Efficient Washing Machine Rebate Program have contributed to the city using less water. 
All three jurisdictions rely on Lopez Lake as a major source of water. As a result of the heavy rain season, Lopez Lake reached 100% capacity and has begun to spill water over for the first time in 25 years. Lopez Lake currently holds approximately 49,000 Acre Feet of water, up from 14,000 Acre Feet when most restrictions were originally enacted. 
While restrictions have been eased, officials continue to encourage water conservation and have cautioned that restrictions may return, depending on future water scarcity.  
Leave a Comment