Jake Patterson no softie at Marshmello helmet replication
Originally from Hawaii, Jake Patterson has utilized his time here in California to explore a variety of unconventional hobbies. Two of which include homemade fireworks and crafting replica helmets of the well-known DJ, Marshmello. It all started because Patterson "got really into Grant Thompson", a DIY project and experiments Youtuber.
"I found out that fireworks needed gunpowder or something like that, and I thought, you know what? I could do that, it seems pretty easy." 
Patterson worked on tuning his skills in this field.
"I got pretty good at it, I made two loud firecrackers, nothing too serious, because it's definitely not legal in Pismo"
Patterson then "moved to the Marshmello helmets" due to a spark of Halloween inspiration.
"I was trying to figure out what I was going to do for Halloween two years ago, and I wanted to do something that really got people's attention," Patterson said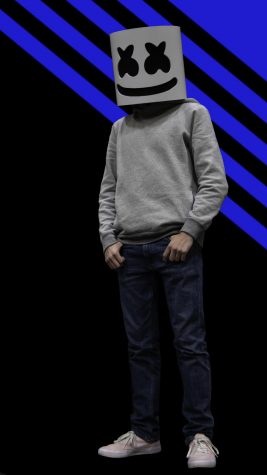 Marshmello's music was also a factor in Patterson's choice of creating these helmets.
  "I discovered [Marshmello's] music on Spotify, so I was like "oh you know what? That looks easy, I'm gonna just try making that [helmet]"
The initial creation of one of the helmets "did not turn out very well", but thankfully 'it worked".
The creation process of these helmets is as follows.
"I took a cylinder and just cut some holes in it, put some LED lights in there, and made it light up"
Through much trial and error, Patterson has discovered what materials work best while creating the Marshmello helmets.
"The first [helmet] was [made of] plastic, then [last year] I moved to acrylic. It's a lot more sturdier, obviously more expensive, but that's when [the helmets] became pretty realistic after that"
Patterson's practice in this craft dates back to 2018.
"I made the first one in 2018, it was a prototype, then I moved to the more realistic one in 2019"
Patterson has used his experience in this area of creation of profit financially from his skills.
"I've only sold two of them"
The prices of Patterson's helmets vary due to their appearance and labor put into the helmet.
"The one without the lights, the last one I sold was $130, the one with the lights is $500"
Unfortunately, this young man's business is restricted due to the fact that Patterson " can't use Etsy because I'm not 18 yet," but he finds another online avenue such as "eBay".
As of right now, Patterson is taking a step back from creating the helmets "because it's very time consuming and its expensive"
As of now, Patterson spends his time with his friends working on their cars. Patterson's 1997 Jeep Wrangler has been worked on to have "eight more speakers, four subs, and another four mid-range speakers".
After installing the speakers Patterson "focused on the interior a little bit, got like seat covers for the car"
Although the '97 Wrangler may be loud and have a nice interior, Patterson says that he is "just trying to keep it running"
Be it homemade fireworks, crafting unique Marshmello helmets, or fixing up his '97 Jeep, Jake Patterson is always full of creativity.