Student creates own clothing brand
Cory Wack takes clothing design to the next.
(Republished from March 2020)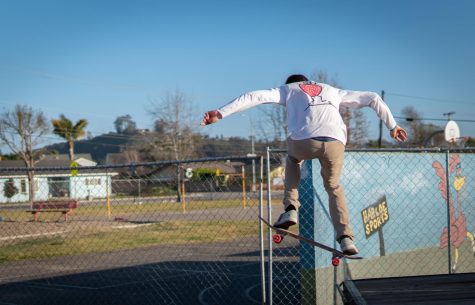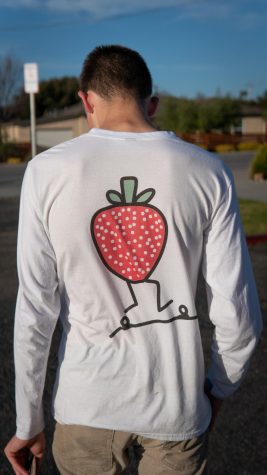 It was second period at Arroyo Grande High School in early December. In room 801, sophomore Cory Wack sat in Digital Foundations, when his classmate asked him about the little logo in his graphics design textbook.
"My friend Edward was like,'What's Jelly Co.?' because it was written in one of my textbooks and I was like 'I don't know, it's this thing I made up.' So then we just started designing stuff and we were like, 'This is kinda cool, maybe we could sell it.,'" said Wack.
Jelly Co is essentially a clothing brand geared towards skaters, with lots of designs in progress . They've brainstormed designs for hats and even shoes, but they've mainly focused on sweatshirts and t-shirts so far.
While Jelly Co hasn't been official for long, it's concept has been in Wack's mind for years.
"We officially founded it around the beginning of December [2019], but I first came up with the idea in seventh grade."
In the future, Jelly Co. hopes to design a skateboard deck with their custom logo—a strawberry doing a kickflip—featured on the board. They've already made stickers as well.
"We've had about five pre-orders so far, which is not that many, but you know, we haven't really tried to push the name out there."
Their main source of advertising has been the occasional mention on social media by Wack, but he also brought up an unorthodox form of spreading the word about the company.
"We gave Mr. Callaghan some stickers with the Instagram written on the back to give to his students… Shout out to Finn Callaghan for putting the Jelly Co sticker on his scooter."
Jelly Co. also has an Instagram page (@jellycoofficial) with more than sixty followers, where they post polls to see how their supporters feel about new designs. Their current options include a short sleeve shirt ($20) and a long sleeve variant ($23). To pre-order merchandise or put in a request, direct message the account.