In the winter of 2022, economics teacher Kent Hubert reluctantly clicked "purchase" on a hanging phone holder from Amazon, similar to the ones owned by several of his colleagues.
Though he previously allowed students to keep their phones in their backpacks, Hubert started to require students to put their phones away at the front of class this school year.
"It drove me crazy, kid's phones-it's been driving me crazy for the past 10 years. I get the draw, I get the addictiveness to it, but boy they're so distracting," Hubert said.
Phone use in classrooms has been problematic since phones became popular in the early 2000s, but a new technique limiting in-class phone usage was introduced in the 2022-23 school year that administration is strongly encouraging at Arroyo Grande High School this year. The policy isn't mandated by administration, but many teachers now require students to put their phones away before class starts, by hanging up "phone pockets."
While this technique reduced distractions in class, not all phone-related issues were resolved, as some kids have managed to film their classmates and teachers using Apple watches to turn on their cameras, or turn them on before putting their phones away.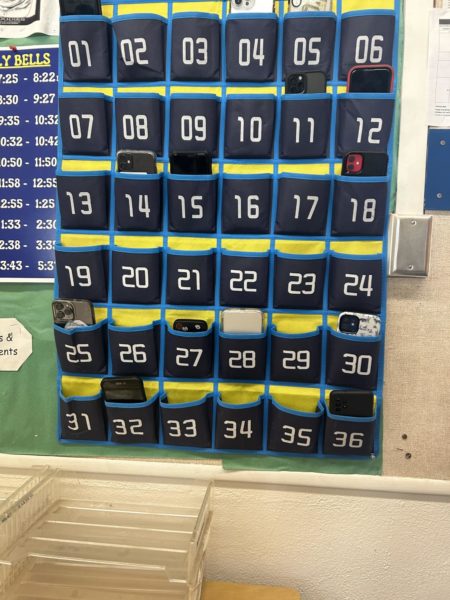 "I had a teacher who did this last year, who said 'okay, beware. They will put their phones out, backward-facing and they will film things sometimes,'" Hubert said.
"And then when I brought it up to classes, that first day of school, I did have a few students go 'Oh, yeah, I've seen that on TikTok.'"
That teacher was Stephanie Hoover, who teaches English at AGHS and experienced issues regarding student phone usage during the 2022-23 school year.  
"I had a kid who was just being silly last year, I saw him making faces and flashing up peace signs at the front…he was giggling and I said 'stop,'" Hoover said.
Today, her preventative strategy is to "Just make sure the cameras aren't showing anything, and make sure [students] turn them off when they walk in."
But phone regulation doesn't focus solely on discipline and control in the classroom. The opportunity to learn without the distraction of phones has sparked reflection and a higher level of concentration in class.
"At the end of the year, I'll usually ask the kids to write a reflection in 'How was it without your phone?', and even kids who hate being without their phone have said that they appreciate that they can really focus when they're in class," Hoover said.
"Once a teacher gets past the idea of 'this is weird', they can translate that belief to the students, and I think it's good for everybody."